In my trip planning document weeks ago, I had a note indicating today's itinerary was likely going to be the wettest time here. Today, with the added benefit of the weather, that lived up to its promise and then some.
The first stop of the morning was Seljalandsfoss, a waterfall located approximately 20km east of Hvolsvöllur. It is not the largest, most powerful, or voted most likely to become class president, but it is a spectacular site with a near-constant roar. As you might be able to tell from the photo, it kicks up a lot of mist.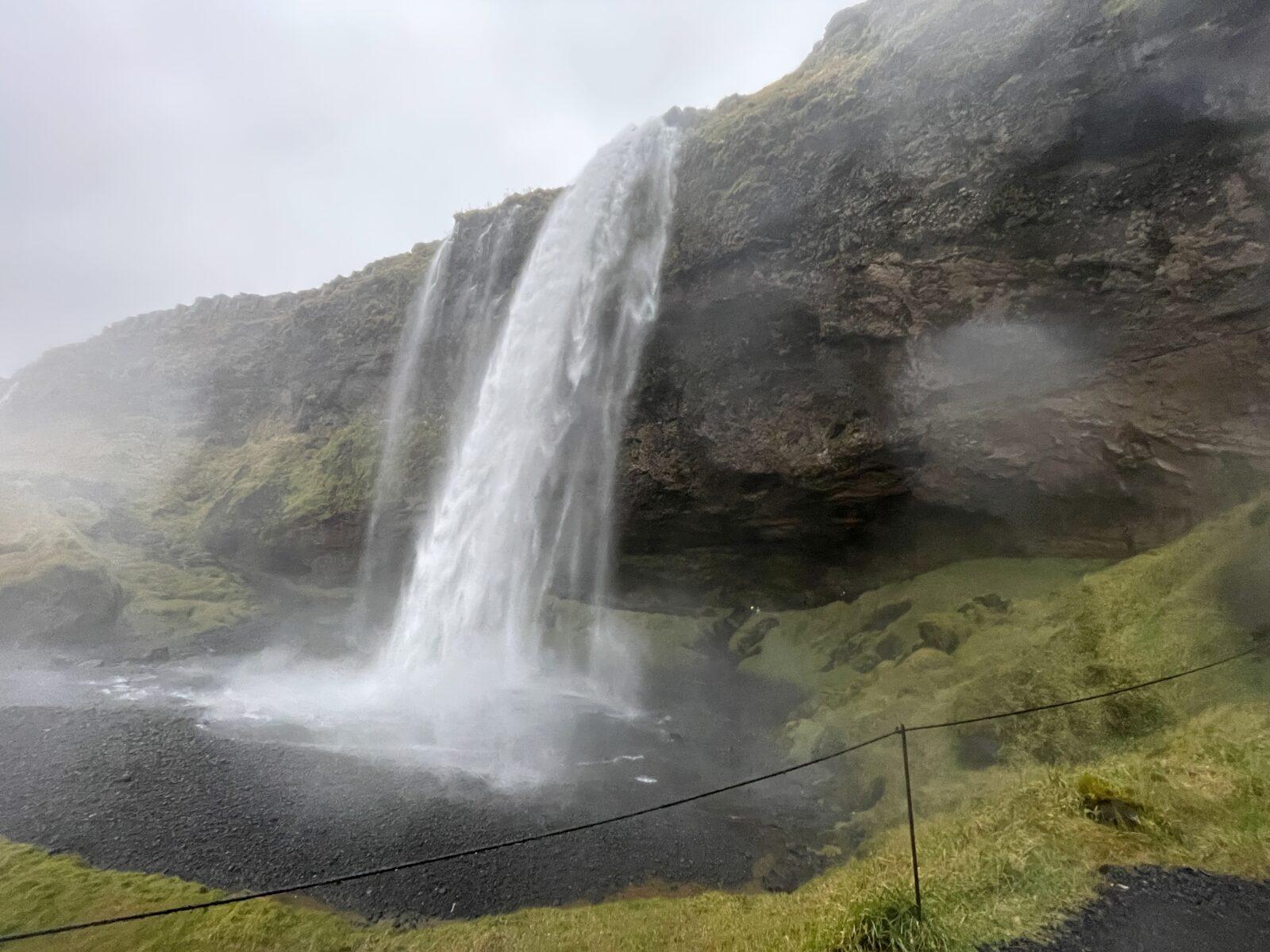 Also noteworthy is one can hike behind the waterfall, enjoying it from a unique vantage. Well worth a visit.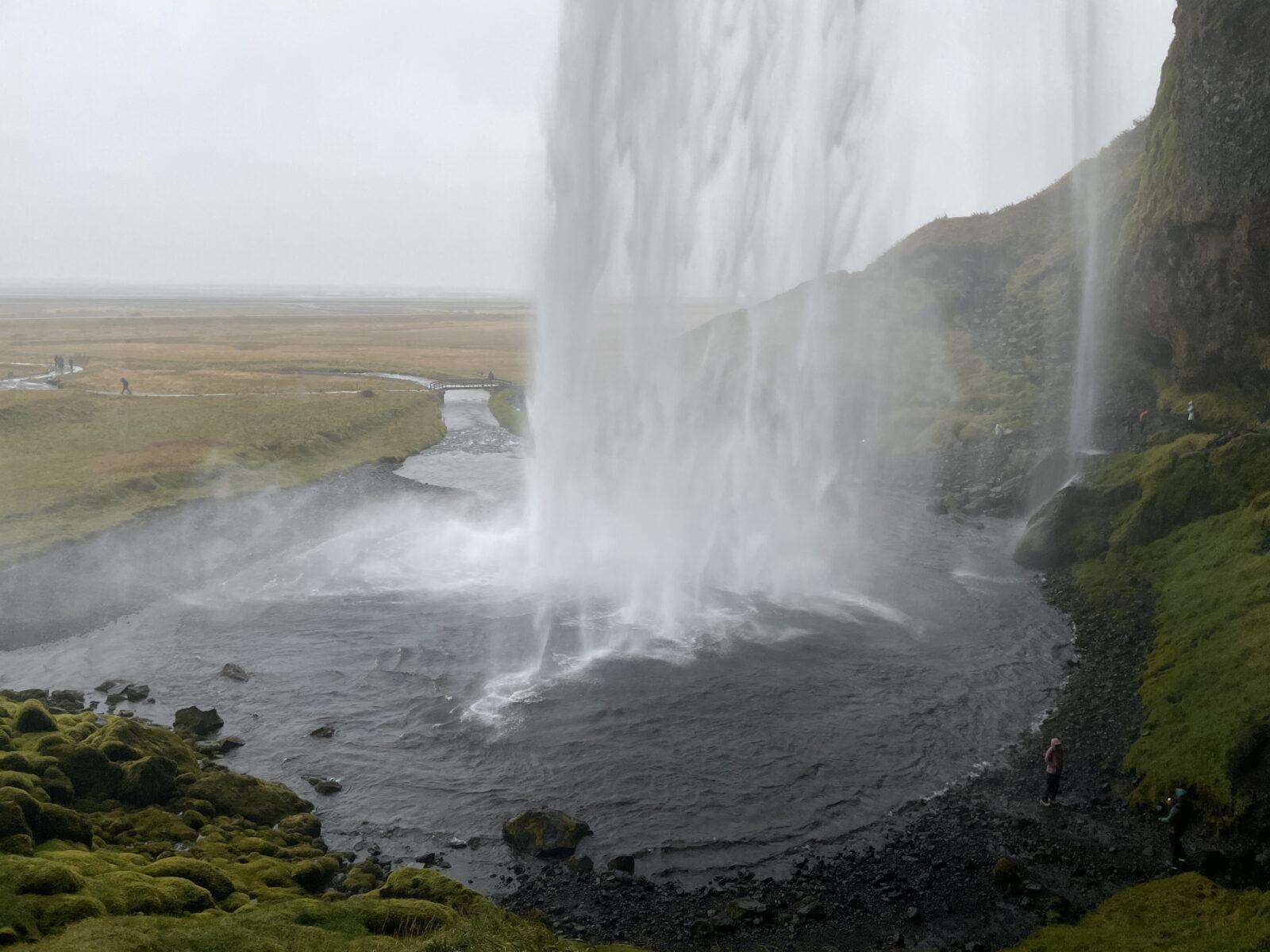 There's another, smaller fall about half a kilometer north is Gljúfurárfoss, accessible via a narrow canyon. Inside, water pours into a plunge pool, leaving the hard, hyaloclstic untouched. It's just lacking a background soundtrack to fully complete the sense that you're in an epic movie, needing to pull a sword from stone, lift Mjölnir, or summon ancient spirits.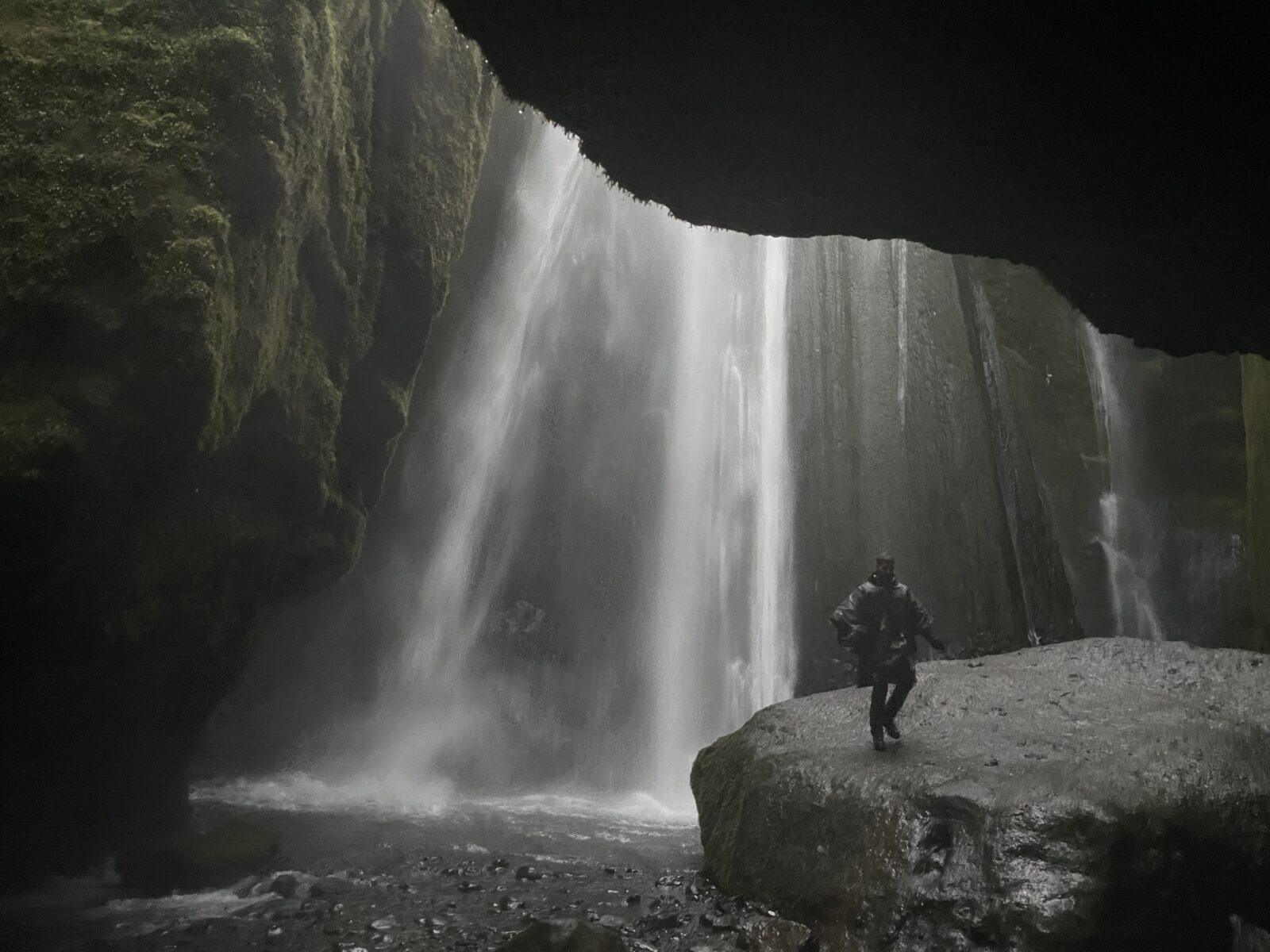 While visiting this, I was wearing proper rain gear. However, the gusty wind and intermittently slanted rainfall, coupled with spray from the falls, let me pretty soaked.
The next stop was Sólheimasandur, where a US Navy C-117 ran out of fuel and crashed onto the beach. (More history here.) One can park (fee 750ISK) and walk the 3-4km along a rutted road, or pay a small fee (3000ISK) to take the shuttle that runs every half hour. You can pre-book the shuttle, but it doesn't seem worthwhile doing in the off-season, especially if (like me), you are running on a different schedule than envisioned four weeks ago.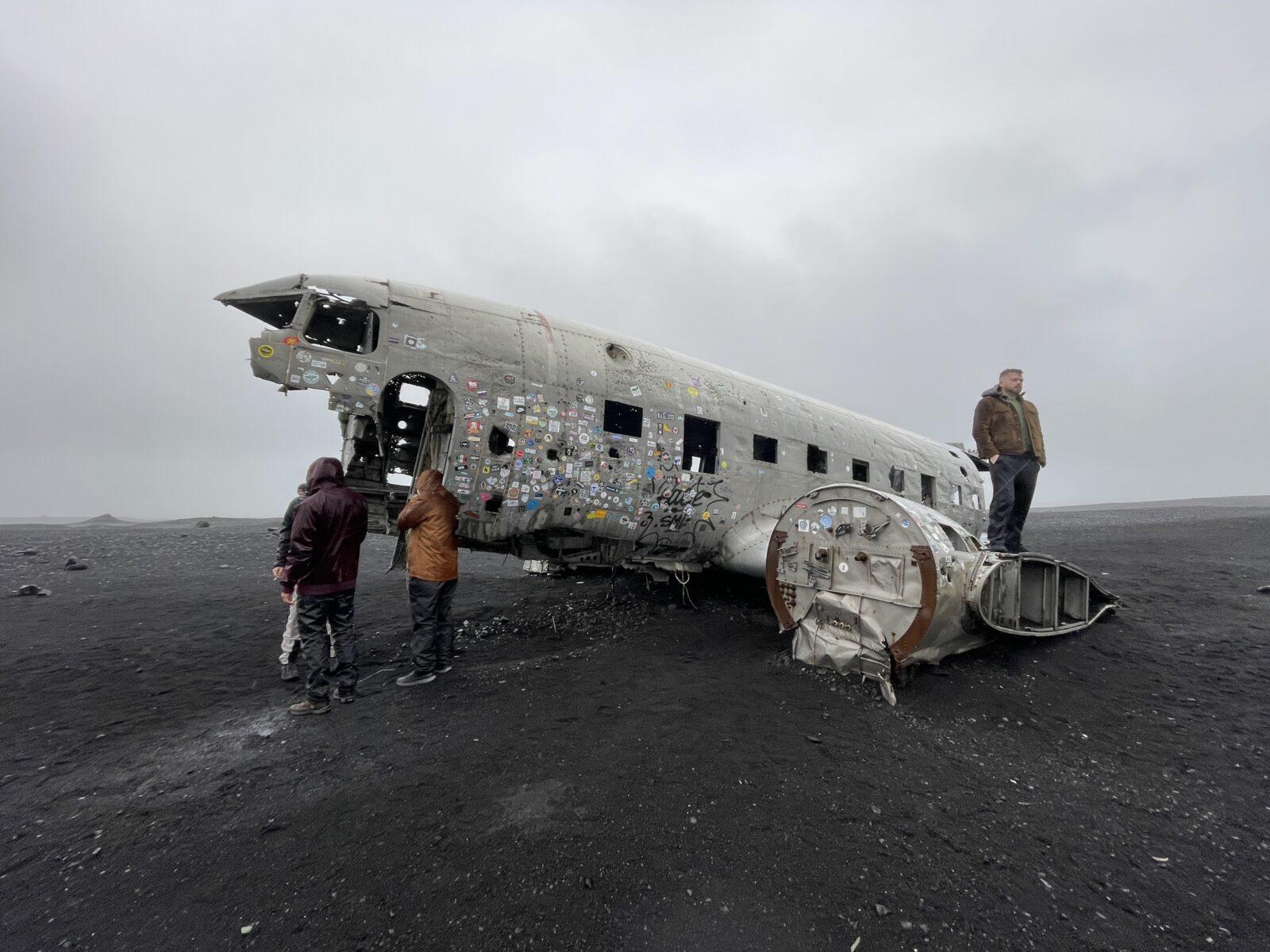 I drove over Dyrhólaey, a peninsula west of Vik, hoping to spend some time hiking around and seeing the Atlantic puffin community. However, by this point the wind was gusting strong enough that it was exceptionally difficult to walk forward. I'd never experienced that before.
So I scratched that, then drove into Vik proper to wait for the Katla Ice Cave Tour that I'd arranged with Troll Expeditions. That was… an opportunity to get anything wet that wasn't already wet. Constant rain, wind, and melting glacier. Very scenic.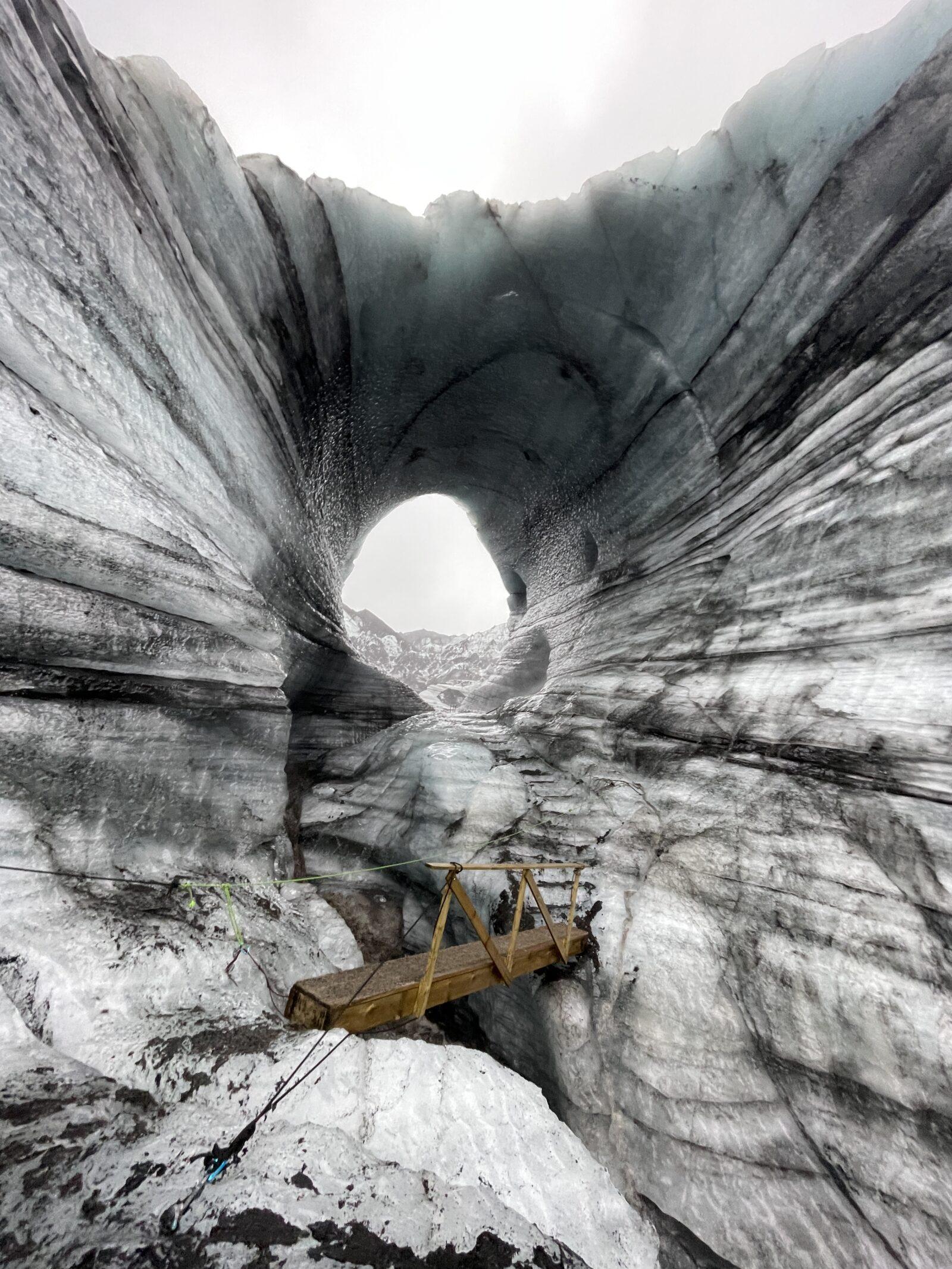 The nice thing about a group tour is someone else is in charge of getting you there and basically ensuring you're not going to imperil yourself. Indeed, our guide spent a lot of time leading the group and reinstalling anchor points in the ice (that held ropes we were instructed to keep an arm on in case we slipped). Something he also did was adjust some of the most rickety of the rickety bridges spanning gaps between melted glacier chunks.
The glacier here has been retreating an average of 30-40 meters a year because more ice melts off in the summer than snow adds in the winter. The guide noted that the big hole we walked through was narrow trench back in late 2019. (You can kind of see this even in the TripAdvisor page.) It's on a pace to collapse by next year.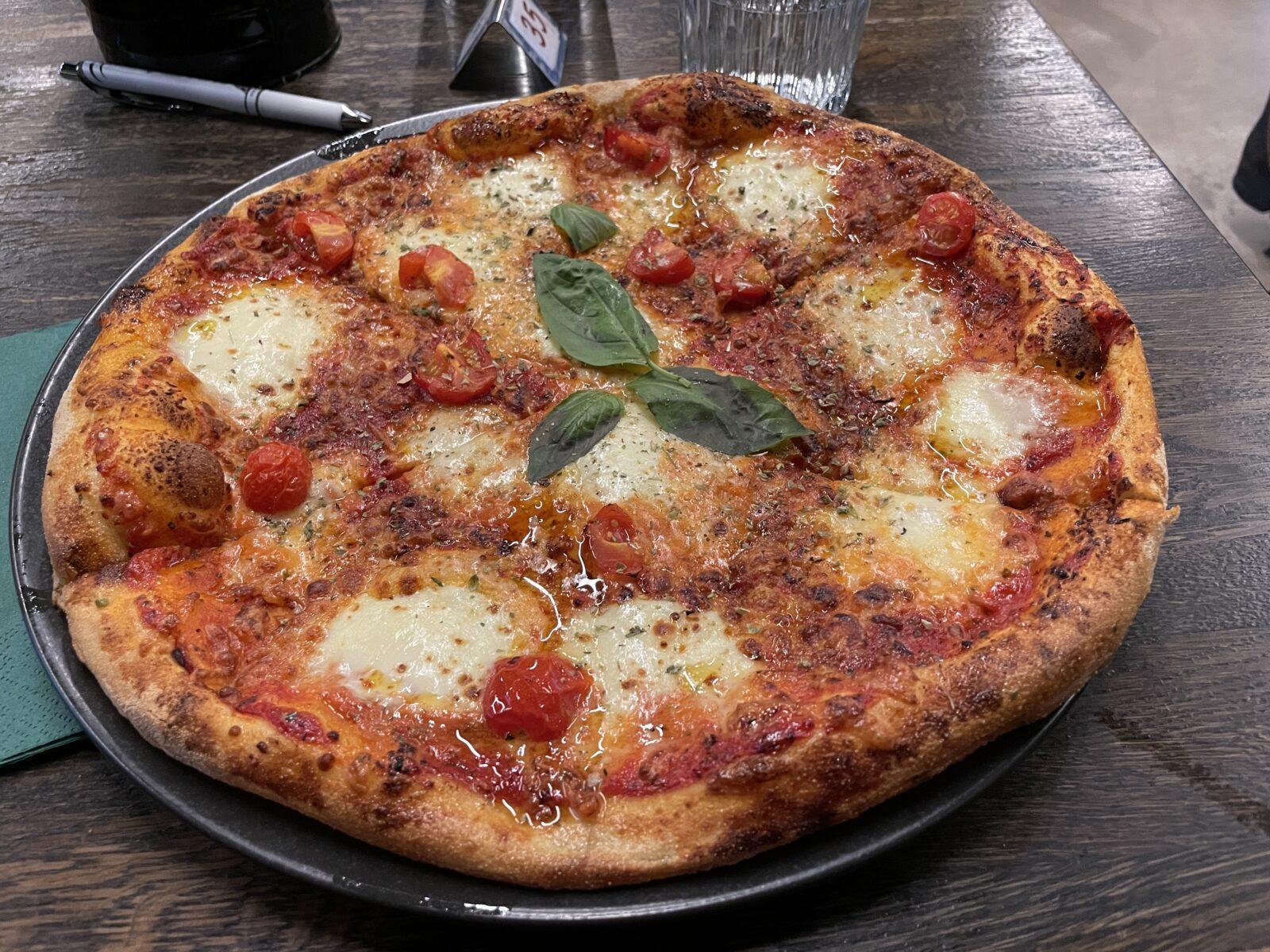 Since it came up in a comment on my last entry, I should mention the parks on the air activations are not going to happen. I received my permit to import my radio & operate in Iceland on Tuesday (they were great to work with) prior to leaving. I did a trial packing and barely eked under the 50 pound maximum in the checked bag, with about 30 pounds in my carry-on. (Radio, lithium batteries of different forms, plus my usual stuff). Then, after rechecking the long-range forecast, I noticed the weather was going to be progressively worse past Höfn. Specifically, the day I'd be leaving Hofn (activation #1 was planned to be Holmanes Nature Reserve), a snow system would be moving in. The bulk of it was going to hit Myvatn (planned activations #2 and #3).
I made the snap decision to leave the radio at home (losing about 15 pounds of gear + Lithium batteries + cables and crap), and canceled my stay in Myvatn (which I was really looking forward to visiting). With no stay in Myvatn, it didn't make sense to drive the north island from Höfn to Reykjavik (~12 hours) rather than just heading back along the south Ring Road (~6 hours). And then…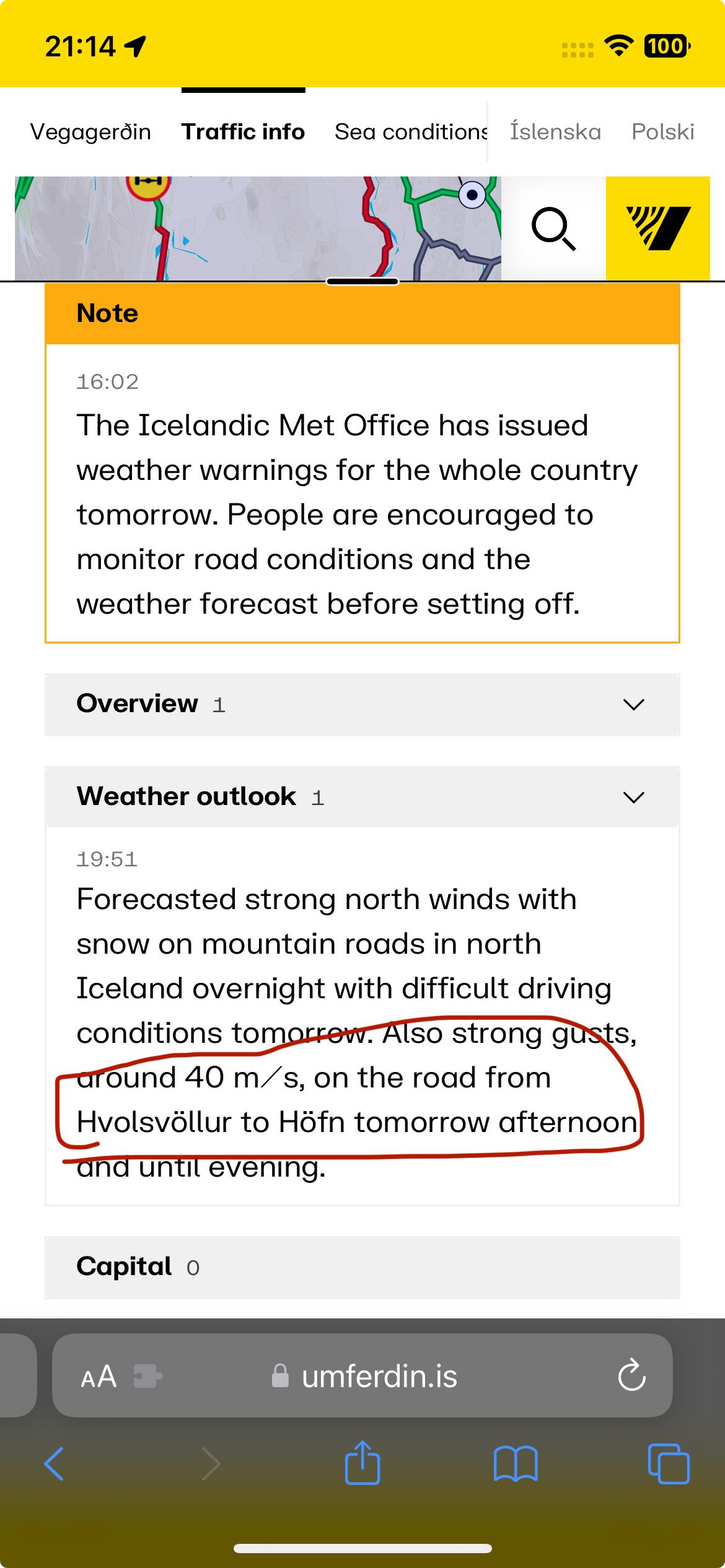 Fast forward to today… the forecast has gotten worse. On the ride back from the glacier to where we parked, I received a bunch of alerts from Vedur.is, the Iceland weather app. The progress of emails from a tour vendor for the Zodiac boat ride I'd booked tomorrow at Jokulsarlon Glacier Lagoon went from "might be cancelled" to "is still on" to "is definitely cancelled/refunds to be issued." The system tomorrow will have winds gusting up to 160kph in some parts, snow on the north and east. (Up north looks even worse with snow and sleet.)
On the bus, I decided it would be A Bad Idea going to Höfn tomorrow for pre-booked overnight. It's a very tiny town, and I didn't want to get stuck there then have to work back west. I'll have to "eat" the expense for the room. Plan is to go back in Hvolsvöllur, where I can wait out the storm in one place, then head back go Reykjavik. As I'm typing this now, the hostel has posted a note advising everyone that sections of Ring Road 1 were likely closing in anticipating of the storm. Eastbound, towards Höfn, is definitely closing. Westbound, towards Hvolsvöllur, may be closing at 9am.
I'm feeling a bit better about canceling the radio stuff. Fortunately, I have a car-ful of Icelandic candies from my friend Karl. Chocolate covered licorice is awesome.