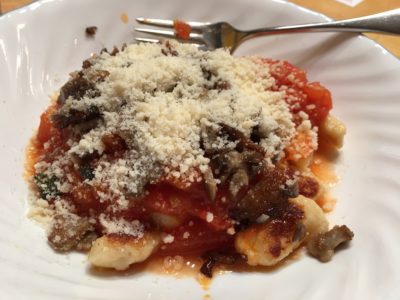 Pomodoro sauce (recipe based on Italyum):
1 1/2 pounds beefsteak tomatoes, cored, seeded, deskinned, chopped
1 medium Walla Walla onion, chopped fine
2T tomato paste
2T butter
2 ounces olive oil
20 basil leaves
2 cloves garlic, minced
Salt to taste
Core then blanch the tomatoes so the skins peel.  Cool, remove the skins, and deseed.  (This process is a pain, but the result will be excellent.)  Chop.
In the saucepan, heat the oil and butter.  Saute the onion on low heat for about 10 minutes.  Add the minced garlic, and cook another 5 minutes.  You want the mixture to caramelize.
Stir in the tomatoes and tomato paste.  Cook another 30 minutes, still on low heat.
Before serving, stir in the basil leaves.
The gnocchi (recipe based on Italyum):
1 1/2 pounds Yukon gold potatoes
1 egg
1/4C whole wheat flour
3/4C white flour, plus some extra to adjust the stickiness.
2T butter
Boil the potatoes until they're tender.  The peels should be falling off, and a fork poked into the middle should have very little resistance.
Drain, then cool enough to peel.  Hand mash.
Stir in the 1/4C flour.  Add the egg, then stir in the remaining white flour.  You're aiming for a mixture that's a little sticky but not dry.
Roll into a ball, then slice into dough snakes about the size of a pinky tip.
Roll each pinky tip-sized slice over a fork to form grooves.
Drop in boiling water and scoop out when they float to the top.  The timing doesn't need to be precise here, but don't let them get too waterlogged.
In a skillet, heat the butter.  Add some of the gnocchi and cook until browned on both sides.  (This helps the appearance)
I served this with the pomodoro sauce (above), freshly-grated Parmesan, and some oyster mushrooms I'd chopped and sauteed in the remaining butter mixture of the gnocchi.