If you give a mouse a cookie, they'll get crumbs and chocolate all over their clothes. When they get crumbs and chocolate all over their clothes, the laundry piles up. When the laundry piles up, you will need to use the Electrolux front-loading washing machine.
When you do several years-worth of laundry in the Electrolux front-loading washing machine, you'll eventually discover it was leaking all over the floor. And you'll call a repair person. And then another. And another. And another. And another. And another. Four will tell you Electrolux front-loading washing machines are "bad news" and decline to fix them. The fifth will tell you he's on injury leave (we wish him a speedy recovery), and the sixth will say he will fix it, but the earliest appointment is in two weeks.
When the sixth repair person tells you it's going to take two weeks, you accept the appointment. The next day, as clothes pile up from mice eating cookies, you realize schlepping twelve loads of laundry a week to the run-down Issaquah laundromat is Non-Optimal, and you research.
When you research, you discover a metric crap-ton of search engine optimization going on to dozens of links that ultimately look like the same company trying to sell a repair manual for $20. When not deploying a middle finger at the attempt, you keep on researching until you find an exploded parts diagram to give you the idea of the complexity.
With an idea of the complexity, you saunter over to www.repairclinic.com for a no-bullshit video and diagnostic tool. When you iterate through their top four things to check:
Water connections
Wastewater connection
Bellows — this is the rubbery gasket thingie that sits between the door and the spinning drum. It was not leaking but, after seven years, it was really nasty and was on the "to replace anyway" list.
Wastewater pump — this is on the bottom, front, right of the washer and seemed very plausible.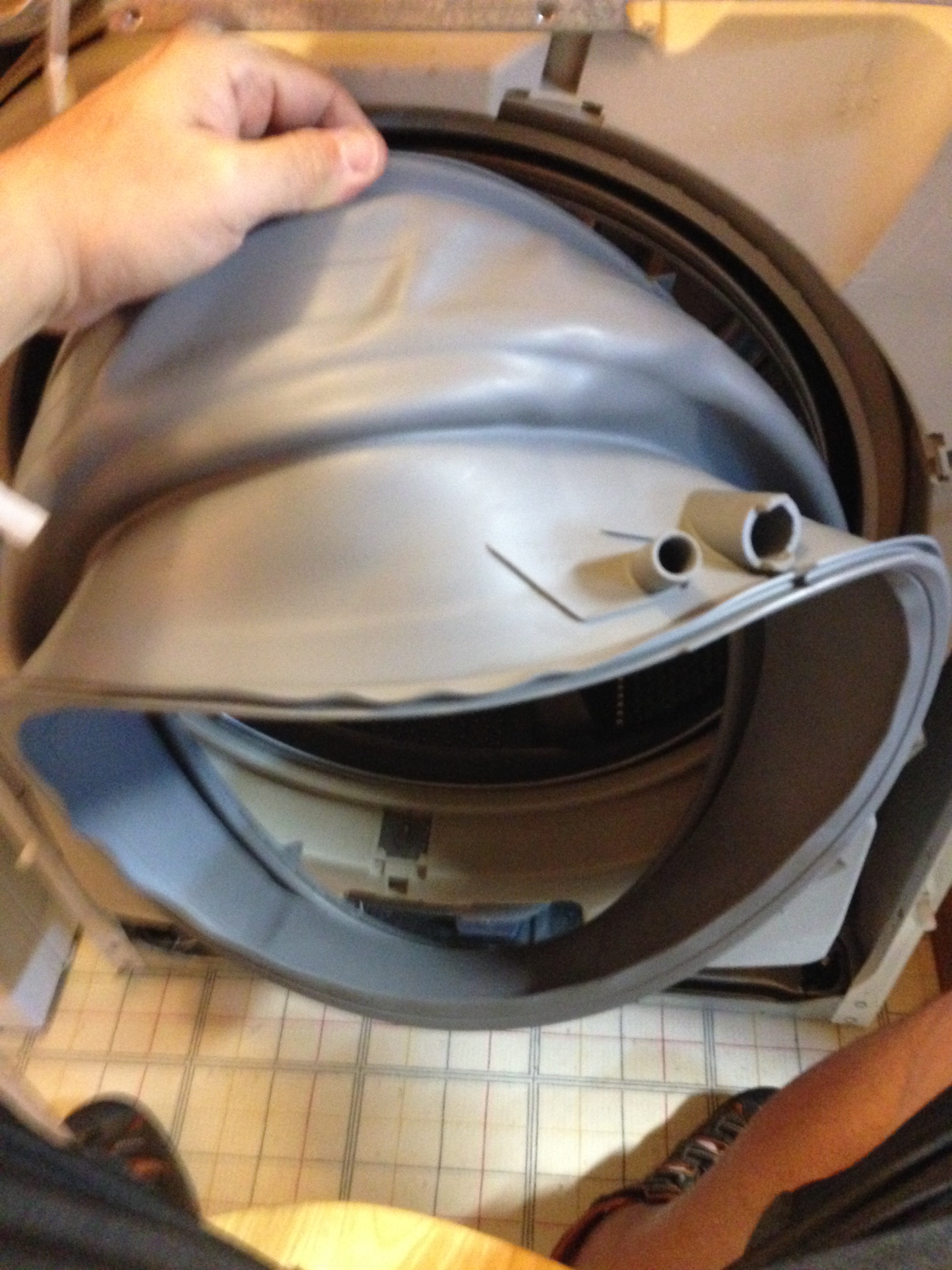 You realize that your Electrolux front-loading washer is a complex machine that, unlike every other appliance owned, was designed to be serviced by human beings. A single Phillips screwdriver and a copy of Cryptonomicon (to prop up the front of the washer) were all I needed to get this far: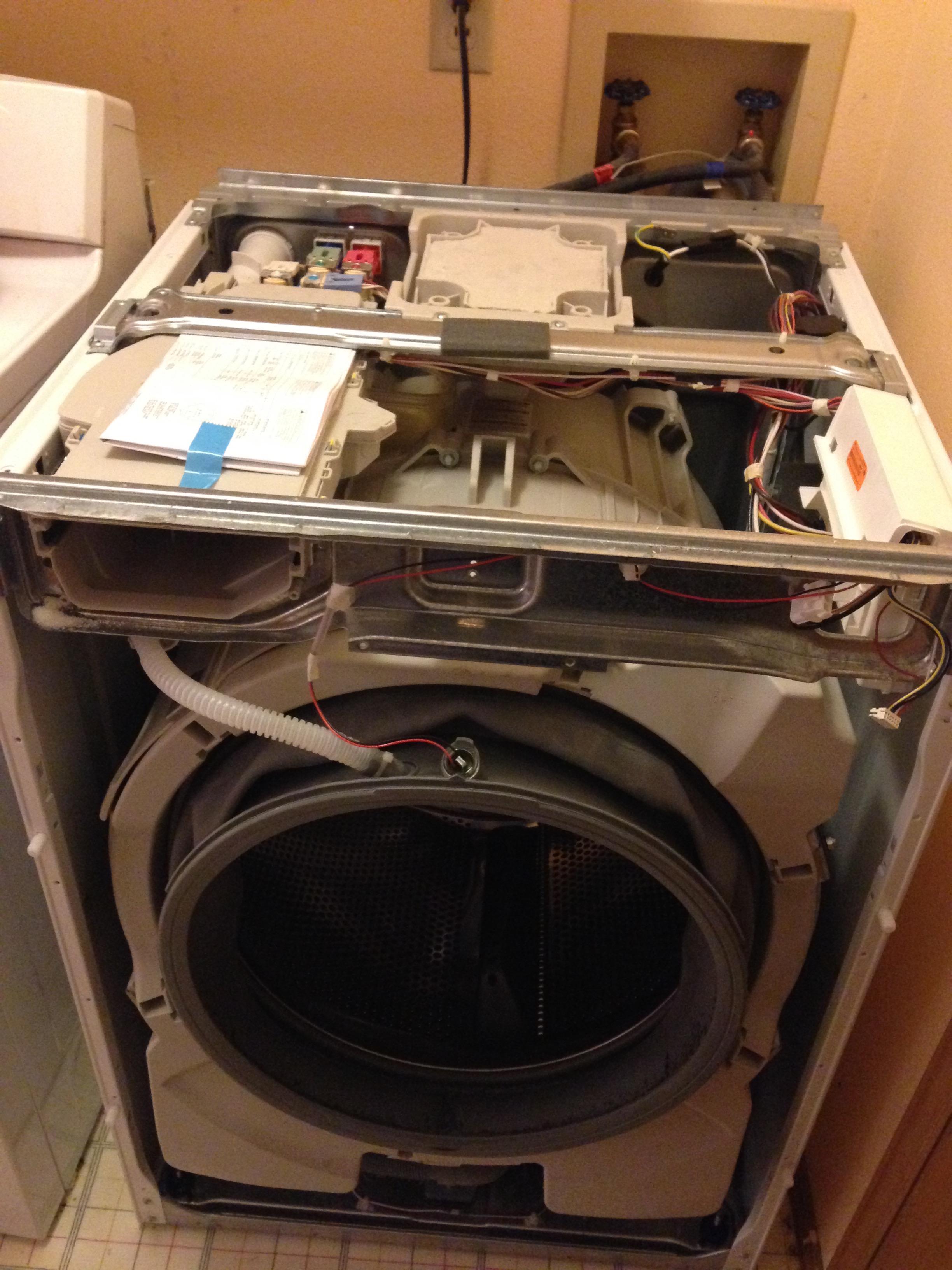 When you get this far, you realize the top four options on RepairClinic were wrong. The live drip from above is your clue: the cold water valve was leaking from the solenoid on the water valve.
When the cold water valve continues leaking from the solenoid on the water valve, you order that part from RepairClinic and a bellows (out of stock at RC) from Amazon, both delivered via two-day air. You also know the water faucet shutoffs aren't working. Nor is the whole-house cutoff that you really should have gotten fixed in 2002.
While you ponder this, you look for a plumber in a hurry. When you are in a hurry, you get a guy young enough to be your son, and equally as experienced. He will charge $250 for the two faucets plus $500 for the main house so this doesn't happen again. When he attempts each repair, he needs to take a trip to Home Depot for parts. When he makes the trip to Home Depot, you begin to rue hiring this person.
The next day, laundry piled higher, you can remove the old parts, and see the corrosion on the blue and yellow thingie where water was leaking at the valves for who knows how long. And when you do, you will admire the buckling of the hardwood floors refinished in 2010.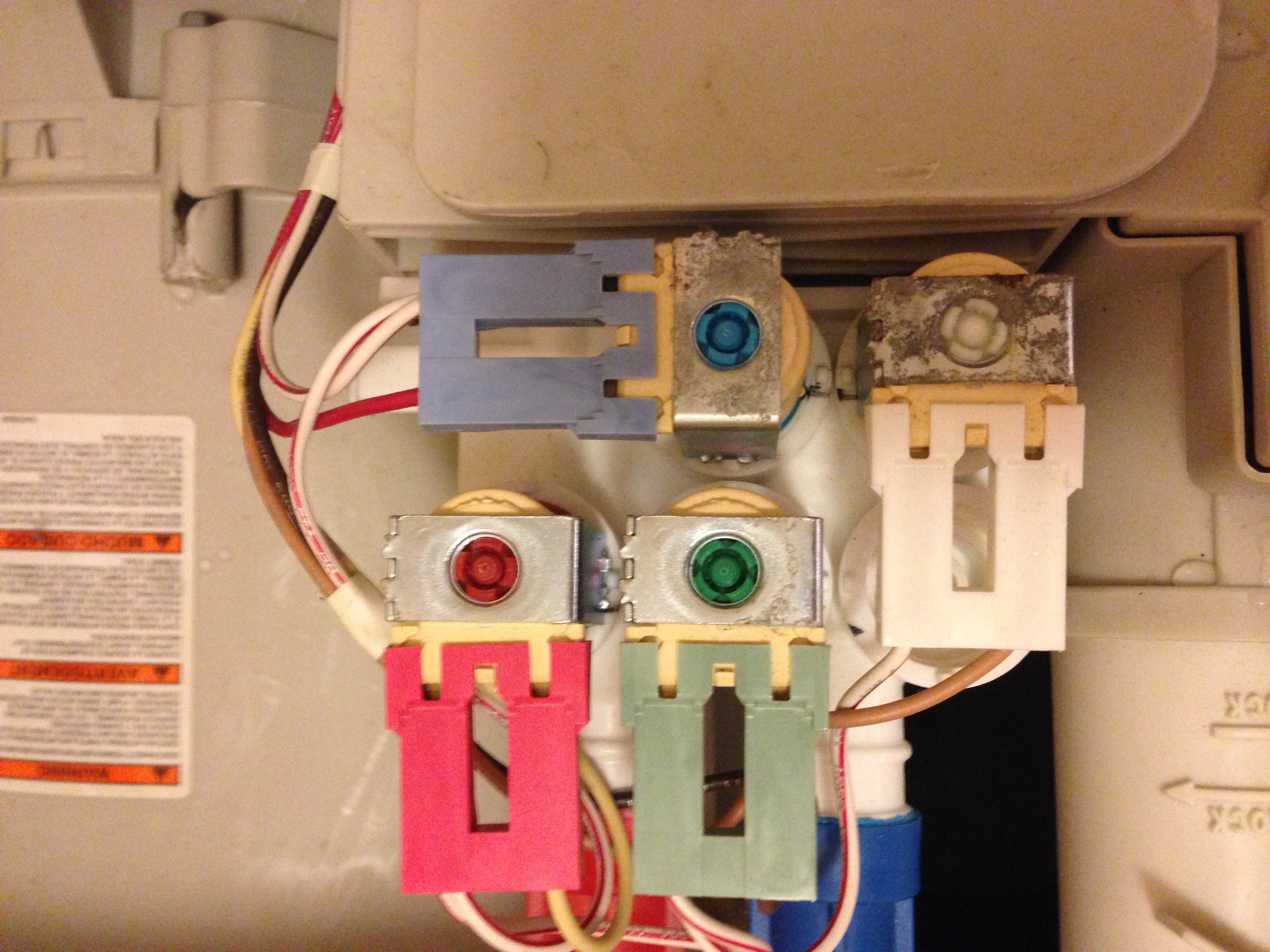 After catching up on a week's worth of laundry, you will realize that summer has passed and it is time to put the house fans in the crawlspace for the season. When you're in the crawlspace, with your spider friends, you are curious and wander back to this: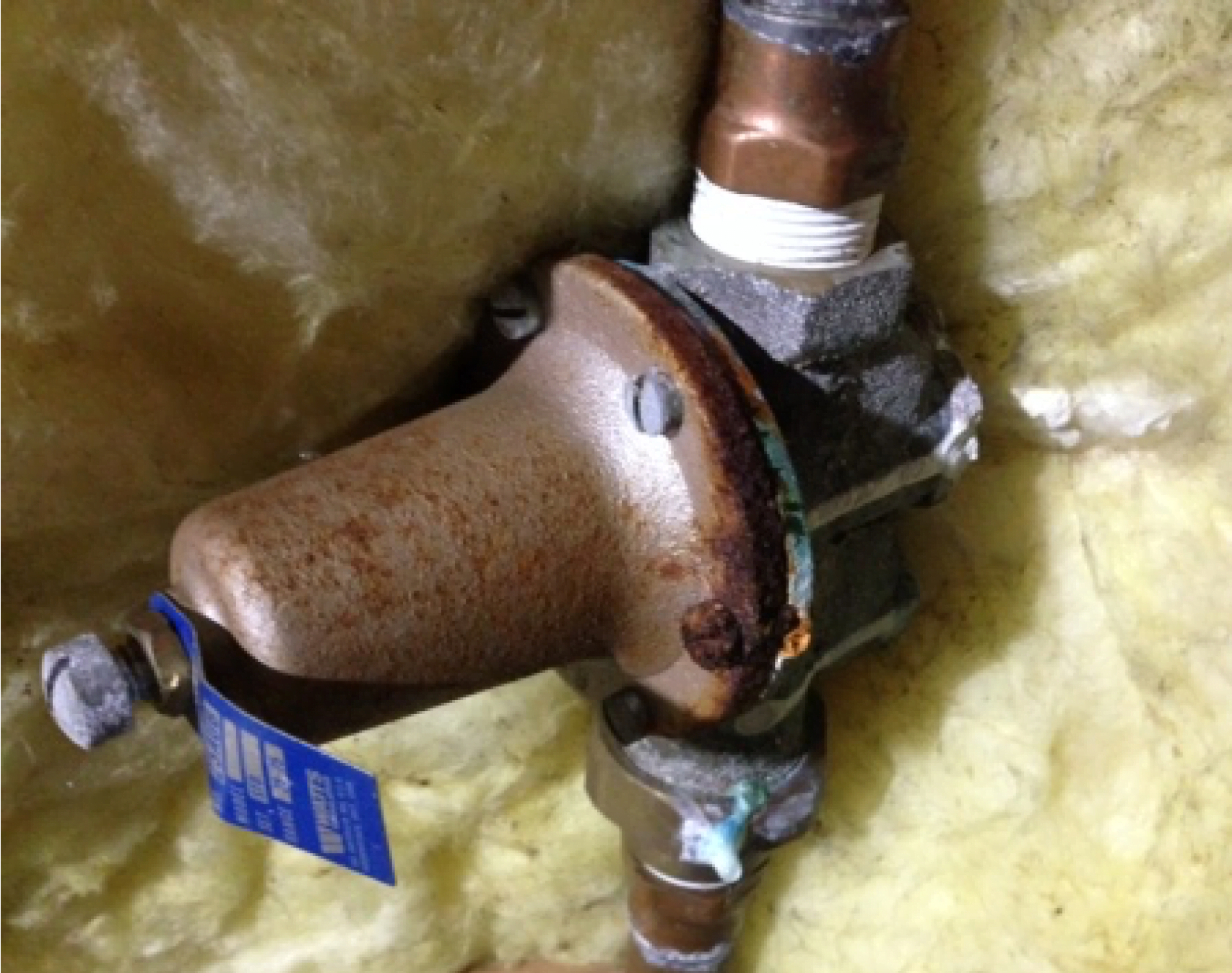 When you see this, you wonder "What the hell is that thing" and do more research, because whatever the hell it is (water pressure regulator, likely the original unit installed when the house was built 30 years ago) is leaking. Having well-adjusted household water pressure is a good thing, because you want adequate flow, without tearing the valves apart.
When you have a bad experience with a plumber, your first reaction is to try the next job yourself. However, when you think of all the times you've done plumbing, you get sad. When you get sad, you ask around for a recommendation for a professional. A professional plumber will have a backlog, but in the meantime, you can answer some Plumbing Questions like "How big is the line?" When you will make another visit to the crawlspace, much to the delight of your spider friends, and measure the pipe (1″):

You'll notice how quiet it is this part of the evening. Except for a disturbingly audible "drip drip drip" on the plastic vapor barrier. When you hear an audible "drip drip drip" on the plastic vapor barrier, you become sad again because you need another plumber. However, while you're down there anyway, you'll want to look for what's actually leaking, just in case it's something that your skills can make less worse.
When you look for what's actually leaking, you'll notice you're directly downstairs from the whole house cutoff replaced the prior week. When you go back upstairs, you decide to inspect the work a little closer. When you inspect the work a little closer, you notice something wrong: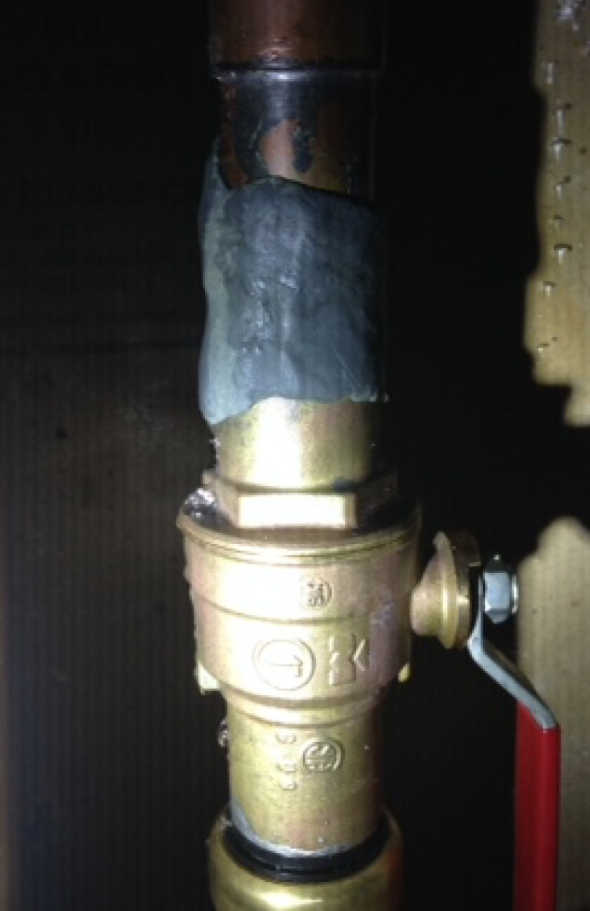 When you pick your jaw up off the floor, you'll say "holy crap, I'm not a plumber, but is that putty? Being used as a pipe patch?" The prize, a soggy piece of drywall, is slightly more adhesive than plumber's putty, which is normally used in sink drains because it's pliable, water tight but completely lacking adhesive properties necessary for a 50 psi line.
When all between an active leak is a sad piece of plumber's putty, you shut the water off, causing a ripple effect in the time-space continuum that manifests itself as every female member of the household having the urge to go to the bathroom right now. There may be yelling. When there's yelling, it's hard to explain to the plumber's company's answering service that their employee did a non-optimal job, please come fix this now.
When junior plumber comes back and spends three hours, he will produce this: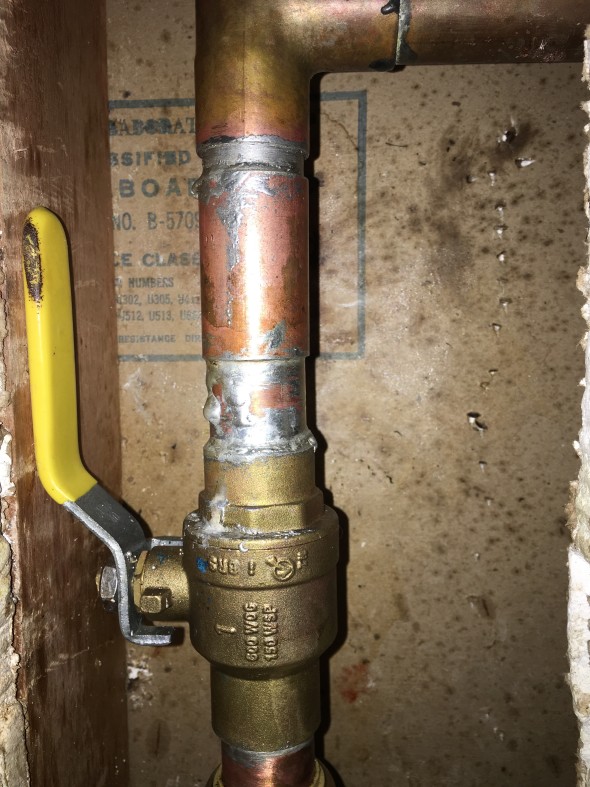 This new, left-handed valve, though substantially less leaky than the previous attempt, still has a minute leak. But the situation is under control (for now). With a very moist wall, a trip to Home Depot for a humidifier is in order.
When you run a dehumidifier, it pulls water out of the local surrounding. When run in a bathroom, that is most likely the toilet. To prevent this, apply some plastic wrap in a way that feels like some college prank.
Bad news comes in threes. While spending the last sunny Saturday of (possibly) the year, I tented off an area with plastic to set up the dehumidifier and emptied the tank three times a day, much to the delight of my spider friends. In anticipation of plumber #2's visit, I removed the tent and discover a slow drip in the sewer (!) line heading out of the house. Fuuuuuuuuuuuck.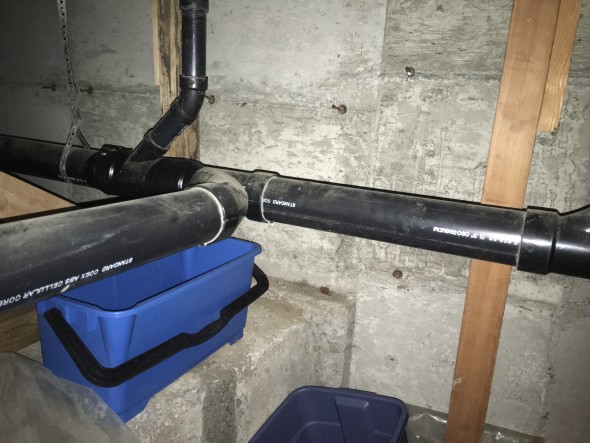 When plumber #2 showed up to replace the pressure regulator, I asked him about the sewer and the whole house valve. (No. Way. In. Hell. I'm calling back the original guy.) The sewer is going to require another visit: all those junctions on the poo superhighway mean the whole thing needs to be cut out and plumber-healed. He can't do it today, because there are custom parts he doesn't carry with him, but suggested I schedule it with his wife and he'll make the list. "Do you have a bucket?"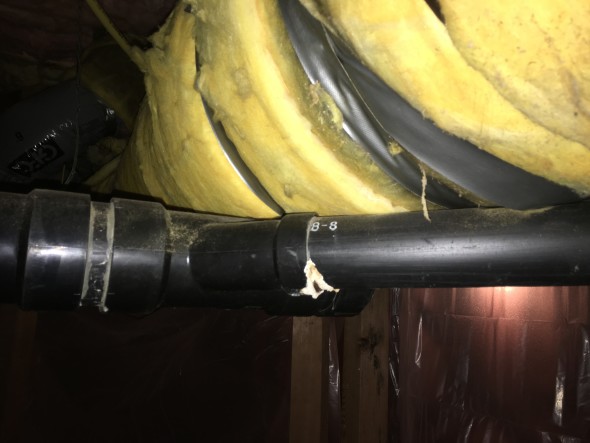 The first night, the bucket had a gallon of aromatic water in it. Emptying this much was going to be far more awful, so I researched options to temporarily minimize the leakage. Collars (neoprene sleeves with radiator clamps), caulk, and various tapes come up as options. Ducdt tape seemed viable, until I actually started doing it and realized how bad it is around gaps. Electrical tape, however, worked really well. The drip was effectively stopped.
Professional plumber came back ten days later and, in less than an hour, had all of the sewer stuff taken care of. He spent a little longer (an hour and a quarter) removing and replacing the whole house cutoff again.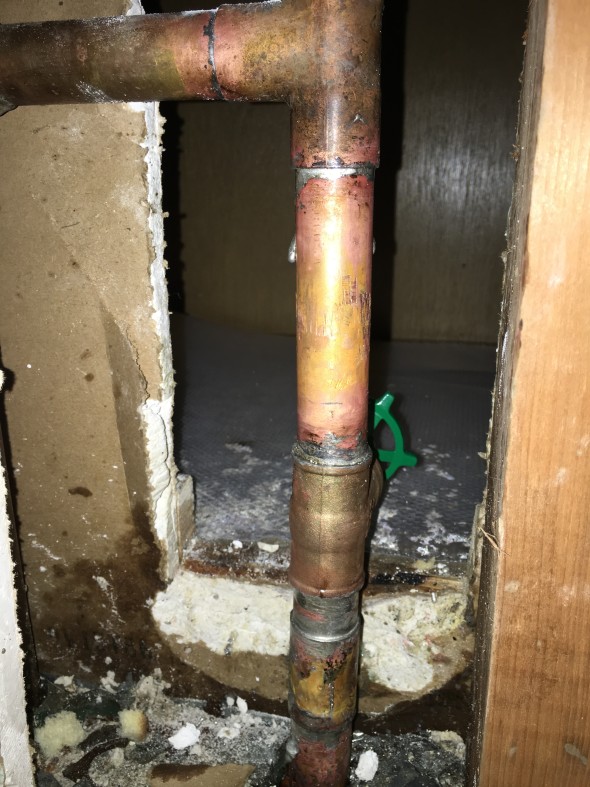 Total time: 2 1/4 hours at $200/hour plus another $120 in parts. Totally worth it to have it done correctly.