The excitement of visiting colleges with my daughter, her applying to the short list, and waiting on the results has is over and I'm seriously craving a week unplugged from work.   I'll be taking an organized ride in October from Philadelphia to Washington, DC.  Since these trips are as much about seeing different things as the Zen of cycling, I'll also be stopping for geocaches (and other site seeing) along the way.   And maybe butterscotch Tastycakes, Cheeseteaks and those legendary tomatoes I've heard about.
I spent a good evening wondering if there was an efficient way to generate a "Find caches along a bike route."   Having plotted the estimated route with Google Maps, using its delightful Bicycle Routing option, I had a rough idea where I'd be visiting: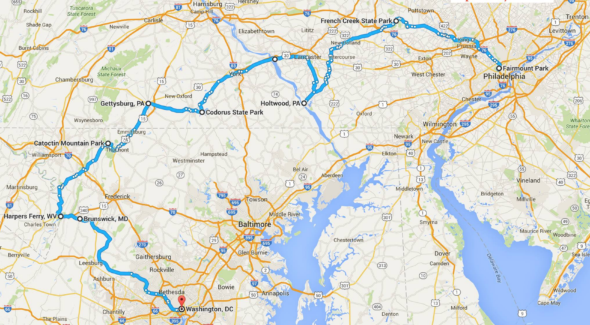 I was hoping to use this to guide me with Geocaching.com's "Find Caches Along A Route" tool.  For trips in the west (like this), the tool plus clever battle-shipping of pocket queries has been good enough.  On the east coast, the tool's auto-routing via turnpike or Interstate (but not, say, the C+O Towpath) makes it cumbersome.  Even trying to force it (the two circles) is futile: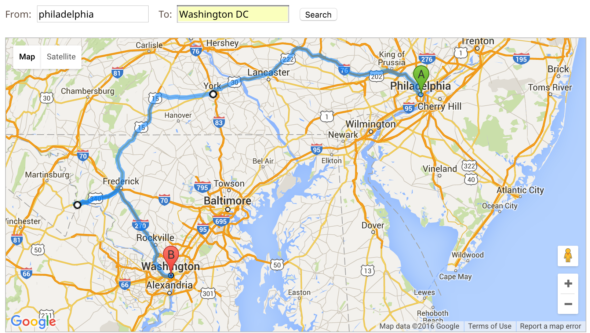 It's really bad on the leg from Harper's Ferry to Washington, DC — I could not get it to recognize the C+O Towpath because, look, there's a huge interstate!
A coworker reminded me of the Map My Ride tool, which is really well-engineered for generating bike routes.  What it offers above that, though, is the option of exporting said route to a KML (used in Google Earth) or GPX (used in Garmin GPS) file.  I built this: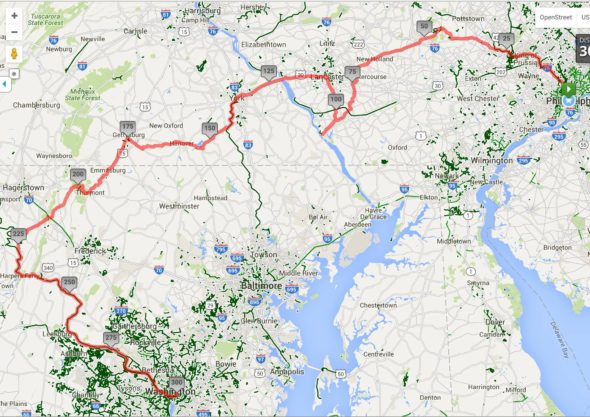 Trying to generate a set of geocaches from this was pretty involved.  Google Earth's user interface confounds me.  (I find I'm shouting at it: stop. moving.)  Garmin Basecamp is a promising candidate, but didn't seem to work with so many points.  Project-GC, which has completely upped the bar on geocaching stats, only does a point-to-point route with no fiddling.  I'd have to generate eight separate groups.
I settled on this GSAK macro.  When fed an al dente KML file, it merrily generates bounding rectangles within ~1 mile (changeable) of the route. Next, I let GSAK fire off a bunch (120!) API calls of caches within each little box. It finished before I brought the takeout home.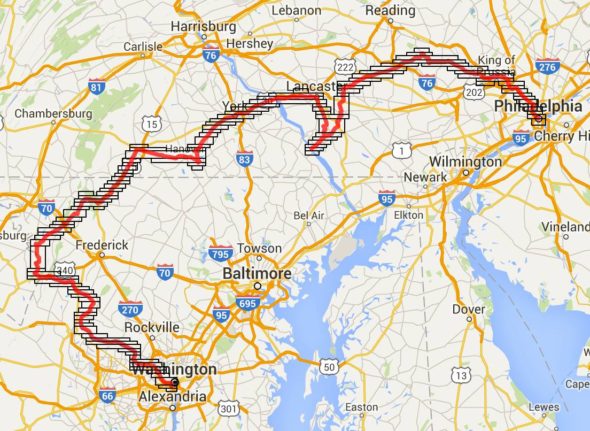 Next steps are to whittle down the list of 1600+ caches to a reasonable number – focusing on the non-traditional or well-favorited.  I have already started solving a crap-ton of puzzles at each endpoint, Just In Case I'll be riding over one.  Of course, since geocaching is also about numbers, I'm trying to figure out a scheme to make a side trip into Delaware (via train ride back?) or New Jersey (perhaps simply crossing the bridge from Philly) so I can say I have cached in both of those states.

Just skimming through the route, the two parts I'm most eagerly anticipating are the ride through Gettysburg — I last visited in 2008, astounded by the enormity of the place — and the ride along the Potomac from Harper's Ferry to Washington, DC.