Recipe from Cooking Classy, my changes in bold.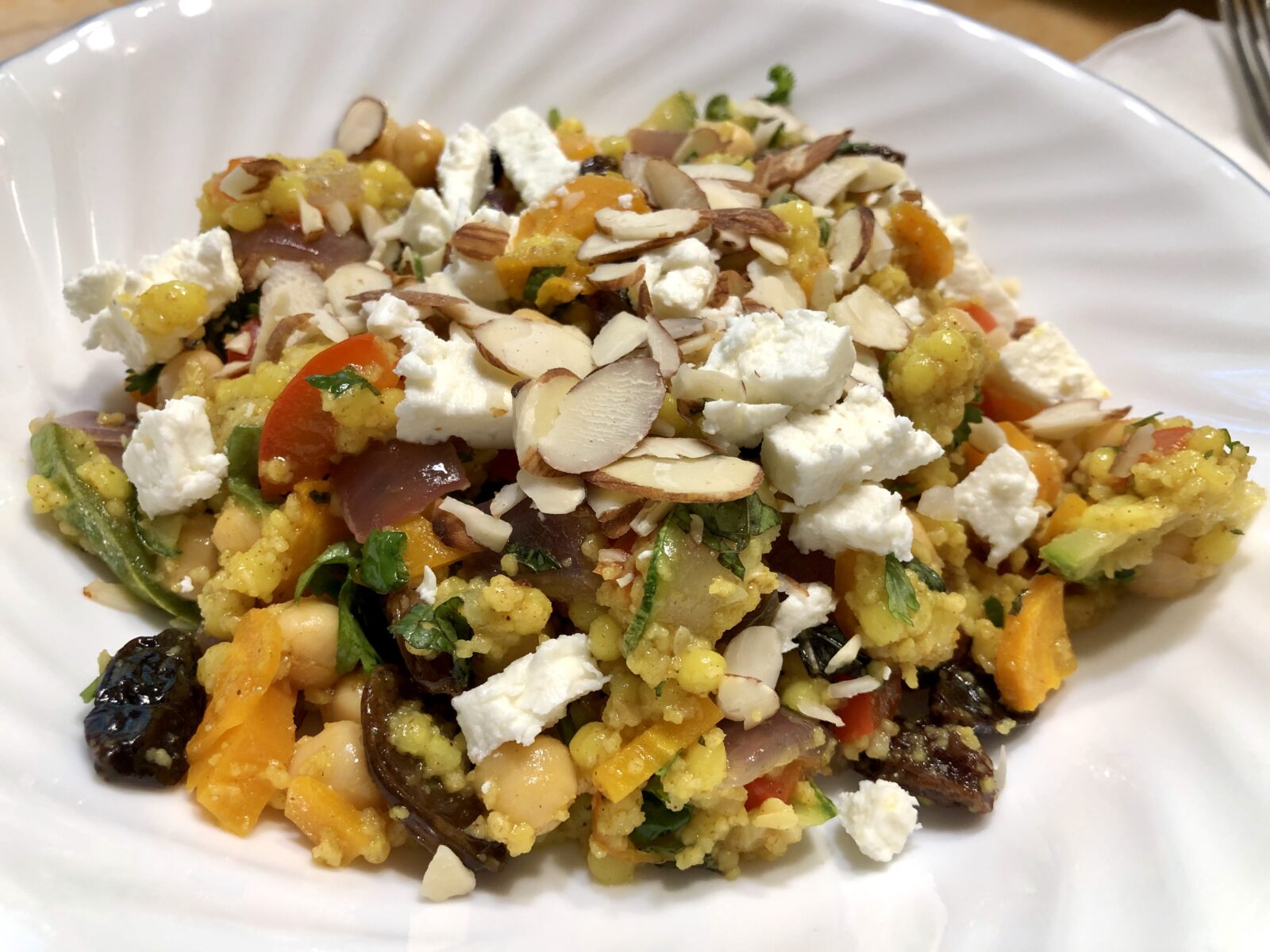 Ingredients
1 large red bell pepper, cored and diced
4 medium carrots, peeled, then halved through length and sliced fairly thin
1 small red onion, diced into 1-inch chunks
1 medium zucchini, halved through the length and sliced
4 Tbsp olive oil, divided
2 Tbsp fresh lemon juice
2 tsp minced garlic (2 cloves)
1 tsp ground cumin
1 tsp ground coriander
1/2 tsp ground cinnamon
Salt
1 1/3 cups dry Israeli couscous
1 (14.5 oz) can low-sodium chicken broth (I use Better than Bullion chicken from Costco + water; reduce the salt above)
1/2 tsp turmeric
1/2 cup fancy Trader Joe's Raisin Medley raisins
1 (14 oz) can chick peas, drained and rinsed
1/2 cup slivered almonds, toasted
3 Tbsp minced fresh cilantro
2 Tbsp minced fresh mint
2 ounces feta crumbles
Instructions
Preheat oven to 475 degrees. I used convection setting with 450 degrees. Spray a 18 by 13-inch rimmed baking sheet with non-stick cooking spray. Place bell pepper, carrots, onions and zucchini on baking sheet. TBH, this was awkward. Dumped it into a big bowl, then…
Drizzle with 1 Tbsp olive oil and season with salt and toss to evenly coat. … so I could be more aggressive mixing, the put on the baking sheet. Roast in preheated oven about 15 minutes until tender, tossing once halfway through roasting.
Then if desired move oven rack closer to broiler and broil for about 1 – 2 minutes to add a light char.
While vegetables are roasting, in a small mixing bowl whisk together remaining 3 Tbsp olive oil, lemon juice, garlic, cumin, coriander, cinnamon and season with 1/4 tsp salt, set aside.
Bring chicken broth, 1/2 tsp salt and turmeric to a boil. If using Israeli couscous, follow directions on package. Place couscous and raisins in a large mixing bowl, pour hot chicken broth over couscous and stir, cover bowl with plastic wrap and let rest for 5 minutes.
Add roasted vegetables, chick peas, almonds, cilantro, mint and lemon mixture to couscous and toss to evenly coat (while seasoning with a little more salt to taste as desired). Serve warm. Top with feta crumbles.