Sunday, April 13th, was the Daffodil Classic, one of three ride events hosted by the Tacoma Wheelmen Bicycle Club, the oldest cycling club in the country.
Because the ride was going to officially start at 7:00 a.m., I tossed all my cycling toys (and the bike) in the car the night before. I had a rather large pile of bike clothing at the bottom of the stairs so I wouldn't wake my wife up (something she never seems to appreciate). I set my alarm for 5:00 to allow time to eat breakfast, make the 70 minute drive, pick up my ride number and pee.
I woke up about 5:15 a.m., about a minute before the alarm was going to go off. It was really dark, and I could hear the rain coming down hard, occasionally punctuated by gusty wind. Great. Got up, turned the alarm off, went to the bathroom, and crawled back into bed for half an hour.
While lying in bed, I was thinking of the previous week's ride, Sara's Southend Saunter from Renton to Tiger Mtn. It was a pretty, but painful 55 miles, supplemented by the pessimistic reality of the co-leader, Tom Matoi, that I wasn't riding very well that day and cold, wet weather. I survived, and even weaned myself off Advil by Tuesday.
Thinking of the conversation with Tom really annoyed me and I wanted to do the ride just to spite him. Hey, even if I did 7 miles in totally horrible weather, it's still 7 miles, right? (Clearly I was still asleep.)
After breakfast, I left for Orting. The rain was still coming down hard, but the wind had died down. My rain booties were still at work, so I had to add a side trip. I checked email — a 5 minute task that always turns into a 30 minute chore — and left. The rain was noticably lighter.
There, a hundred fellow lunatics were chowing down at the fund-raising pancake breakfast. It was apparent they were expecting a much bigger crowd, though, as I got parking right in front of the school and the day-of-ride registrants were getting bib numbers in the 1200 range. Mine was 88. (score!).
They had four routes, a 7, a 20, a 50 (which included the 20) and another 50 in the opposite direction, meaning, you could do 7, 20, 50, 70, or 100 pretty easily. By now I was thinking I'd do 20 miles, so I opted for the 50 loop, on the theory that if I chickened out, I could still do 20.
The first 12 miles was a slight but steady climb up hill to the rest stop. I may have been passed by two cyclists on the segment, but saw a lot of folks at the rest stop. I was kind of tired, but after downing a couple of bottles of Gatorade, a handful of pretzels, three cookies, and two bananas, I was feeling better. I figured if push came to shove, I could make this a 40 mile ride (out and back 20 miles).
The segment to the next rest stop was 11 miles, initially downhill. After spending the first hour sweating like a dog, I was feeling pretty cold going downhill for the next few miles. But by that point, I noticed the energy was kicking in and I was feeling better.
I like the 12-mile spacing of the rest stops, but the next loop would be 22 miles away from the original stop, with not really much opportunity to turn around. By this point, three rather cute women zipped past. They were riding faster, but hormones being what they are, I convinced myself that I ought follow. So, for 17 of the next 22 miles, I pedaled hard and managed to keep up with them. I had the best riding in five years, going over rolling hills using the big chainring.
The final segment was equally fast as it was a precipitous drop down into the farm land. Back at the start, people were rolling in, realizing that it might possibly not be a bad day to go riding.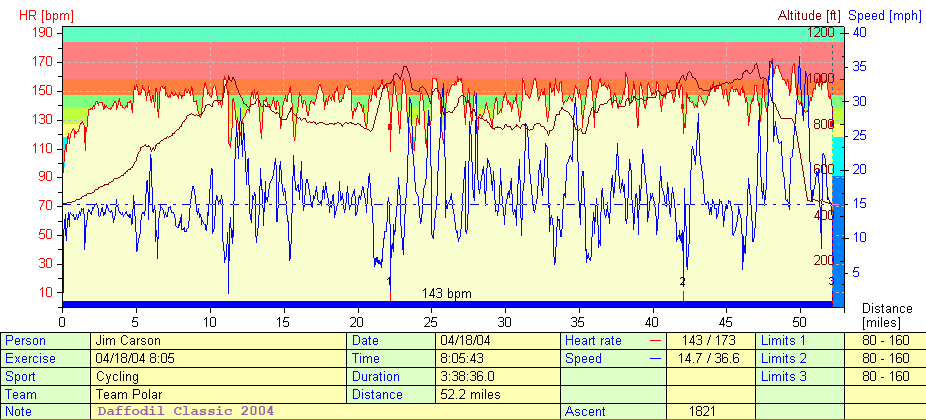 3,500 calories, 4:05, 51.9 miles, and a big grin later…