Day 3: Baker City to Halfway – The big epiphany today was that skipping the (now monotonous) breakfast meant I could sleep in. By getting on the road at 7:30, versus 6:30, I didn't freeze my … um… didn't need a jacket for the hour it was too cold. Now I just needed a step 3 ("Profit!").
The ride up to the Oregon Trail interpretive center was marred by the cacophony of aid cars zooming past. Rumor was a rider had been grazed by an RV. (RVs scare me. When I rode the coast a few years ago, I was far more worried about RV owners – often leased vehicles being operated by someone with age-induced sensory loss – than logging trucks. Loggers know what they're doing.) Ahem. I don't remember much else about the route other than there was one significant climb whose significant descent led us into the town of Halfway. I was surprised how uncomfortable some people were in going downhill, without braking. The landscape of Halfway was pretty:
Because camping was at the school, the main festivities — stage, "beer garden," Hot Lips' Pizza (and their delicious fruity sodas) — were located a half-mile away in the cordoned off area downtown. In anticipation of a long Day 4, I went to bed early.
Day 4: Hells Canyon Dam – Today was an optional rest day. Several people peeked ahead to Day 5 and chose to spend time in the bucolic town of Halfway. For overachievers (ooh- pick me, pick me!), there was an opportunity for out-and-back trip to Hells Canyon dam.
The first ten miles was a screaming downhill. At the bottom, Professional Geocacher Seal Rock George, aka Chuck, aka "Sag 4," was finishing his first geocache for the day. I made a grab of the same. The road following the Snake River was a constant up, down, turn left, turn right, hairpin. Views were stellar as the sun was to our backs. Just before Oxbow, I made an off-road venture to a cache that had recently appeared in the Oxbow Dam area. As I was climbing the steeeeeep ridge, I kept thinking about how sore I was going to be at the end of the day. The cache was buried among some quartz. I was the first to find this particular one. My first FTF! The climb back up the same ridge seemed a lot easier.

Lunch was being hosted by the park along the bridge at around mile 25, e.g., crossed very early in the day. The intent is we'd revisit this spot on the way back, ideally by 3pm when lunch officially closed. The dam was an interesting structure. After I'd pulled over to take photos, the PA system came on: "This is Idaho Power. Parking is not permitted on the dam. Please leave the area immediately." Awesome!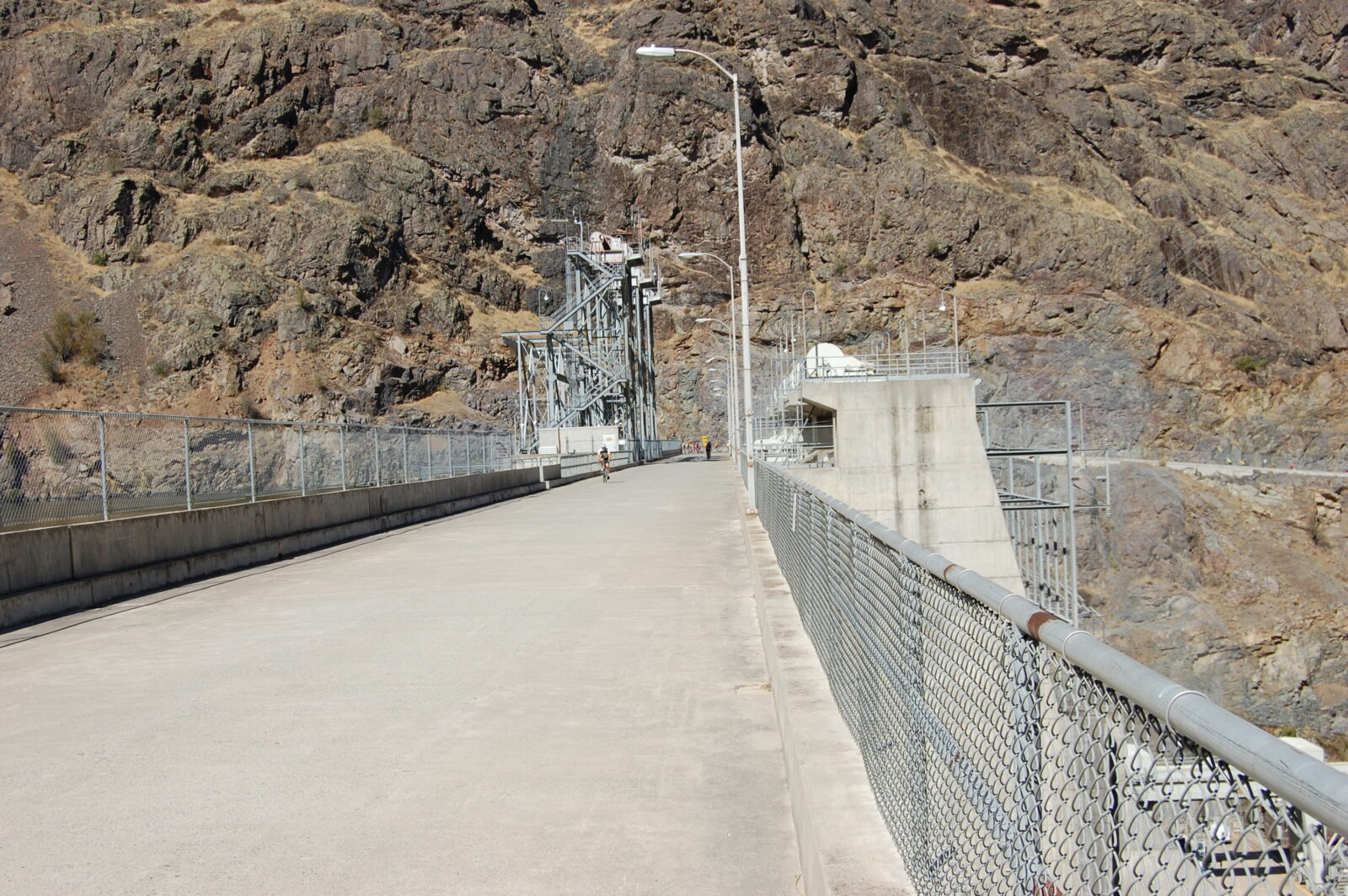 The least-accessible geocache (only one way in) was at the "Heaven's Gate" recreational area north of the dam. Getting that one kept me motivated to do the entire ride, by which point I was already committed, figuratively speaking.
On the way back, I stopped at Big Bar to look at the historical markers commemorating an orchard that used to be located there. While I was pushing my bike out, I saw my tires were covered by goatheads. I flipped the bike upside down and gingerly plucked them from the rubber. Whew, no flats, the tire liners had saved me. (Or so I thought, the next morning my front tire was flat. It would repeat this stunt on the morning of day 6. Though I searched for remaining stickles, the remedy was to replace the tire.)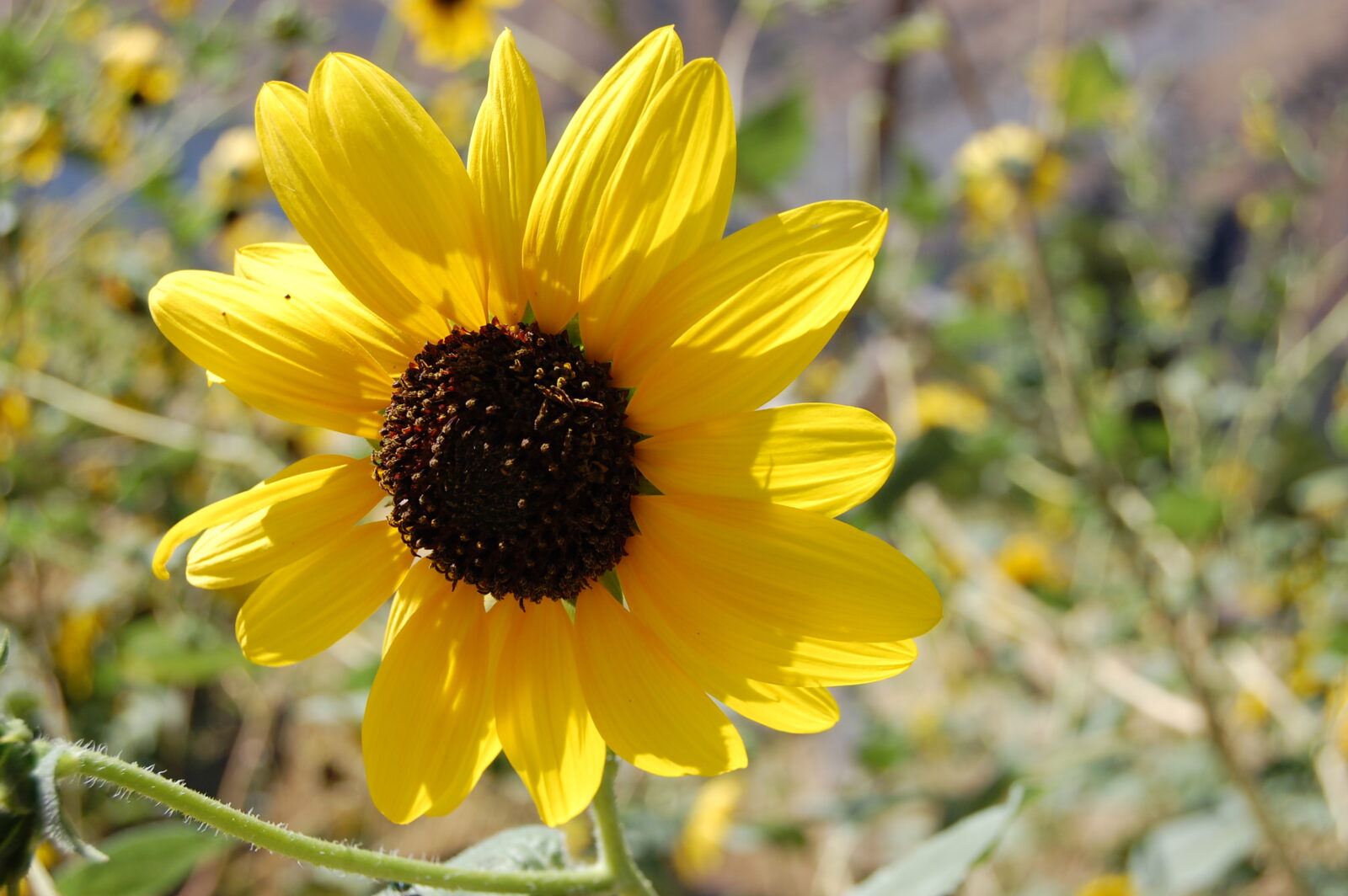 While mailing a bunch of post cards at Oxbow, I saw there was a cache a half-mile up a gravel road. The actual cache was located in a quarry area that I had to climb up and around. Sometime during my visit, I tweaked my pinky, perhaps a mild sprain. I can bend it, but the ache and swelling has been going on for a week and a half.
When I got back, I was craving pizza. On the stage area was one of the local government officials speaking. When she was done, she introduced a nicely dressed woman who was going to sing for us. I was not expecting karaoke. Unfortunately, I hadn't left before the earworm version of the Mr. Mister song "Kyrie" had thoroughly bored itself into my skull. It haunted me as I did some laundry back in camp, only for some reason it seemed I was hearing the nonsensical "Kyrie a laser" instead of the religious "Kyrie Eleison."
When I revisited later for more pizza, the feature band for the evening, Karoke from Hell, was setting up. Had I not already booked a massage for 8pm, I would have probably come back to hear them play.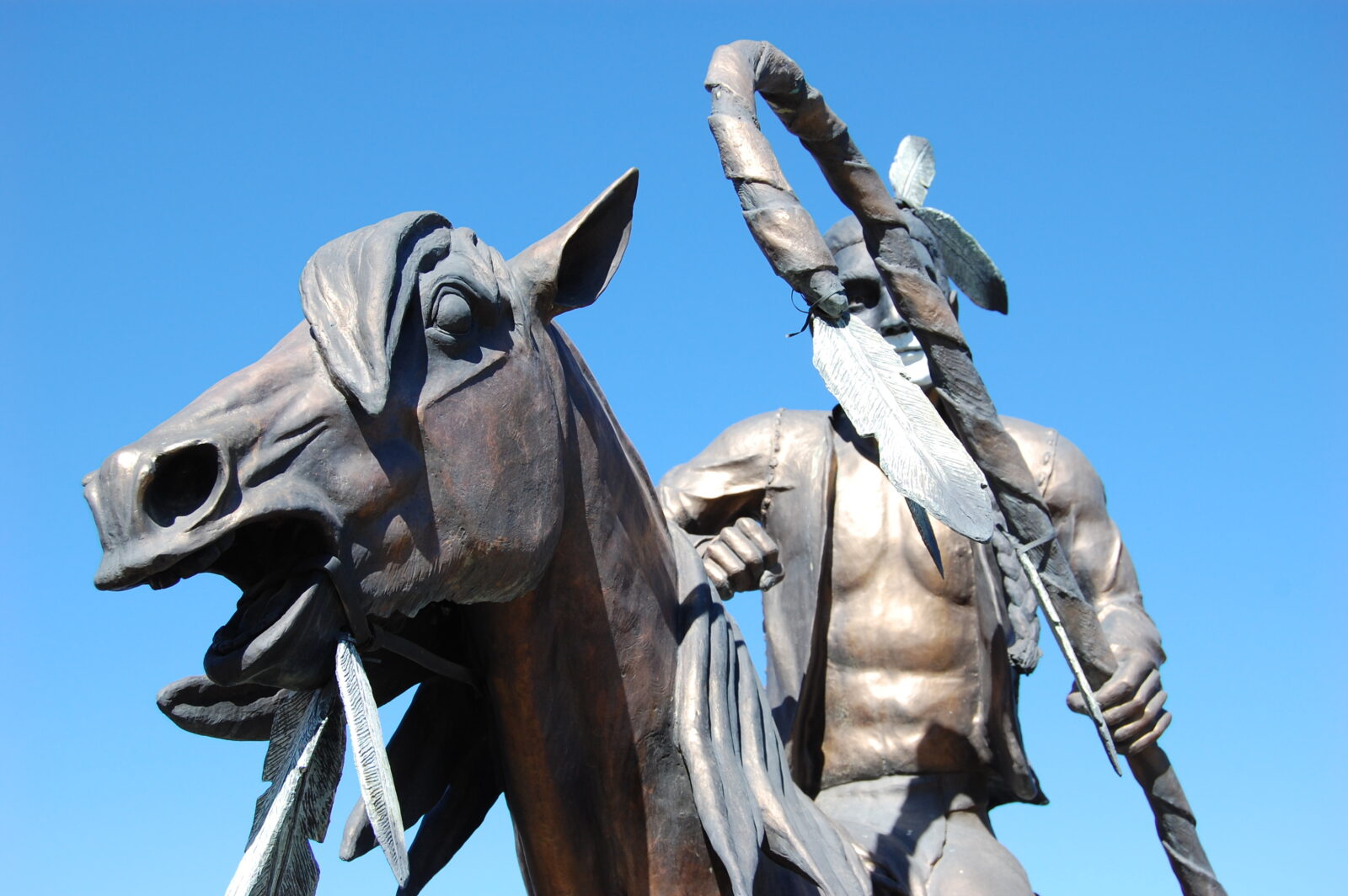 Day 5: Halfway to Lake Wallowa State Park – This was the hardest and best day of riding. We started with the same ten mile downhill as yesterday, then did a 3,000′ climb along a quiet forest road. The only traffic was Cycle Oregon related, e.g., the blue outhouse truck heading up to the lunch stop or the occasional Oregon State Trooper on his BMW motorcycle. The climb wasn't steep, just one of those where you have to reach the mental happy place and grind it out for a couple of hours.
The size of the group presented some drawbacks on this climb with people passing or being passed as the group spread out. Occasionally, I'd come across someone wanting to share their pessimism about the day or hill. If they persisted, I politely excused myself and accelerated up the hill. No negativity is permitted today!
I was very glad they had a water stop along the way because perspiration + arid climate = consuming a 100 ounce Camelbak at a prodigious rate. I was also getting tired of the Gleuknos energy drink, but discovered that it tasted much better if I poured in a bottle of Snapple. Also, the bite valve of my Camelbak was leaking, leaving electrolyte residue on my bike.
After the summit, we had a brisk 400 foot drop before having to decide whether to climb another 500′ on the optional side trip to Hells Canyon's Scenic Vista. Theme for the ride: Optional, my ass. Seriously, I'm not going to bike all that way and not go see this thing.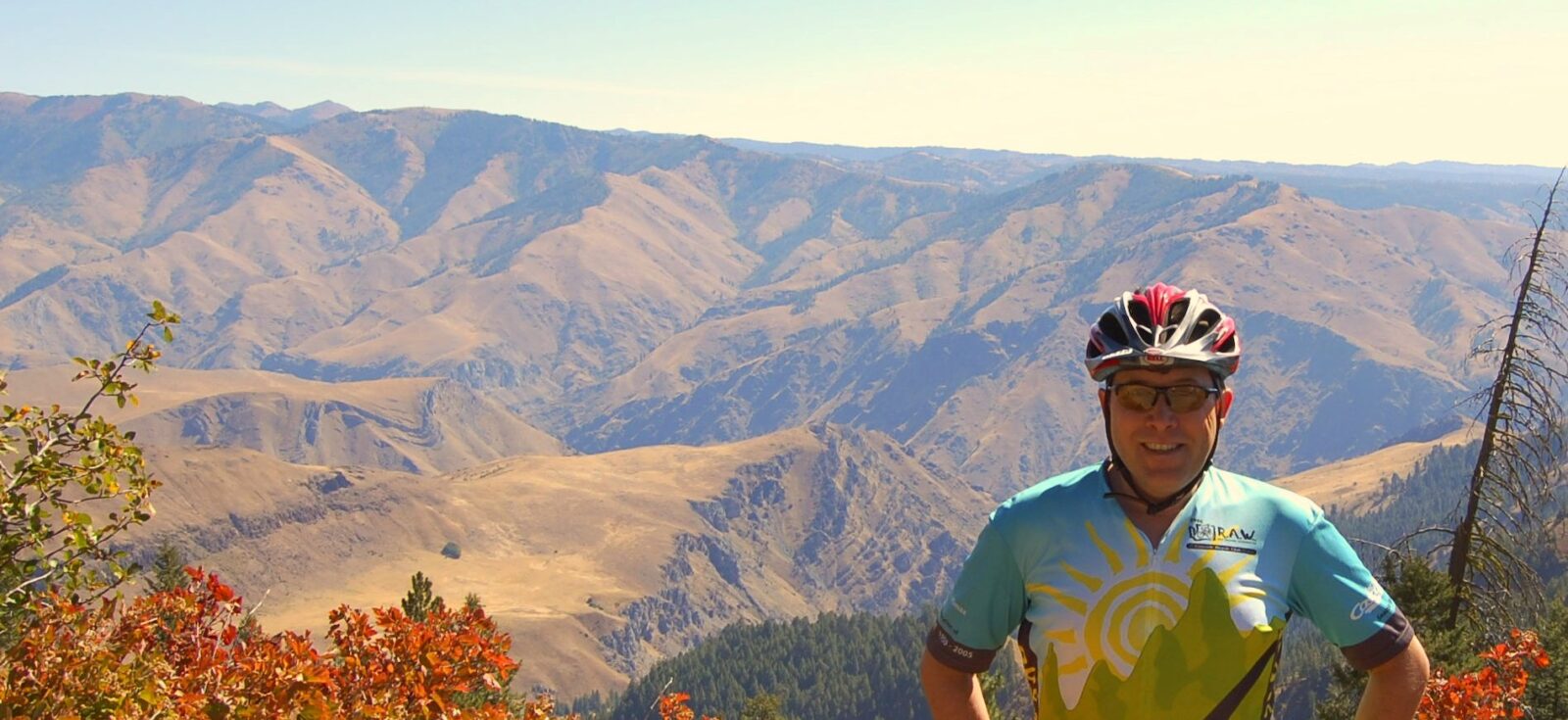 One of the overlooks was, coincidentally, a newly placed geocache for which I netted my second FTF. From here, we went down and up and down and up, accumulating nearly 7,500′ of climbing that day. I rolled into the town of Joseph around 5:30. Several other riders were still on the course, no doubt giving the SAG drivers lots of business. The next morning they'd mentioned riders were coming in as late as 10:30 p.m.
I set up my tent, showered, and then noticed that it was a lot colder and later than my previous stops… because I'd gotten in later. At 8pm, I headed over to the massage tent to have two days of muscle kinks worked out. While waiting for my appointment, a rider was berating any Cycle Oregon volunteer who'd listen to him about getting someone to lug his bag over or "watch my $15,000 bike." He was a total tool, and though I wasn't part of the conversation, I regret not calling him on his being an ass.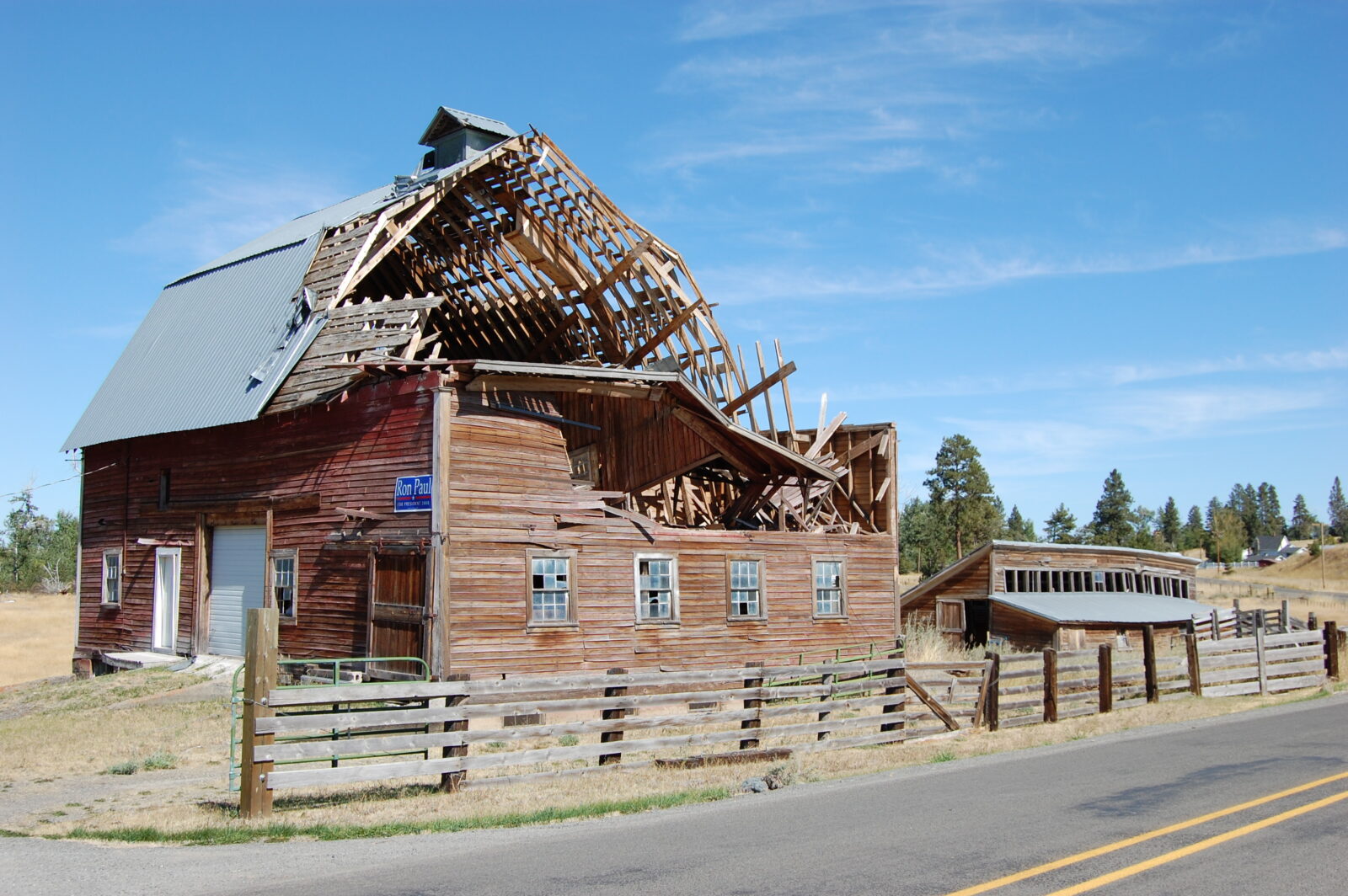 Day 6: Local loop of Joseph, OR and Enterprise, OR – Prior to the event, there was an email about volunteering for the "Friends of the Forest" projects going on to build bridges or rip out noxious weeds. I hadn't received a response to a question I sent the project manager, so I wasn't signed up for anything. Probably a good thing, as I was pretty tired from the previous two days' heavy riding.
I hiked around the park in the morning, cache-ing in a couple of times before breakfast. When it warmed up, I took a gingerly ride into town for coffee and caching. The optional 32 mile loop had lunch in the town of Enterprise, where there was a pretty good band going on. They also had various people selling things and kids offering "bike washes."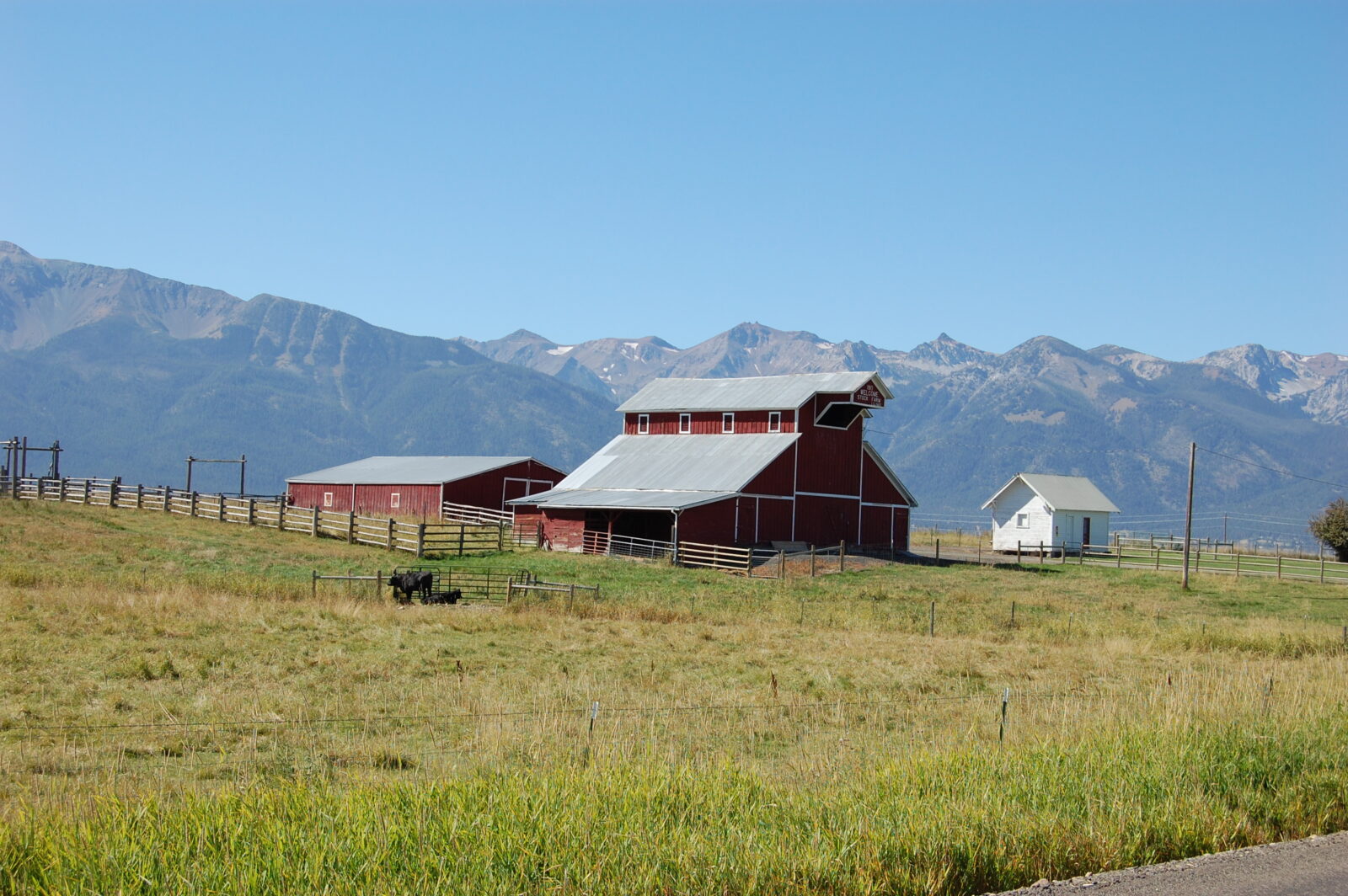 After finding all of the geocaches in town, I headed back to the park, stopping to visit the Chief Joseph (of the Nez Perce) burial grounds. Once again, my front tire was squishy, indicating a slow leak. Intent on just replacing the tire (and not just the tube), I pumped it up and made it south a few miles before having to pump it up again. For once, the Bike Gallery store wasn't mobbed. They put the tire on for free (I just had to buy the tire for a reasonable $35).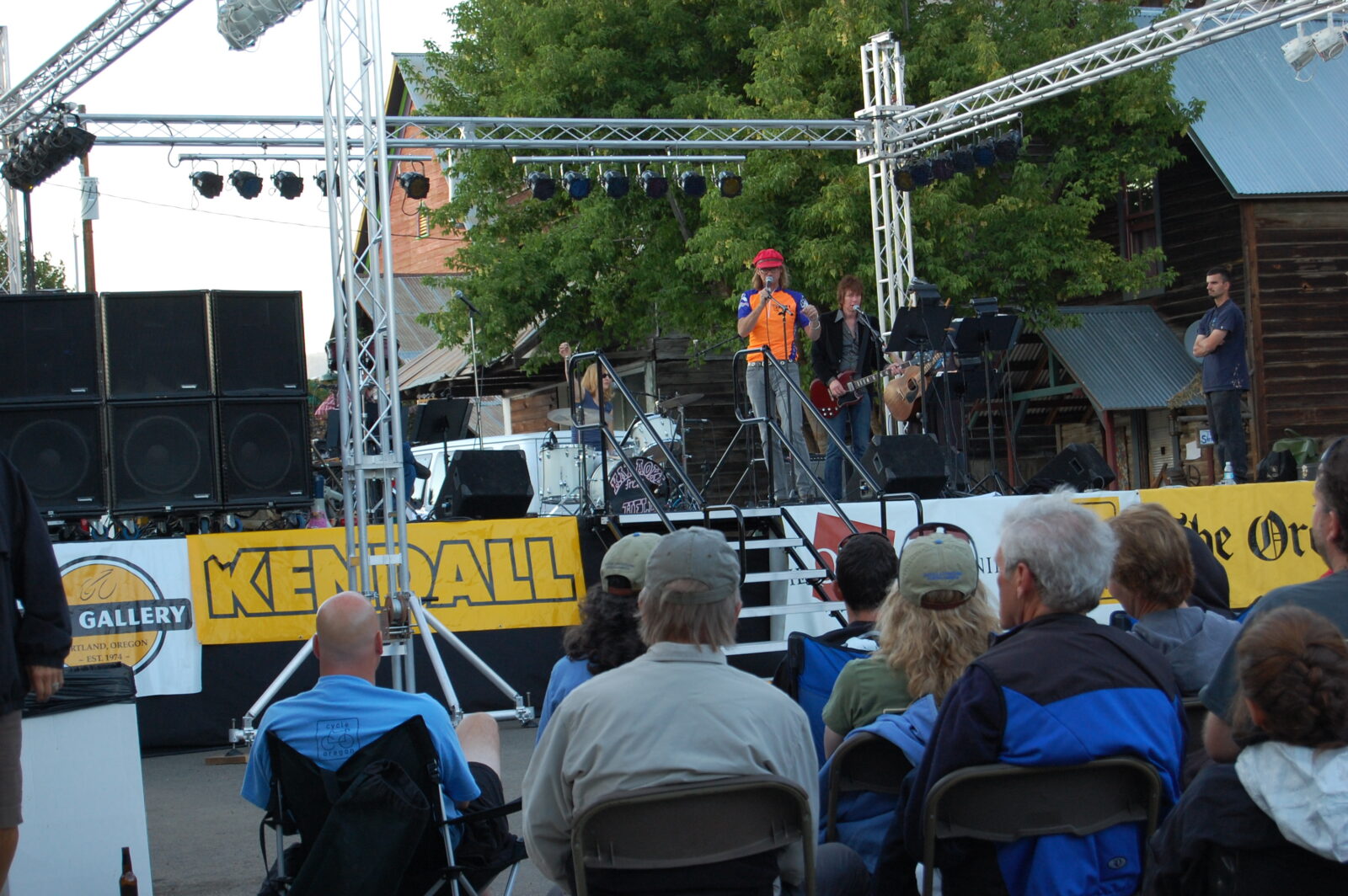 The evening's entertainment was Marv and Rindy Ross, aka "QuarterFlash." They did an awesome acoustic duet of "Find Another Fool" that I would looooooove to buy if it ever became available. Some other band members joined them to play songs on the new record, Goodbye Uncle Buzz. The setting and surroundings were an ideal night.
Day 7: Lake Wallowa State Park to Elgin, OR – It was another chilly morning, and somewhat a relief that I could just jam everything into my oversized duffel, haul it to the baggage truck, and go on my way. Several local vendors had set up carts in camp to sell mochas, green tea and muffins. Since today's route was mostly downhill for the first 40 miles, it would be enough to tide me over until "lunch."
To warm up, I biked up the southernmost road to get One More Geocache before I left. I propped my bike against the "no bicycles" sign and hiked the 1/2 mile to the final, a peanut butter jar tucked under the pillar of a bridge. The only two caches in the area I didn't try required riding the Wallowa Tram.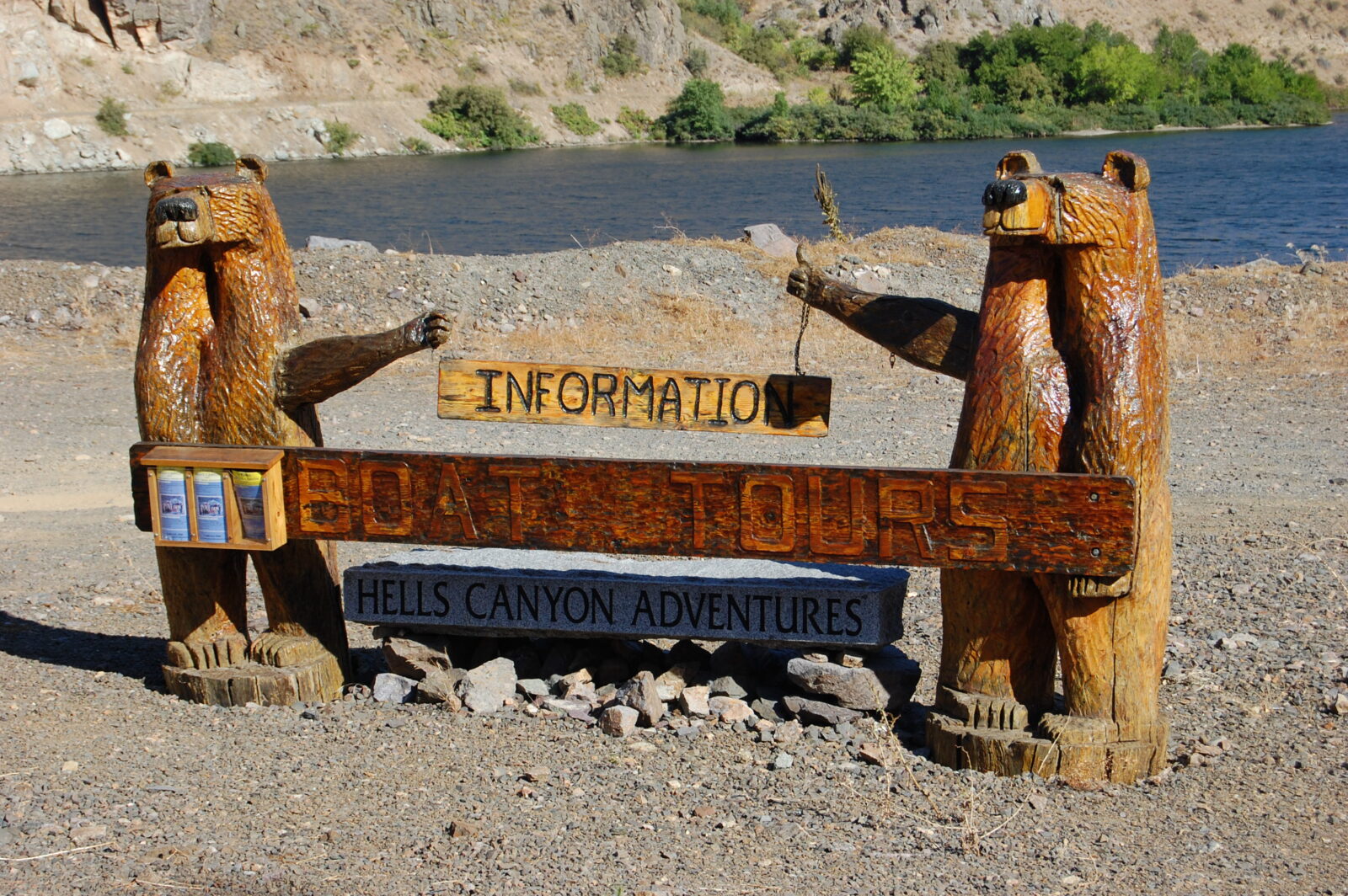 I knew this was going to be downhill most of the day, but it was still eerie being able to maintain 20+mph for the first two hours of the ride. (Without gravitational assistance, I am much, much slower.) Parts of this route were very scenic, and where I could, I stopped for photos. However, I was keen to stay reasonably ahead of the main group because I was keen to finish the 6+hour drive home before sunset.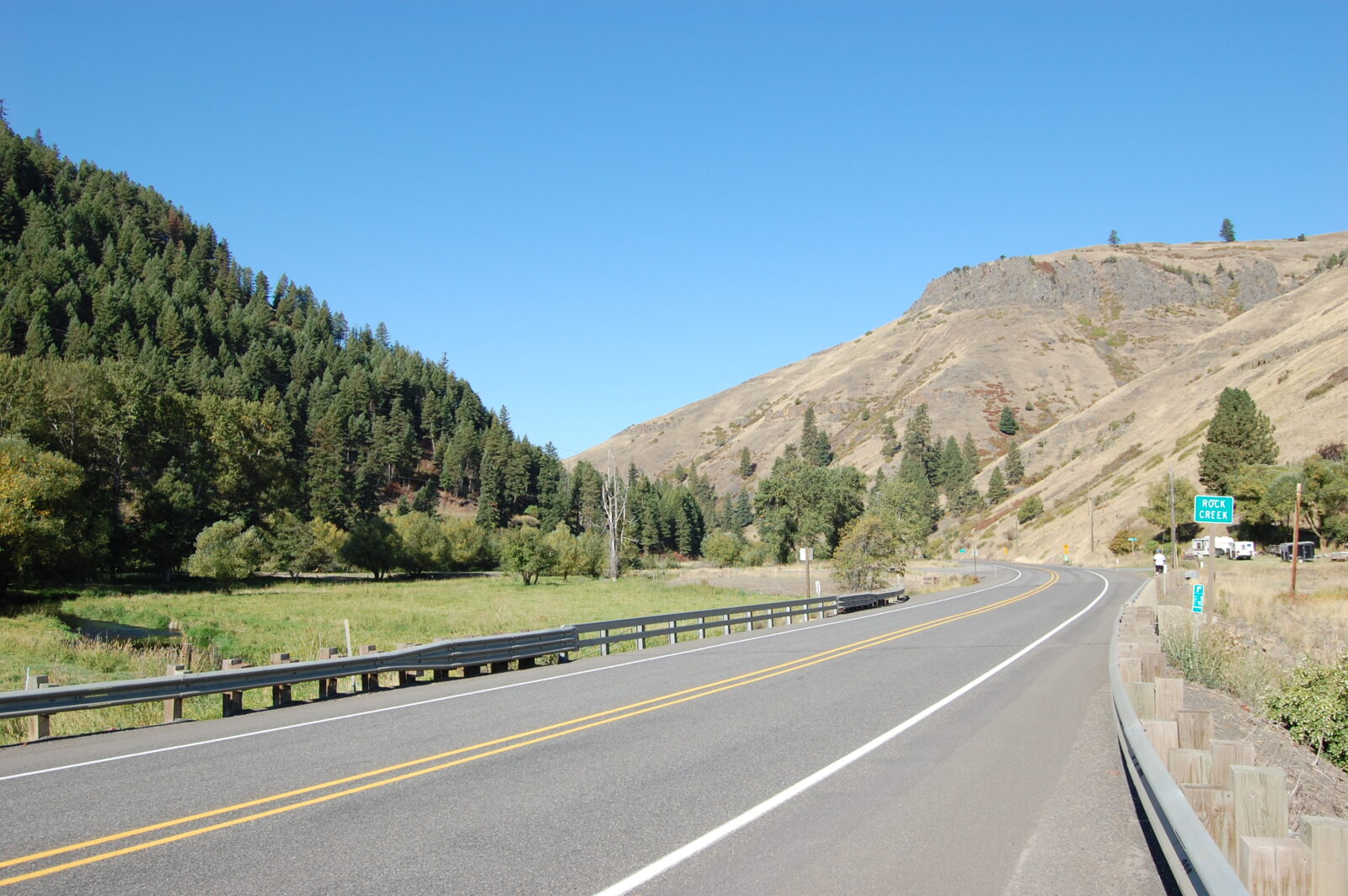 At mile 43, there was a nice 1000′ climb on a moderate grade, followed by the rollers into Halfway. There was a makeshift "tunnel" for riders to go through amidst cheering people. As he had done in previous days, Mike Hand was offering up cartons of chocolate milk, the performance beverage favored by the most elite riders.
When I was done with that, I biked to the long-term parking lot where I found my car encased in a thick layer of Elgin dust. Unlike several other riders, I had taken my car keys with me. This let me stow the bike while I waited for the luggage truck to unload. Oh, the perils of being "first bag on, last bag off!" By now, riders were coming in faster. The men's shower truck had a long line, but at least it was moving quickly. It felt good to be in civilian clothes.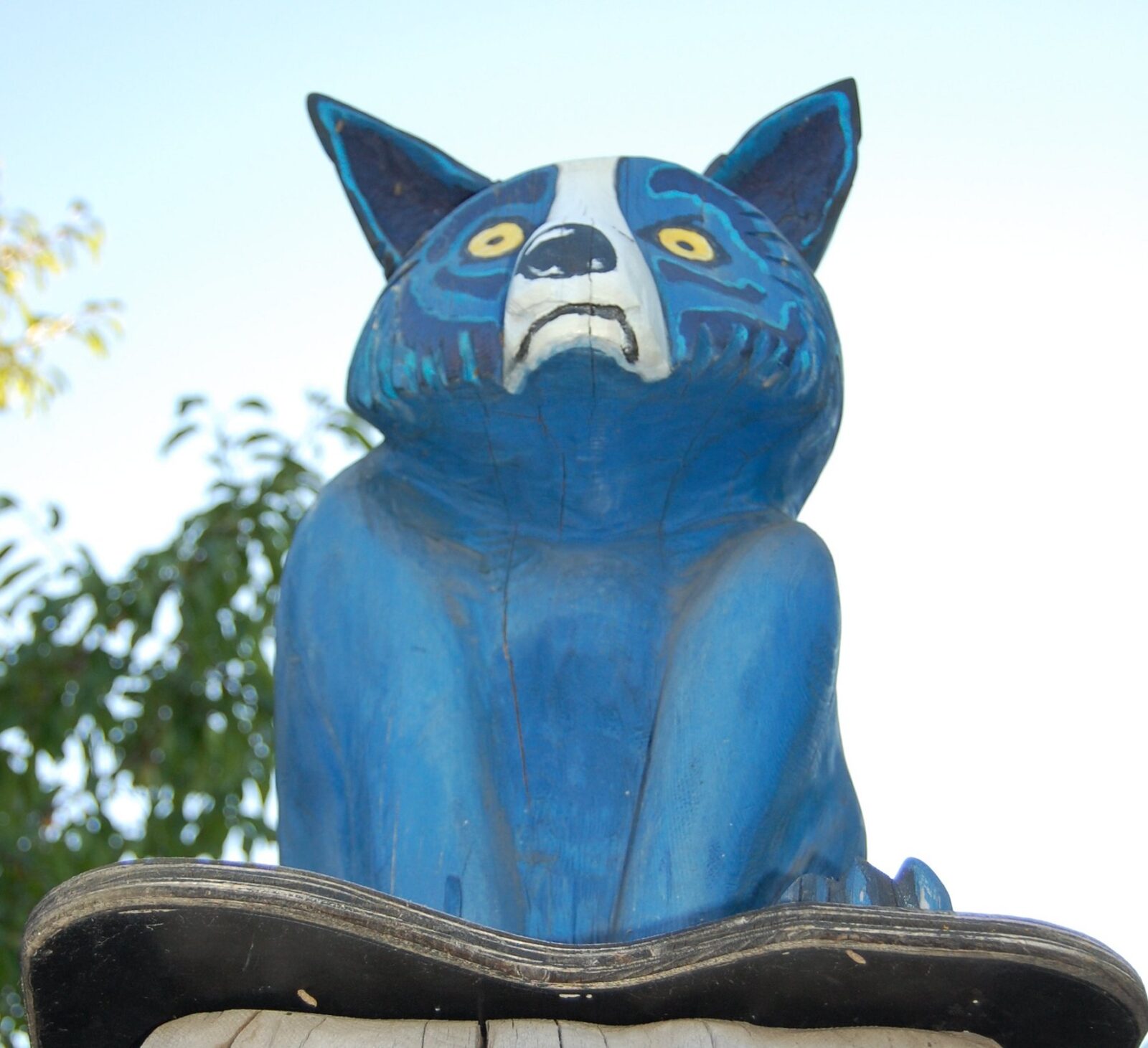 I drove until I was in the vicinity of Meacham, where I chose to stretch my legs and visit a string of geocaches in the area with great names like "I Hate I-84" or scenic vistas like the one above. There were a couple of Mystery Caches in Pendleton (e.g. Sudoku Murals) that I'd worked out earlier, but Pendleton Rodeo Days was going on, making parking iffy. It was amusing glancing over at the moving map and seeing how many caches were near the freeway. If I do CRoC again, I have a lot of possibilities.
So, that's the story. Seven days of great weather and 480-ish miles great cycling was had. Including side-trips, the days worked out roughly as follows:
| | | |
| --- | --- | --- |
| Date | Mileage | Elevation Gain |
| 9/6 – 9/7 | 53 | 1,148 |
| 9/8 | 97 | 4,103 |
| 9/9 | 54 | 2,717 |
| 9/10 | 88 | 4,622 |
| 9/11 | 90 | 7,412 |
| 9/12 | 37 | 1,105 |
| 9/13 | 60 | 2,003 |
Below the fold are random thoughts just so I can have some notes to reference next year.
Stuff I liked (in no particular order):
Having Dr. Ellen Bishop of the Oregon Paleo Lands Institute accessible and explaining what we'd seen during the day was an awesome idea. (There was also a RAW has a blurb for this each night, too.) I wish I'd seen the multi-page packet before I'd started.
The route. Except for Baker City, the route was awesome. I liked having the optional day to visit Hells Canyon.
Road markings were the benchmark that other rides should aspire. They used these sticky arrows that came on a spool to indicate turns. Supplementing those were signs indicating (by the number of arrows) how imminent a turn was or a vector for approaching railroad tracks. Occasionally, the signs would offer totally incorrect (and usually obviously so) information. For example, one showed "Sylvia's Espresso and Croissants, 1 mile" leading up to the Stinkiest Park Bathroom Ever, last cleaned when Bush 1 was in office. (The "Mountain Bike Shortcut" up a very steep, non-road did trick one rider.) At at least three spots (Baker City optional, Hells Canyon optional and one other I can't remember right now), there was active traffic management.
Maps, though highly unnecessary, contained a pictorial overview of the route and a scaled profile, marked with key points: campgrounds, stops, cattle grates. On the back were turn-by-turn directions. If you got lost on the route, you should not be allowed outside without parental supervision.
Food, drink and potty stops were generously spaced. If you're a woman and/or fortysomething and have a penchant for being well-hydrated, there was never a need to go where bears go. They serviced the blue houses frequently, too!
At breakfast each morning, copies of the Oregonian newspaper were available. I tried to avoid reading too much lest I get caught up thinking about the Lehman/Morgan Stanley/WaMu/AIG financial catastrophe that was unwinding. Hurricane Ike did affect my parents, so after I got back, I called. (Damage: destroyed front porch, roof sheared, electricity out until the October 4th.)
The ride is large enough to support commerce: Hot Lips Pizza, Bike Gallery (several mechanics and an entire bike store), a Ben & Jerry's ice cream truck. There were also a chai/tea store and a Brazilian coffee store, but the lines for both were ridiculously long in the morning. There was also a fund-raiser to have one's bike detailed for $40. My bike sorely needed this by day 5,
Music options (especially once they got past the abundant Country and Western) were interesting and optional. Great blues group during the lunch in Enterprise.
Friendly volunteers. Many communities had people volunteering (usually as part of a fund raiser) to serve meals. Bags could be "portered" for tips, though usually by the time I found someone, I was almost all the way there.
Other riders. 99% of the people were good about saying "on your left," occasionally interjecting "well, barely, this hill is a doozie!" In general, rider etiquette was far superior to most Cascade cycling events.
The vegetarian dinners were tasty. I did have to break with this menu when they offered delicious pulled pork barbecue at the rest stop on the last day.
Not so much:
Lines for everything. The queueing model seems to have been mostly thought out, because the lines moved much faster then they'd initially appear… except for the vendors who were part of this. I would have loved to have dined in downtown Joseph, but there were so many other people with the same idea, it just kind of overwhelmed the place. Similarly the fancy Brazilian coffee place was unapproachable.
The camp layout was pretty sprawled, with food, shower, and luggage trucks on opposite ends of everything. I spent a good 15-30 minutes hiking around, trying to figure out where stuff was. When I set up in Halfway, I was happy to secure a fence on which I could hang laundry. However, the luggage was easily a half mile away. I generally set up camp away from the food and shower trucks (these have generators that kick on at weird hours).
Breakfasts. For some reason, they seemed overly monotonous and committed crimes against bacon. Since I'm not fond of scrambled eggs, I had oatmeal and whatever random fruit available. Lunches were generally boring.
Feeling like I should have signed up for everything in advance. About a month prior, I'd finally read through the stack of emails they'd sent and realized that the Cycle Oregon Massage Team was taking reservations as early as May. The first inquiries I made were all booked up. I lucked out in finding a person who had no email/web site and whose phone number had a typo. (I mentioned the typo to her when I booked.) Clearly, it's like STP where there's a run of people who've done this long enough that they know to book stuff.
If the route looks interesting, I'd do this again.
(Whew!)