Last year at this time, Cacade's Ride Around Washington was leaning towards the "Ring of Fire" volcano route.   I've had good experiences on two of their other events, and was looking forward to riding this year's.  In every other year, the ride has open slots through June, plenty of time to figure out my plans for the summer.  This year, it sold out January 3rd, two days after signups opened.  Great for Cascade, sucks for Jim.
I briefly looked into rolling my own route along the Pacific Coast, but self-contained touring is a lot more work than I wanted to do.  I love camping, but I don't want to schlep bags.  So, back to the supported tours, I noticed Cycle Oregon's route was in northeastern Oregon, an area I'd already enjoyed during the previous two Memorial Days.  One thing I was leery about was the event's size: Cycle Oregon has over 2,000 people, ten times the ridership as RAW.  But, since their refund policy was reasonable, I staked out the date.
I hadn't thought that much about it until the last month.  As my product launch was winding down, I was soooo looking forward to a week off from the Internets, email, phone, meetings and pre-meeting meetings. September 2nd, it was set free — free! — and my mind was on last-minute trip planning.  I must have been to REI four times for various items: a big monster duffel (because CO allots riders only one bag for everything), Dr. Bronner's peppermint soap (end-of-day reward), micro-fleece towel (dries quicker), and so forth.  I cleaned my bike up and started packing Thursday night.
I left for Elgin Saturday, late morning, expecting I'd be able to pick up some geocaches (and get #100) along Yakima Canyon Road.  Had I been going to Pendleton, I'd have timed it fine.  Elgin is about an hour and a half past Elgin, or two-hours if you stop for gas/bio break.  I made it to long-term parking at 5pm.  We were supposed to dump our bag in front of our cars and bike to the registration point a mile away.  It's times like this I really appreciate spandex.
With over 2,000 people milling about, registration was a bit chaotic.   It occurred to me that this event is essentially a mobile city on wheels.  As the days progressed, I appreciated how complex the logistics were.  For example, we'd more than double Elgin's population of 1,600.  To avoid overwhelming the city's facilities – literally – they had portable toilets and the ever-important cleaning truck follow us along the route.  (I don't want to conjecture what the truck did with the effluent; rather, I'd marvel at the awesomeness of a clean, stocked toilet.)

After visiting Elgin's only geocache, I set up my tent.  To my horror, the tent was all stuck together with the seam sealant I'd applied back in April.  I spent 45 minutes slowly peeling walls apart, careful to not to rip anything.  While doing this, I was mulling over how bogus tent marketing is.  My "2-person tent" really means two hobbits or one person, some equipment, and a lot of coziness.
Day 1: Elgin, OR to Union – It was c-c-c-c-cold when I woke up.  I got dressed, packed up my stuff and wandered over to the breakfast tent.  I'm pretty sure I was on the road before 6:45am.  It warmed up nicely once the sun rose, but this was way too early to get up for such a short (46-mile) ride.  Along the route, I peeled off onto a gravel road to find a geocache in someone's orchard.  After having a nice conversation with one of the locals riding horseback with his son, I tried to find the cache, but instead ended up with these little prickly spores all over my woolen shirt.  It took several minutes to pull all of these things off.  My 34-day streak of finding caches was now over.  But, look, the pretty: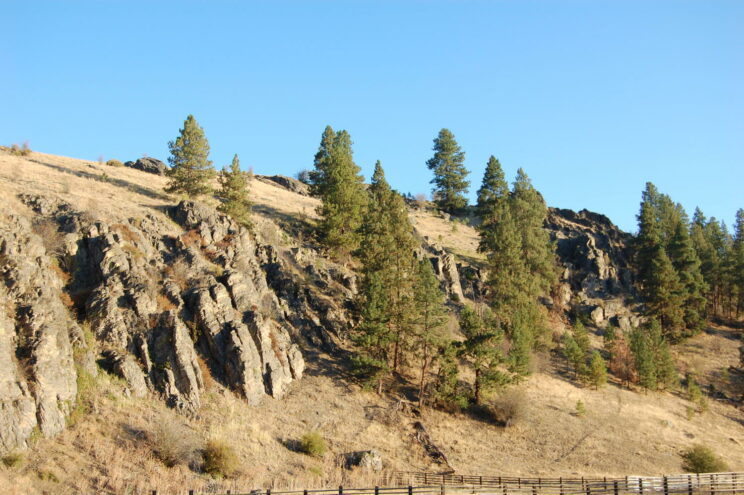 Upon arrival in Union, I was greeted by clapping and cheering people.  Some young kids wanted high-fives.  It was kind of fun, kind of surreal.  There wasn't much else going on in town, so I hung around in camp, planning out my geocaches for the rest of the week.  I also, wisely, made my post-day5 massage appointment later.
Day 2: Union, OR to Baker City – This was my longest mileage day (97) because I did the extended option and added several geocaches onto this one.  The first geocache was at Catherine Creek state park, which most people were using as their first post-breakfast potty stop.  I parked my bike behind some bushes and hiked the 1/3 mile up the hill to the cache.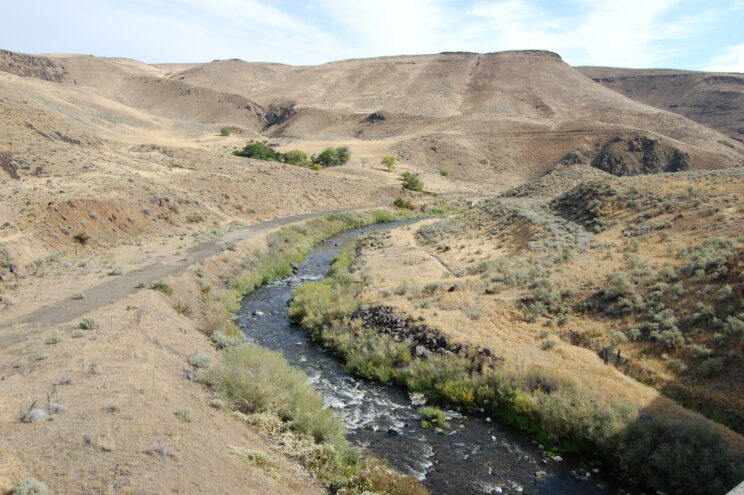 Near Baker City, there was an option to go straight to camp or to do a loop to North Powder, OR, and extend the ride.  The textual description of North Powder made it sound more appealing than it actually was.  (Maybe it's scenic in winter?)
The access road to this was in pretty bad shape, with uneven filling causing irregular ba-dumps riding over it.  Some of us were reconsidering this section, but we soon hit US 30 and it smoothed out.  I picked up a few geocaches on the way to North Powder.  Unfortunately, I also wasted some time hunting for the proverbial "micro in the woods."  A "micro" is a really tiny cache, most often used for stealthy, urban caches where an ammuntion box (or, in Boston, a blinky toy flipping the bird) might cause "undue panic."  But when someone puts a micro in the woods, and there's no puzzle to solve, it's challenging without the fun.  You can also hide an ungulate in the woods.
I arrived in the campground in Baker City around 3pm, set up  my tent, showered, ate dinner, and then went back into town for three specific caches I'd scoped out before I left.  One of the most interesting caches I'd found was a nondescript memorial/cemetary for the Chinese workers.
Another cache I found centered around the historical downtown Baker City district – and specifically its post office now owned by a law firm – that's seen revitalization in the last ten years.  The third was a puzzle cache searching digits of pi for coordinates.  I solved its puzzle, but couldn't find a way to physically get to the location without traipsing through someone's yard.
Baker City was the largest city we visited along the way.