Day 7 was largely heading back to Reykjavik, picking up geocaches along the way, and doing a food and drink walk tour to become familiar with the town (and eat something different than skyr and granola).
Urriðafoss was the first stop, and barely registers a paragraph in my tourist guide, but was a nice quick stop. Its name means "waterfall of the salmon," and it's located in the river þjórsá. According to the local description, its flow is the highest volume of water in Iceland at 360 cubic meters per second, with a drop of 6 meters. For comparison, Dettifoss, which is supposed to be the second most powerful waterfall in Europe, has a flow of "only" 193 cubic meters per second. The waterfall can freeze in the winter, which must be a spectacle to behold.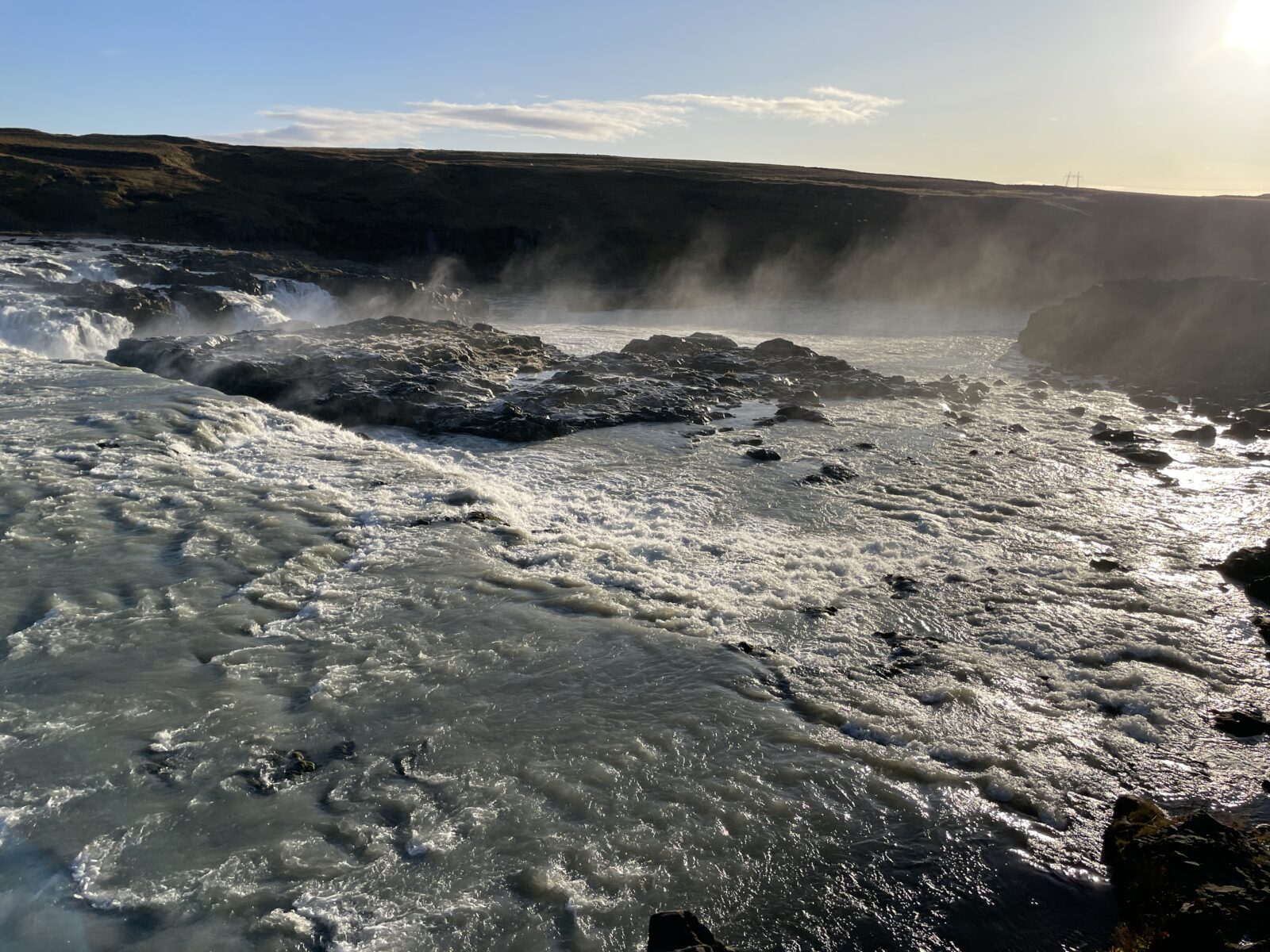 The second major stop was near the river Ölfusá in Selfoss. There was convenient parking in a grocery store to walk a short stop to the riverside where there were several circular "pots" approximately 1-2m across. These are believed to be "traces of large bubbles of gas" that came up in molten lava from the Þjórsárhraun flow 8,700 years ago. (Þjórsárhraun is also said to be the largest flow since the ice age.) Here are three of the set.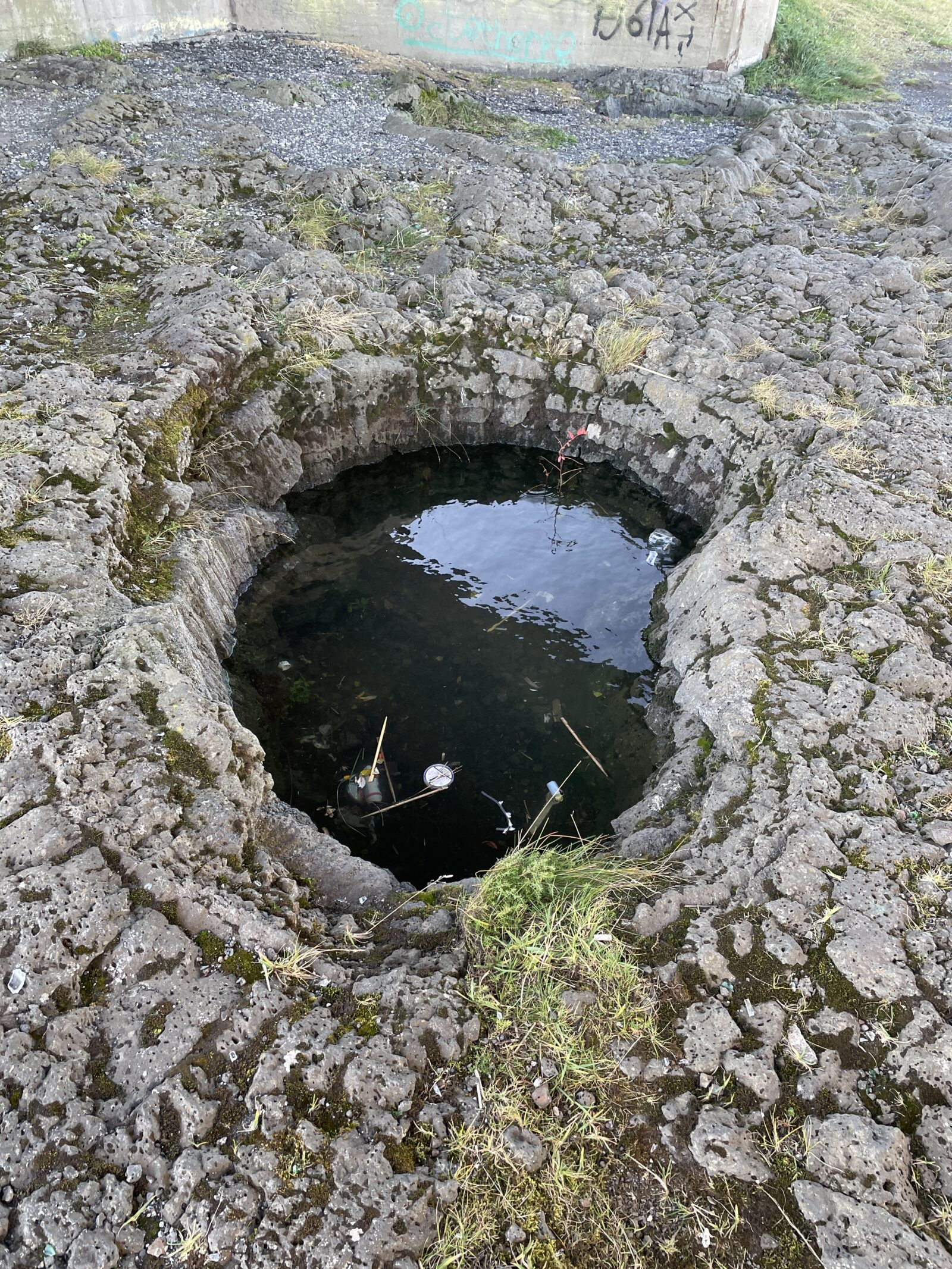 "Yes, I suppose those are cool. But is there something bigger?" I hear you thinking. Why yes, a short stop later was to see a hornito. The Icelandic folk name for these is Tröllabörn, or "Trolls' Children." These are similar to splatter cones, but are rootless, meaning they aren't tied to a main lava vent. This one was about 3.5 meters high.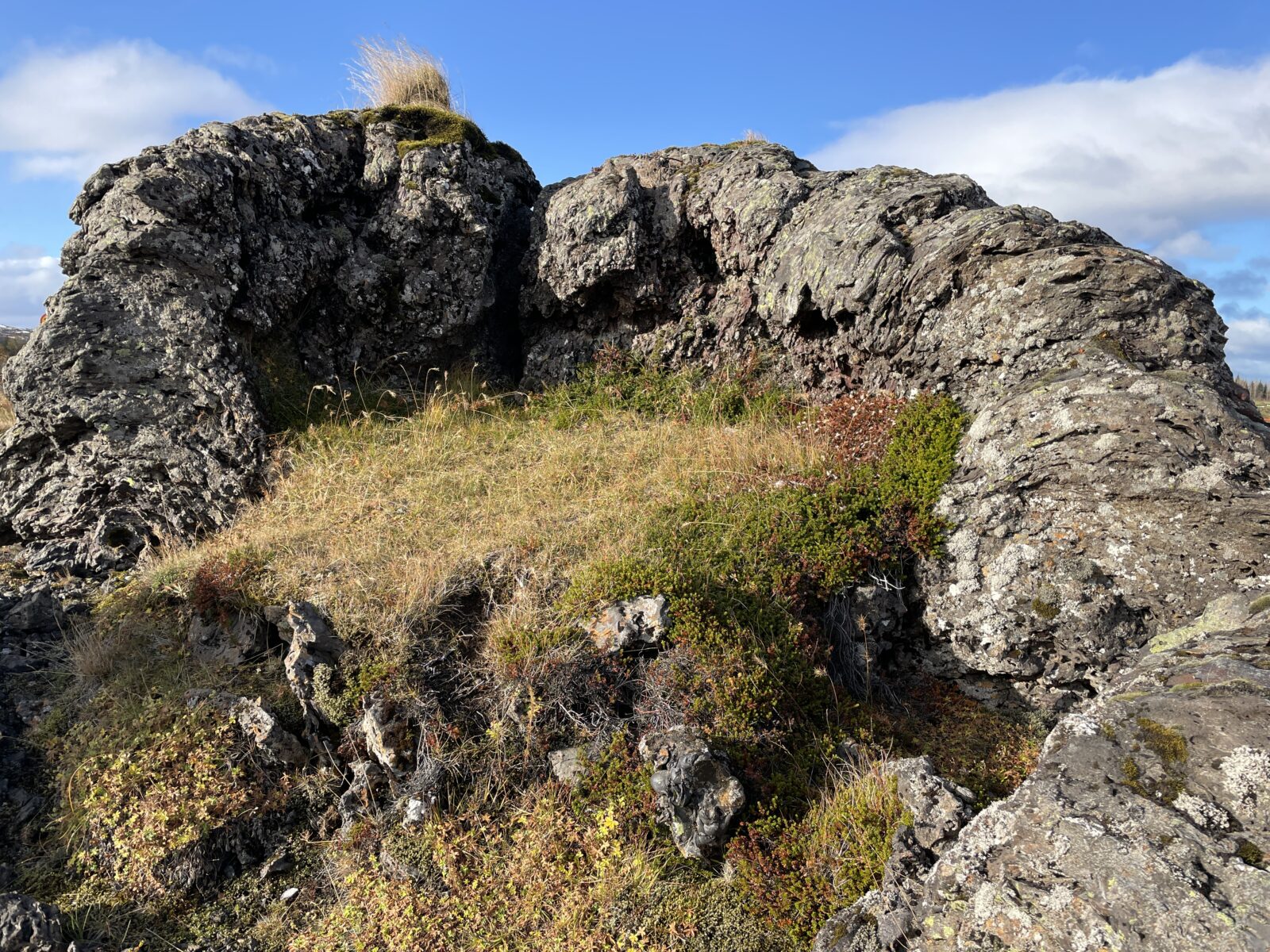 (Also, after being here a week, I feel embarrassed that the United States refuses to abandon its stupid measurement system rather than the SI / metric.)
Here is an image from the earthcache that illustrates the hornito formation process: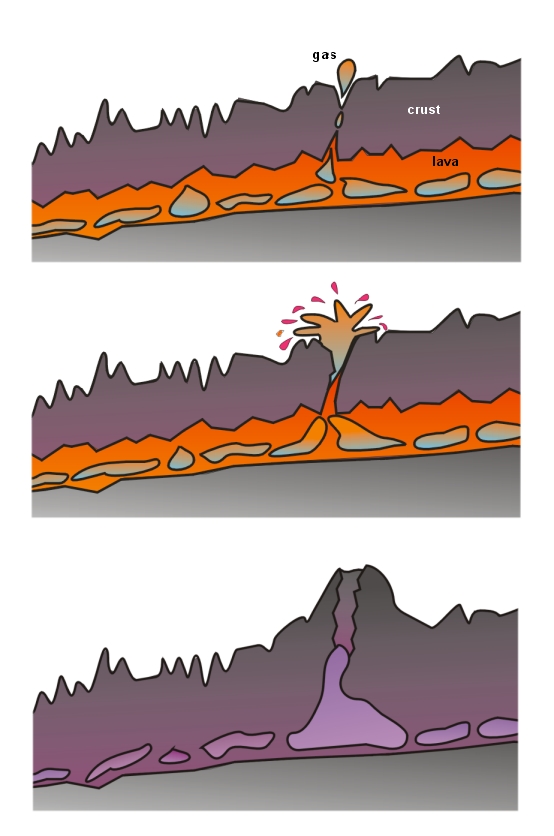 ---
After the parking situation* was resolved (I hope), I headed over to the meeting spot for the Food and Drink walking tour. We went to four places:
Forréttabarinn – BLUF: I would eat here again. we had two appetizer-sized options (two choices within each) and two drinks. Weirdly, everyone in the group went for the same food choices: a soup with salmon, and a sampler of Icelandic horse meat. Both were outstanding. The meat was very tender and served with a caramelized onion/mushroom sauce, Brussels sprout, dab of potatoes. For drinks, we were given the option of beer, red wine or white wine. While the 0.5L of beer I had was fine, the quantity is something I'd nurse over the entire evening. I could only make it through half.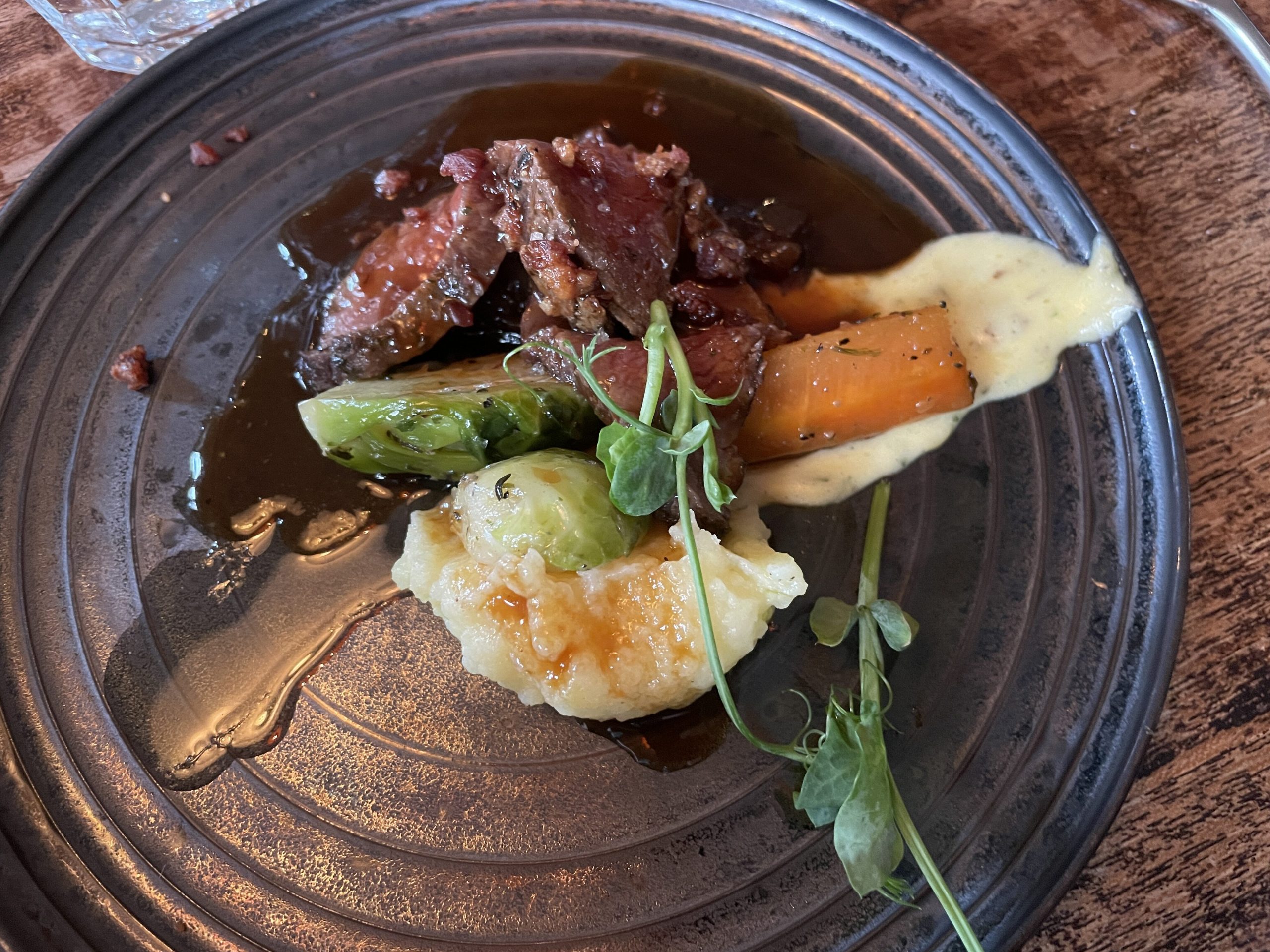 Sæta svínið – this was a gastropub where we had a fish taco (crispy cod) that was very good. I removed several of the hot peppers. Beer or wine was an option for the drink. After my half of a half liter of beer and child-sized (by request) wine, I was feeling pretty buzzed.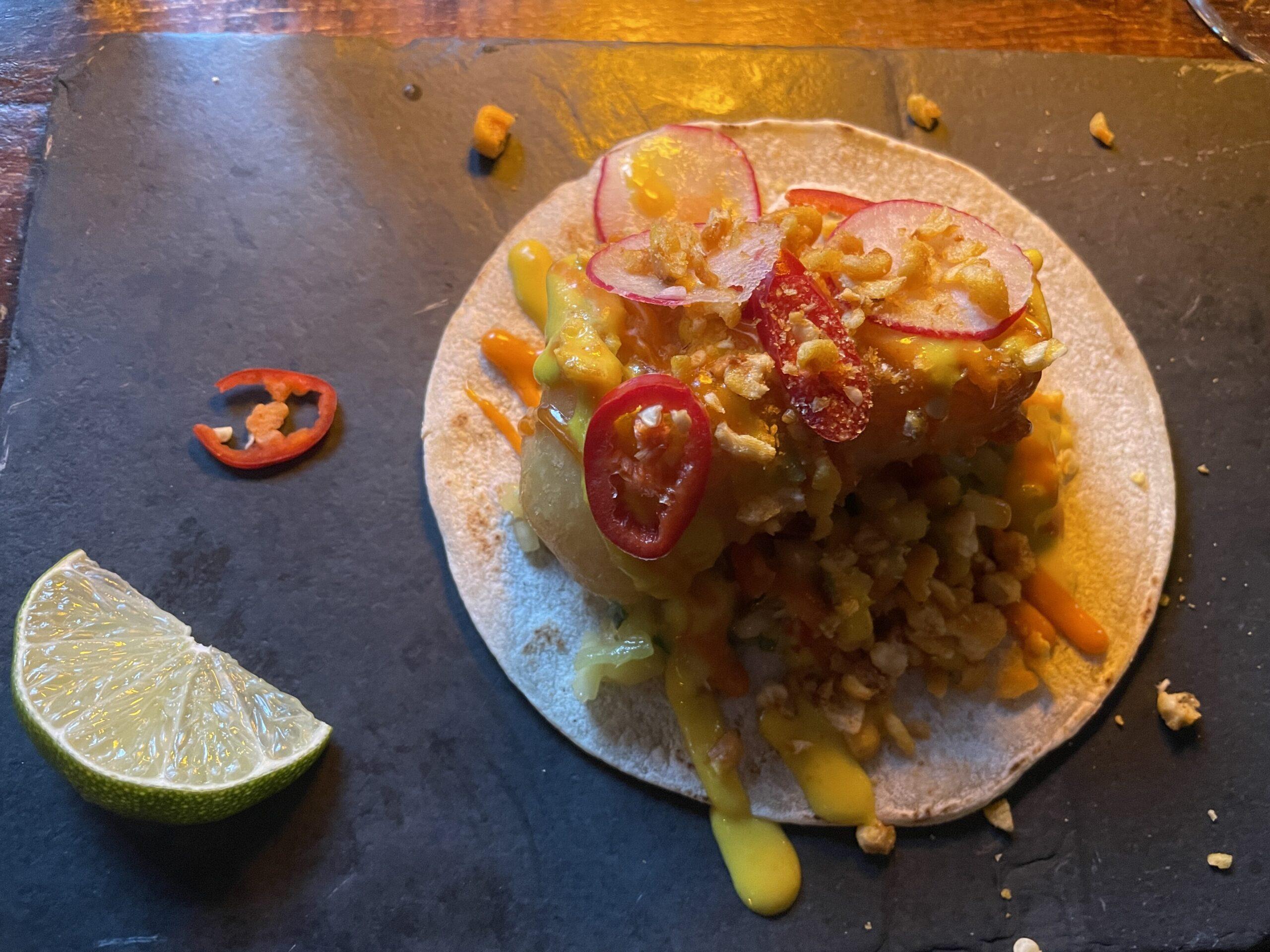 Kofinn (based on the geotagging of my photo), as mentioned before, I was feeling buzzed. No food here, just two smaller beers to try: a darker tomato influenced (?) local variety that was very good and a pale lager that would go very well with the taco above.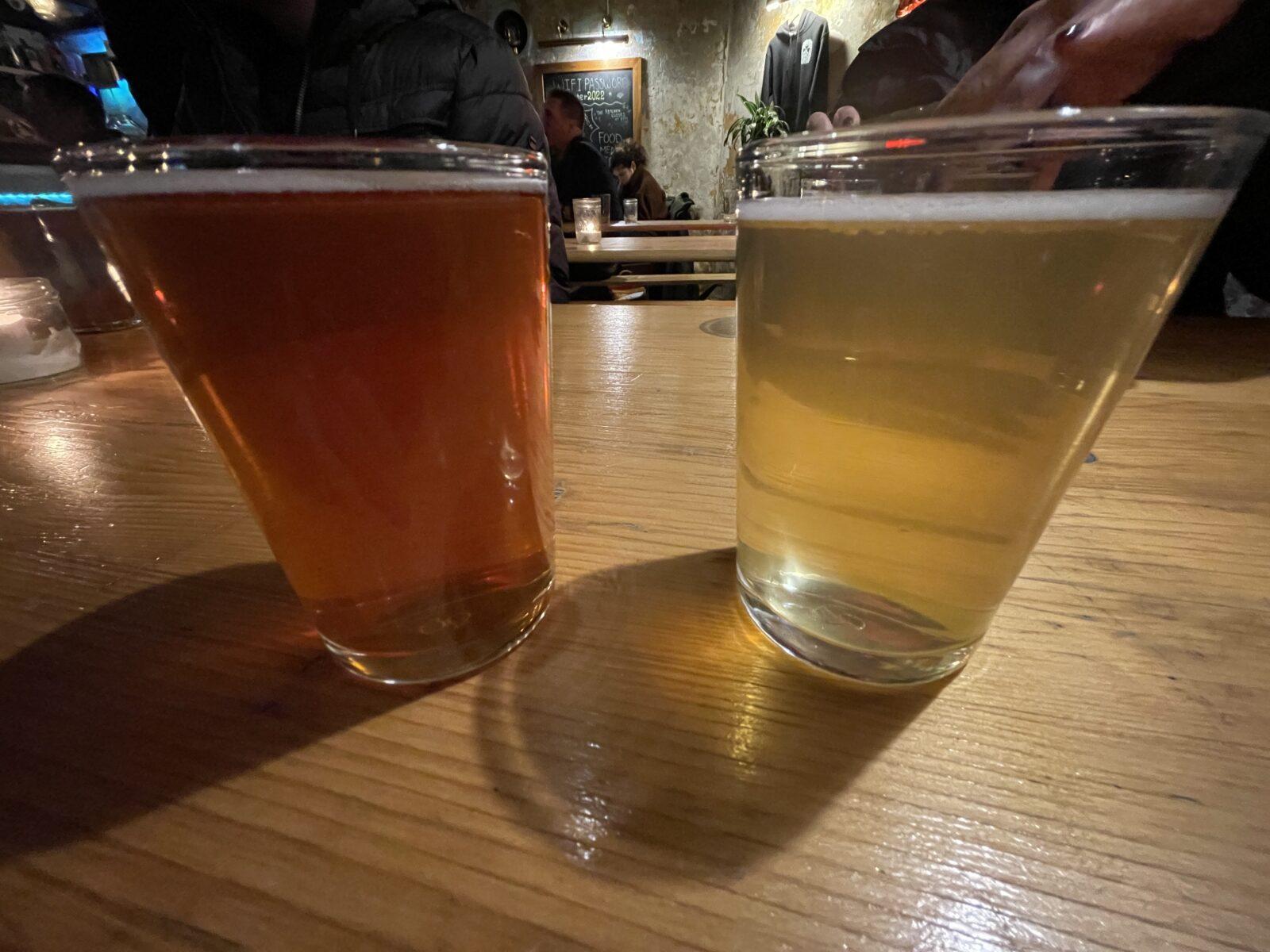 Kaffivagninn – the oldest restaurant in Iceland. This was to have a slice of cake, a coffee, and a vodka caraway shot (that I sipped, but my higher mind say nope).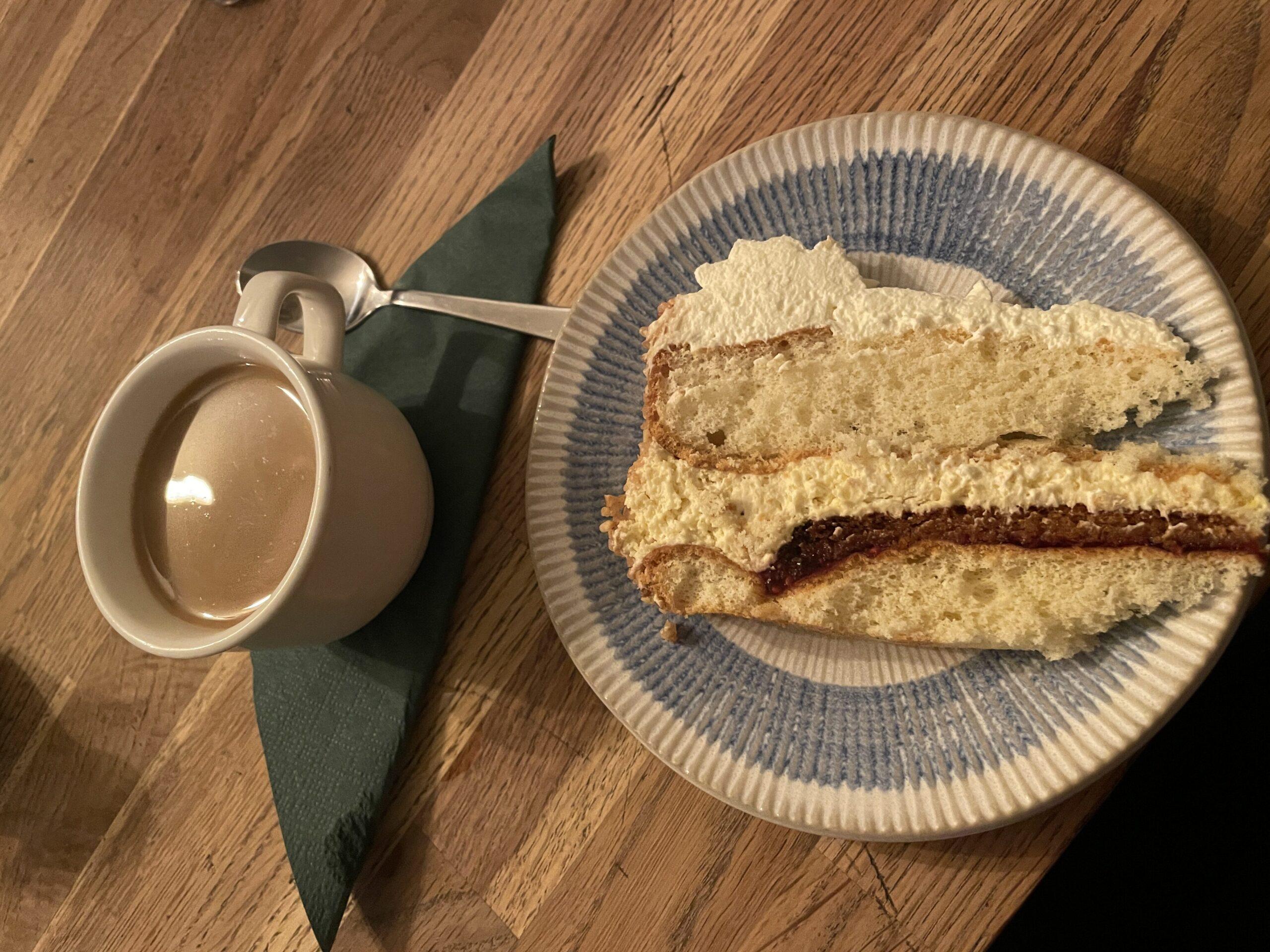 There was supposed to be a stop at a hot dog stand, but there was a line and we were running late. I'm told that Icelandic hotdogs are a big deal as they're lamb-based. She gave us a voucher, but I lost it on the way back to my room. I will find out more Sunday.
Overall, the food and drink walk was a lot of fun. The only thing I would change would be one of the attendees (sigh, an American) who had and offered opinions on everything and started delving into US politics. Dude, please, I'm trying to eat.
---
You can stop reading, this is just my complaining for next trip.
*There are no photos from here to Reykjavik because the mountain pass was icy and then going into a small city with narrow, pedestrian focused streets, to find a place I could legally park was a bit overwhelming. It was surprisingly confusing to find someplace that I could legally put my rental car for a couple of nights while I'm here.
There are four "grades" of pay lots, P1 – P4. P1 are the closest to the city center, the most expensive to park, and have limits on how long you can stay (3 hours the one I tried). Shortly after I parked, I asked an attendant if there were any options …
Older, male Icelanders are unhelpful and have an innate, gruff urgency to terminate the conversation as quickly as possible.
City-owned parking garages are "closed between midnight and 7 a.m., you will not be able to get your car." They do not say you (meaning I, a tourist) can park overnight. Based on my terse conversation with the person at the garage (see above), they do not allow overnight parking without a monthly contract.
There are allegedly "free parking spots." Like elves, they may or may not really exist, but you don't want to piss them off.
Attempting to pay in a P3 lot via the Parka.app phone app led me to believe that I would certainly get a ticket had I relied on that. Its interface was baffling. It knew where I was, but threw out a variety of parking options. When I selected P3, the flow led me to think I would pay when I was done parking, not up-front. It charged me $0.70 for about four minutes of finding this out.
The official kiosk was a little more straightforward. However, like old Icelandic men, it gets impatient if you don't do things promptly. Those steps: Tap the faded flag icon to change from Icelandic to Queen's English. Enter your license plate number. Tap the green + key down to increase the time. I held this down and it maxed out at just under three calendar days, I think, because it's regarding night, most of Saturday, and all of Sunday as a free parking? (Honestly, this is all I really wanted, a place to leave my car while I explore on foot.) Insert credit card. Take the ticket and photograph it Just In Case. Update: That was the least expensive option. When I was comparing P1-P4, P3 is currently the least-expensive option for the weekend. It was about 5 blocks downhill from my hotel.