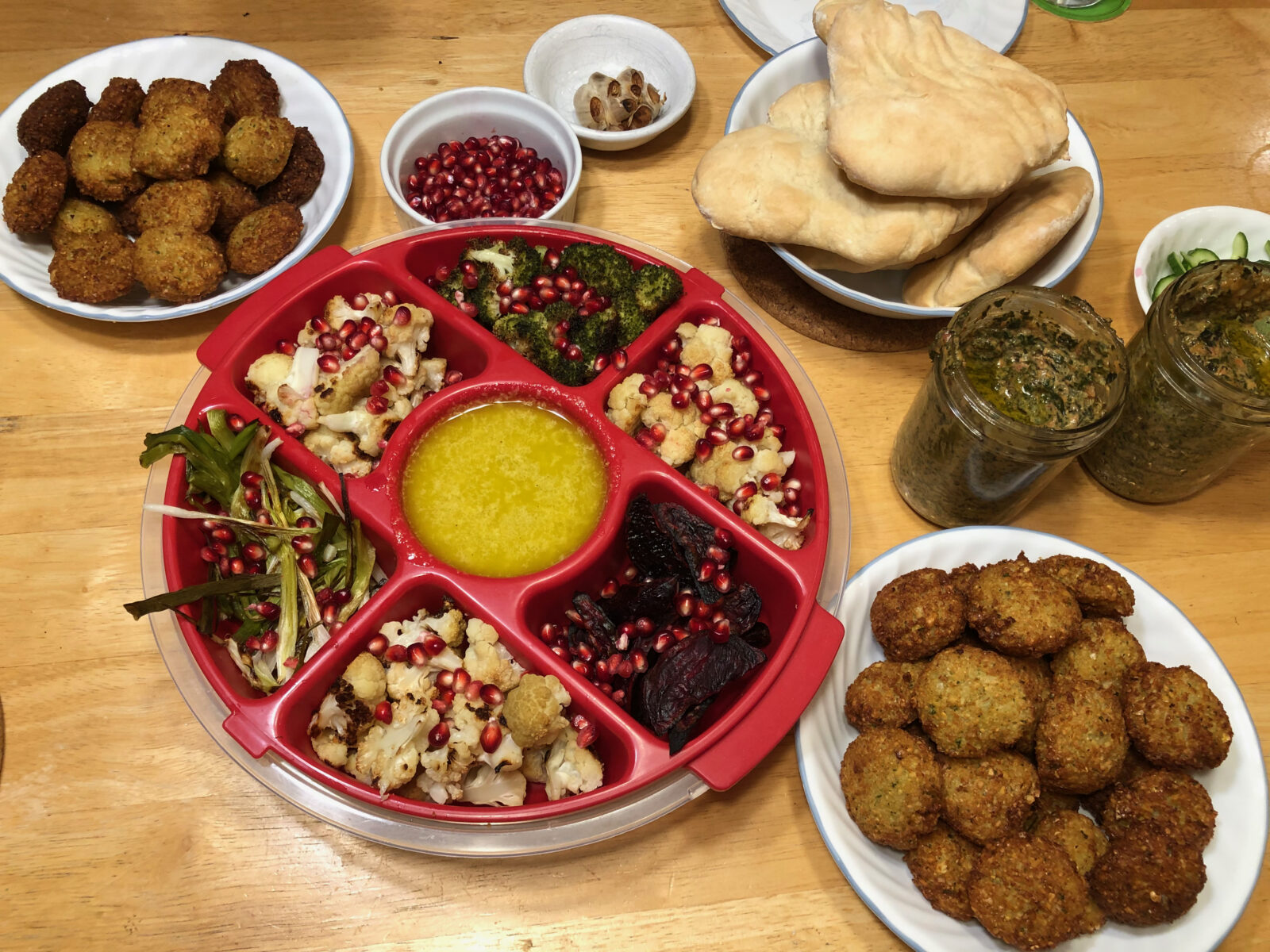 So you've been self-quarantined for a few months and want to spend an afternoon cooking? This will help occupy your time. Falafel, roasted vegetables (broccoli, cauliflower, beets, scallions), rainbow chard-tahini dip, garlic aioli, pita bread, roasted garlic and pomegranate seeds.
Falafel (source)
2C dry chickpeas
1 small onion, roughly chopped
1/4 C chopped fresh parsley
3-5 cloves roasted garlic
1 1/2 T flour
1 3/4 t salt
2 t cumin
3/4 t turmeric
1 t ground coriander
1/4 t black pepper
Pinch of cardamom
Vegetable oil for frying (use oil with a moderately high smoke point)
Soak chickpeas overnight – they will double in size.
Drain and rinse the chickpeas. Pour them into your food processor along with the chopped onion, garlic cloves, parsley, flour, salt, cumin, ground coriander, black pepper, and cardamom. Pulse all ingredients together until a rough, coarse meal forms.
Scrape the sides of the processor periodically and push the mixture down the sides. Process till the mixture is somewhere between the texture of couscous, enough to hold together, but not so much as to be confused with hummus! Cover the bowl with plastic wrap and refrigerate for 1-2 hours.
Fill a skillet with oil to a depth of 1 ½ inches. Heat the oil slowly over medium heat.
Using a disher, scoop a ball pad into a flattened sphere. Test-fry a ball. If it doesn't hold together, mix in the food processor again to make it more paste-like. (If too wet, you may need to add more flour.)
Once you have the consistency down, expect to fry them about 3 minutes per side (6 total). Adjust the temperature if it's coming out too crispy. When that is resolved, do them in batches of six at a time until golden brown on both sides. Remove with a slotted spoon, let drain on a rack or paper towels.
Aoli with Roasted Vegetables. (Source)
Vegetables:
1 small head broccoli, cut into florets and the stem cut into bite-size pieces
1 small head cauliflower, cut into bite-size florets
3 medium beets, peeled and cut into 3/4-inch wedges
2 bunches scallions, trimmed and halved lengthwise
Extra-virgin olive oil, for drizzling
Kosher salt, to taste
Freshly ground black pepper, to taste
Pomegranate seeds, for serving
Aioli:
3 heads of roasted garlic

(Recipe here)
1 t lemon juice
1/4 t fine sea salt
1 large egg + 1 egg yolk
1/2 cup extra-virgin olive oil
Heat oven to 425F. Place broccoli and cauliflower together on one large rimmed baking sheet or pan, beets on another, scallions on another. Toss all vegetables with olive oil, salt and pepper until well coated. Roast scallions 12 to 15 minutes; broccoli and cauliflower 20 to 30 minutes; squash 30 to 40 minutes; and beets and turnips 40 to 50 minutes. Toss all periodically while roasting.
Aioli:
Combine roasted garlic, lemon juice and salt in a blender or food processor and let sit a minute or two. Add eggs and blend until combined. With the blender running, slowly add the olive oil in a thin, steady stream. You can use a mortar and pestle if you prefer. Taste for seasoning and add more salt and lemon juice if needed.
Arrange roasted vegetables on platter and sprinkle with pomegranate seeds if using. Serve with the aioli on the side.
Pita bread – use this recipe.
Rainbow chard-tahini dip – use this recipe.