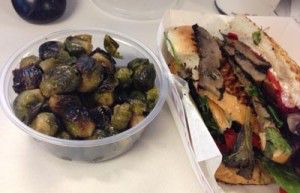 … speaking of great Coursera offerings, I just finished Katie Ferraro's excellent Nutrition for Health Promotion and Disease Prevention course.  Its focus on evidence-based medicine was refreshing and helped clear up a lot of confusion I've had from contradictory sources over the years.  Since Coursera content is prone to being archived, I wanted to preserve the extensive set of external references provided so I can consult them later.  The hard work of identifying and assembling this into a logical grouping all of this was Katie's.  I've tried to clean up the list, expand abbreviations, and add my own commentary.  Thus, if there are mistakes, they're mine.
—-
Week 1: Introduction to Nutrition Science
Why Study Nutrition?
Carbohydrates: MedlinePlus, Center for Disease Control (CDC) Nutrition for Everyone: Carbohydrates, Food and Agriculture Organization of the United Nations (FAO) Carbohydrates in human nutrition, University of California at San Francisco (UCSF) Patient Education, Carbohydrates
Lipids (aka "fats."): MedlinePlus, CDC Nutrition for Everyoen: Dietary Fat, FAO Fats and oils in human nutrition, UCSF Patient Education, Fat, Fats Domino (I was just seeing if anyone was paying attention.)
Protein: MedlinePlus, CDC Nutrition for Everyone: Protein, FAO Energy and Protein Requirements, UCSF Patient Education Healthy Ways to Increase Calories & Protein
Vitamins: Medline Plus, Harvard School of Public Health (HSPH) Vitamins, FAO Human Vitamin and Mineral Requirements, WHO Vitamin A Deficiency
Minerals: Medline Plus, Harvard Health Vitamins & Minerals: Understanding Their Role, FAO Human Vitamin & Mineral Requirements, US National Institutes of Health (NIH) Office of Dietary Supplements (ODS) Calcium
Meal Planning Guides 

Dietary Supplements
Week 2: Heart Disease
Therapeutic Lifestyle Change (TLC) [This advocates diet, physical activity and weight management as a first step.]
Dietary Fat and Heart Disease
Essential Fatty Acids [Fatty acids you need but your body cannot synthesize on its own.  There is an older study on PubMed asserting that the ratio of Omega 6 to Omega 3 fatty acids is out of whack.  I've seen some viral youtube videos suggesting the ratio can lead to "inflammation" of the arteries, suggesting eventual problems.  I see more reputable sources saying "there is no evidence" than I see evidence.]
Dietary Fiber and Heart Disease
The Mediterranean Diet and Heart Health [Its focus is reducing cardiovascular risk factors through a diet low in saturated fats and cholesterols.  It is not low-fat, but considers type of fat.  A recent review in the New England Journal of Medicine suggests there is credibility.]
The DASH Diet [Its focus is reducing hypertension through decreased fat, salt and cholesterol intake while trying to increase potassium.  Not surprisingly, most of the salt comes from my favorite foods: breads, pizza, cheese, pasta, potato chips, pretzels, and bacon.]
Dietary Management of Hypertriglyceridemia: American Heart Association, MedlinePlus
Plant Stanols and Sterols [These are used to reduce cholesterol; They're pretty expensive and only effective with a decent diet.  In other words, you're still going to have to cut back on the bacon and egg lardshakes.] — Cleveland Clinic, University of Southern California, Keck Medical Center
Week 3: Diabetes
Defining and Diagnosing Diabetes
Physical Activity and Weight in Diabetes
Meal Planning for Diabetes
Carbohydrate Counting and Exchange Lists For Meal Planning
Dietary Fiber and Blood Sugar Control
Non-Nutritive Sweeteners
Gestational Diabetes: PubMed Health, American Diabetes Association, UCSF Patient Education – Diabetes in Pregnancy
Week 4: Cancer
Cancer Prevention
Diet and Cancer
Debunking Cancer and Diet Myths [Executive summary: eat sensibly.  There's no silver bullet, but there's a big pile of bullshit out there.]
Nutrition Needs in Cancer
Week 5: Obesity and Weight Management
Defining Obesity: World Health Organization, HSPH Measuring Obesity
Energy Balance: NIH/NHLBI, National Cancer Institute
Metabolic Syndrome [These are risk factors that, when occur together, imply a significantly higher risk of cardiovascular problems.]: Medline Plus, PubMed Health
Pediatric Obesity [Children who are obese are more likely to be obese adults.]
Guest Lecturers [These were the two folks I remember as they offered different viewpoints.]
Week 6: Disorders of the GI Tract 
Nutrient Digestion and Absorption: National Digestive Diseases Information Clearinghouse – Your Digestive System and How it Works
FODMAPS [fermentable oligo-, di-, and monosaccharides and polyols — groups of foods containing short-chained carbohydrates that cause problems] Approach to IBS [Irritable Bowel Syndrome] Management: Today's Dietition – Successful Low-FODMAP Living, Shepherd Works – Low FODMAPs Diet
Celiac Disease [Your immune system gets drunk on gluten, goes medieval on your small intestine.]
Diets for Diverticular Disease [This sounds awful.]: UCSF Patient Education – Diverticular Disease Diet, NDDIC – Diverticulosis and Diverticulitis
Other:
Food Allergies [Key learn: allergy == can kill you; sensitivity == makes you feel bad, but doesn't kill you]  The Food Allergy and Anaphylaxis Network, National Institute of Allergy and Infectious Diseases, Food Allergy
Dysphagia
Probiotics and Prebiotics