Shortly after last year's McClinchy Mile, the Oso mudslide happened.  This year, they changed the route from Arlington to Granite Falls, to Arlington to Darrington via the new road through Oso.  A small donation was provided to the community.
Since this was both an excuse to get on my bike again after nearly six months off, and an opportunity to ride in a new area, I was pretty motivated to get out, even in the record-setting rain.  So were a lot of other folks.  Attendance was estimated to be above 200 people.  (300 pre-registered + 80 day-of)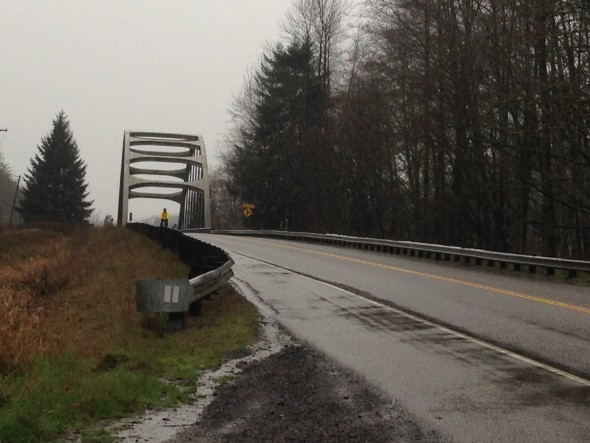 Anticipating a moderate rain most of the day, I went straight for the REI rain pants and Showers Pass jacket.  I also had my very dorky Da Brim from last year's Cycle Canada.  As long as I was pedaling, I stayed warm enough.   I didn't have to think too hard about the route as it was essentially an out-and-back on 503.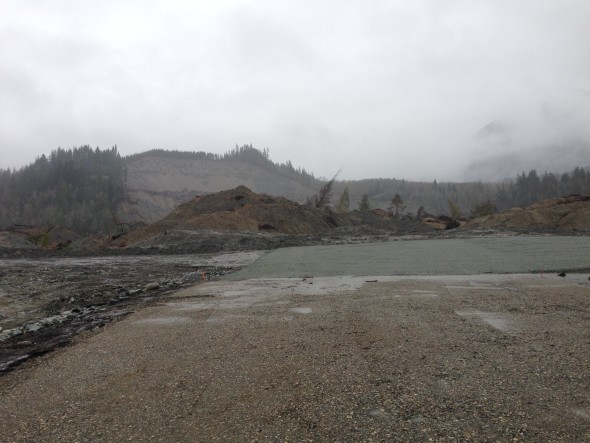 There is a small pull-out at a viewpoint of the Oso Mudslide.  Anticipating people would want to reflect, a porta potty has been left there.  It's weird seeing half the hill missing and the area generally covered with mud.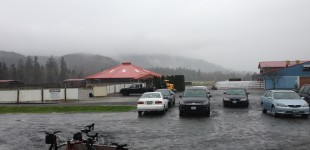 On the way back, the stop at Rhodes River Ranch offered us the most delightful biscuits and gravy and fresh coffee.   The facility is a working horse ranch that had such success feeding its workers that people also come there for the food.  I really wanted to stay longer, but I was getting soooo cold not moving.
Considering how long I've been remiss in cycling, and how utterly rainy it was, the ride went pretty well.  I was glad I had a few dry sundries to change into, but I needed a serious dose of hot coffee and car heater blasting to shake the chills.
This would be an outstanding route in nicer weather.