My friend Rachael tweeted about a library geocache presentation during her Australian Library and Information Association (ALIA) event.  I was looking back among the geocaches I've done and found quite a few of them among my favorites:
By George was my first library geocache, done during a conference visit to Penn State University.   The multi-cache inside the Deike building (Earth, Energy, Material Sciences Library) has one following a worksheet to various locations inside the library, observing (among other things) donated art and a crabapple tree.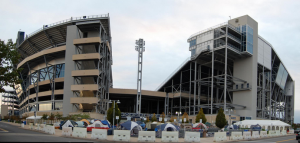 825 228 – Locally, there is a cache in the Sammamish branch of the King County Library System.  The puzzle part is to find the book with the white hidden text in the cache listing. To do so, you'd need to look up the author and search the Dewey decimal section. There is a combination lock on the box whose combination should be pretty obvious.
Urban Cache: Overdue – Seth!, who is legally named "Seth!", has a series of very old caches that have been well-received.  This one is a multi-cache that starts outside of the library. The first waypoint is a simple cipher that tells you what to look for inside.  It's very kid-friendly.  The final (a book you sign) was originally placed without asking the library, but they've been very supportive of its upkeep.
Bring Your Library Card – Using the street address of the library, you'll determine that book is in the reference section [number redacted] on the top shelf.
Montlake Geocaching Joy – Though not stated as a library cache, the textual directions walk you through the inside of the Montlake branch of the Seattle Public Library system where you may find the Joy of Cooking — or not, if it's checked out.  The log was inside the book jacket.
The Bainbridge Island Shoreline Geocaching Quest was assembled by the Bainbridge Public Library System (and, as I type this, is mentioned in the presentation above).  There are five easy and educational puzzles leading you to caches.  I only went after #3 of 5 last weekend because I overdid the side trips on Chilly Hilly last week, though I am looking forward to visiting #1, #2, #4, and #5.
Not strictly a library geocache, but an honorable mention is Solar System – the virtual adventure begins at the Sun in the Boston Museum of Science (the "Sun").  The goal is to find plaques for at least four planets around the Boston area.  Mercury and Venus were easy, as they were close, but the others (Earth, Mars, Jupiter) required walking.  If I recall, Mars was in the third floor of a mall while Jupiter was  in South Station (which meant I visited it first as it was closer to the hotel).  Uranus, which I (snicker) did not visit, is in a library.
I hope Rachael reports her experience in visiting Doctor Who: Silence in the Library the next time she's in Sydney.