The original recipe is from Cook's Illustrated, and is a pretty tasty diversion from the standard buttermilk pancake.  To offset the weight of the ricotta, you fold in extra, whipped whites.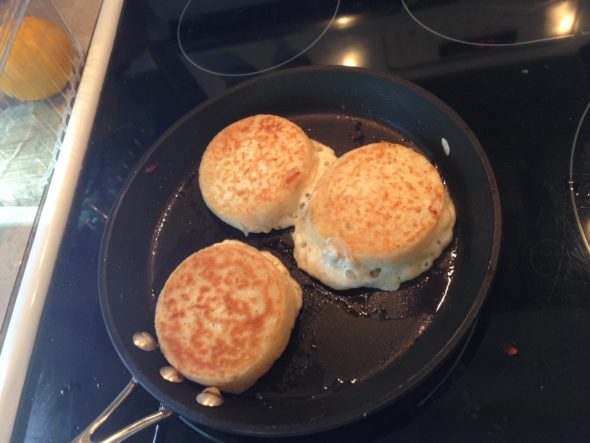 Lemon ricotta pancakes (original source Cook's Illustrated)
1 C all-purpose flour
3/4 t baking soda
3/4 t salt
1 1/2 C whole-milk ricotta
3 large eggs, separated
3 egg whites (to offset the weight of the ricotta)
1/2 C milk
1 1/2t lemon zest
6t lemon juice
3/4 t vanilla extract
3T melted butter
3/8 C sugar
Whisk together flour, baking soda and salt. Make a well in the center.
Add ricotta, egg yolks, milk, lemon zest, lemon juice and vanilla.
Stir in melted butter
Whisk the (four) egg whites on medium low until foamy. Increase speed. When there are billowy mounds, gradually add the sugar and continue whipping until glossy, soft peaks form. Transfer 1/3 into the batter and whisk. With a spatula, fold in the rest.
Cook pancakes!