For the last few weeks I've been doing the Bike To Work Challenge with a group of coworkers, thus most of my riding has been the commute during the week. Tour de Blast is coming up in a soon and I needed to get some hill climbing in. Thus, I did my first non-commute ride since Camano Climb today.

There are a lot of 400′-600′-ish hills of different grades around here, so I didn't have to go far. Last year I was avoiding these same hills, but now my climbing has gotten acceptable enough that it's not a big deal. I was curious how much this year's riding has differed from last year's:
| | | | |
| --- | --- | --- | --- |
| | 2003 to date | One Year Ago | All of 2002 |
| Mileage | 720 | 482 | 1395 |
| Ascent | 36,358 | 13,537 | 43,593 |
| Ride time | 71:19 | 42:18 | 126:59 |
The mileage is higher, but the what stands out the most is the amount of climbing. With half the mileage, I've done about 80% of the ascent of all of last year. If I can find a way to keep riding through winter, I'd be a lean, mean, pedaling machine. 🙂
So the last three days has been our "summer:" no clouds, and temperatures in the 90s. We don't have air conditioning and the house has been quite miserable. In fact, last after my ride today, we went to the shopping mall for dinner and just meandering while it cooled off.
I had hoped to get up reasonably early, but couldn't get rolling until 9:00. Starting from home, I went down Dulthie Hill road, which is long and straight enough that I can usually hit 47mph going down. Since that's faster than the posted speed limit, I usually take up the center lane going down, until the shoulder reappears
From there, I follow Redmond-Fall City road, which is delightfully flat and ensconsed in a farm valley. Even at 10am, it was still in the low 70s and cool. This gives me an opportunity to "warm up." (As I've aged, so has it taken me longer to get into my biking rhythm. Now it's around 15 miles…)
Ames Lake Rd was the first hill of the day. Except for the cow poop smell, this is a very pretty area for meditative riding. You can follow it to the Nestle factory in Carnation. Nestle used to have tours at their facility — and my spouse says it was quite good — but they discontinued the tours after 9/11. (I won't speculate why.) The department of transportation is doing some kind of work a few miles away, so I can't easily cut through.
Luckily, the next hill is Union Hill, which will be the highest elevation on the trip, as if 1,200′ is really that high. Following this are some rollers, then another climb onto Novelty Hill. The back-end of Novelty hill has a spectacularly dangerous drop on a 15% grade. This would have been moderately fun had the truck in front of me not kept tapping on his brakes. My rims were pretty hot from braking on the way down.
While stopped, looking at my map for the next interesting hill, and waiting for my rims to cool down, I was passed by a cutie lady cycling towards my next set of hills. I followed her for awhile.
She was sticking to the flat roads east. Since I was out for hills, I took Woodinville-Duval, which looked pretty impressive on the map with ten arrows in a row… it was indeed a fine hill, without the nasty grade on Novelty Hill.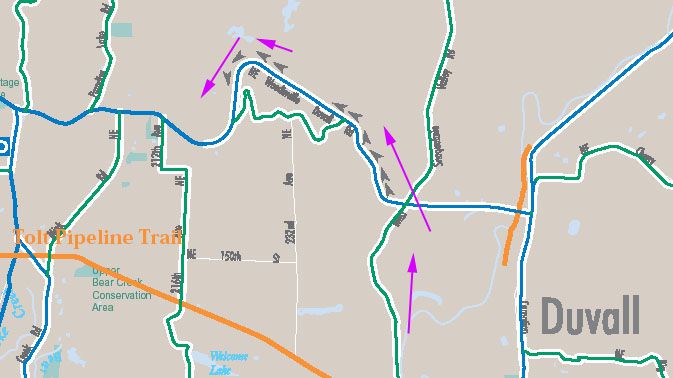 By this point it was heating up with air temperature about 92F and surface readout as high as 97 (what my Polar was telling me I felt like). I took a turn back towards home. About this time, I had drank all the melted stuff in my Camebak and had a big hunk of ice leftover. I probably could/should have stopped and picked up something, but I needed to get back home.
The final hill of the day was going from East Lake Sammamish up Thompson Hill (so you know it's steep) to the Plateau, followed by some steep but short rollers home. Total: 46.8 miles, 2,201′ elevation gain, temperature 94F, three Clif Bars.