One of the rare holidays we receive is Columbus Day. (Seriously?) I'd planned to spend a four-day weekend visiting Arches National Park, when I found some vacation "under the couch," and extended it to a whole ten days, then added destinations onto that.
The plan was to fly to Salt Lake City Friday evening, spend the night, then drive to Moab via a rare (one of four remaining August 2000 hides) geocache, Potter's Pond. Located in Manti-La Sal National Forest, at about 9,000′, inclement weather is always a possibility. Once the snow accumulates enough, it's extremely difficult for a tourist like me to access it until the spring thaw, mid- to late-June. I kept my eye on the weather.
… and that wasn't a problem at all. Cold, yes, but clear and no snow to be seen:
I picked up several caches in the immediate area, then headed south to Moab. Once out of the national forest, the geology changed dramatically.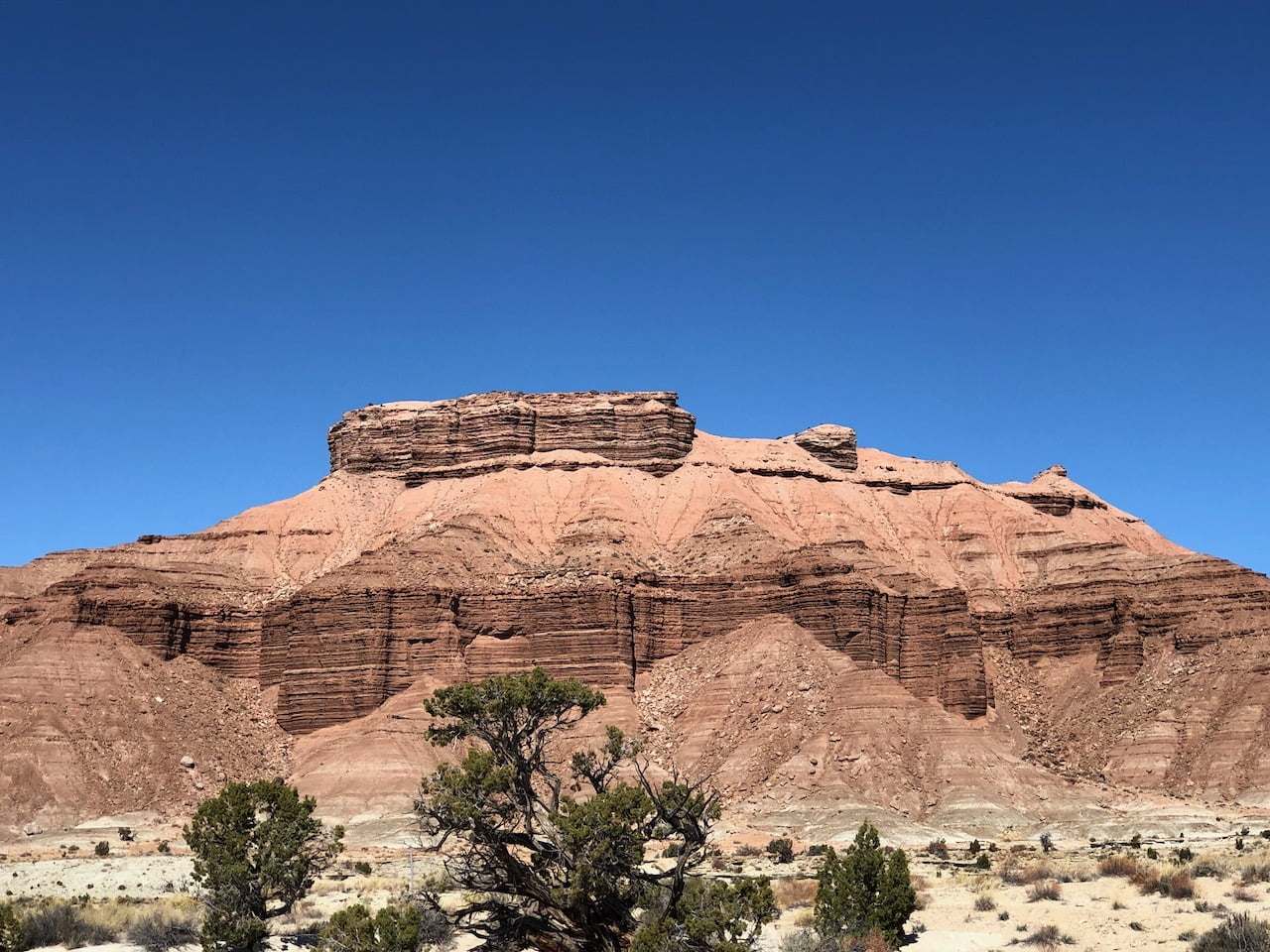 I had two goals at the information center: 1) Get a permit ($5) for the self-guided (this time of year) Fiery Furnace visit. The parks system won't let you pre-reserve permits for self-guided tours. I'd heard that these sell out quickly, so I planned to be in the area for a few days with flexible itineraries in case I couldn't get one for the next day. Good thing I did, because they were two days out and in dwindling supply.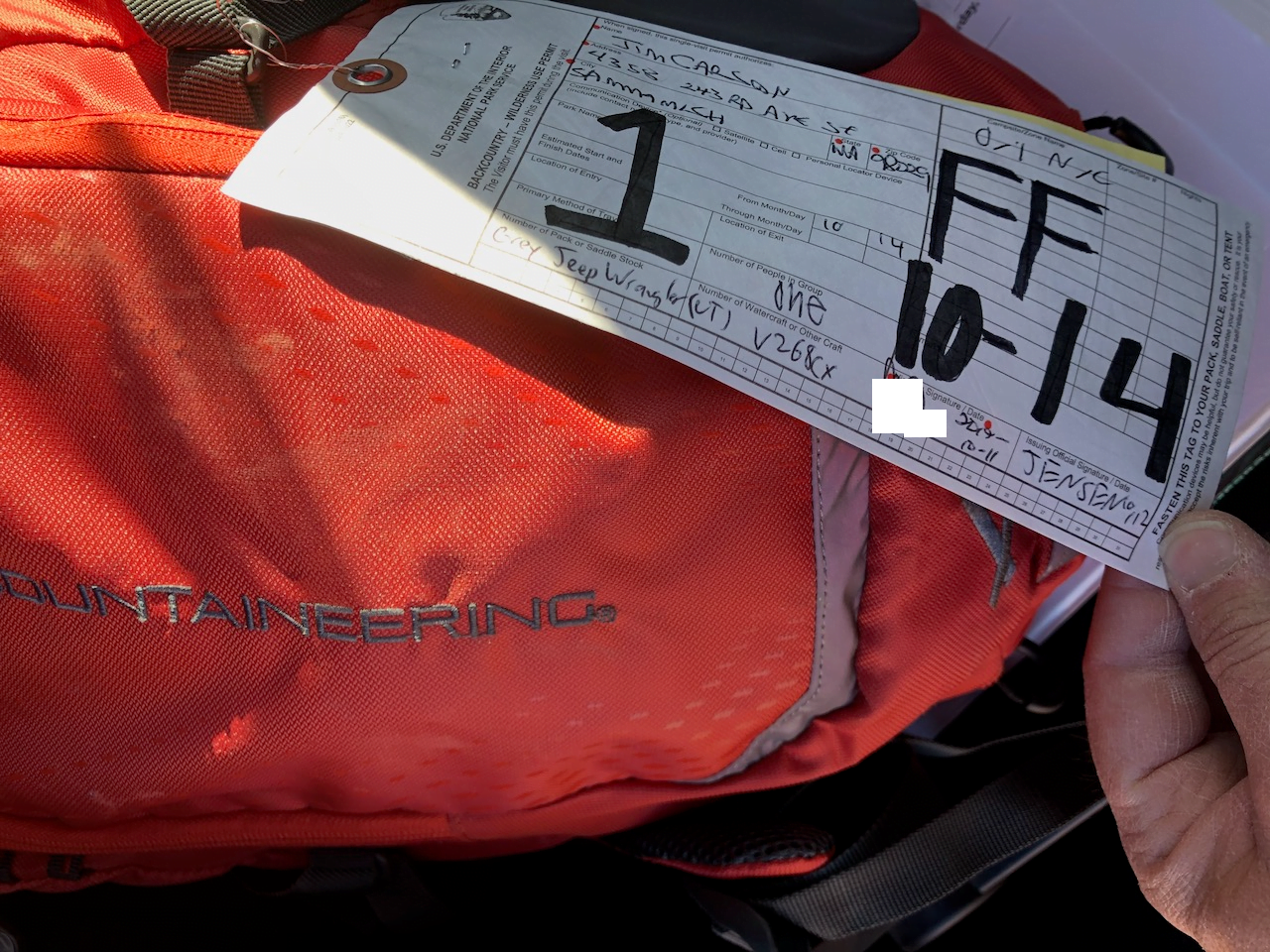 The second priority, promptly attended to after getting the permit, was to use the toilet. Daaaaaaaang, that was a long drive.
Bladder placated, I continued into the park to work on some of the routes I'd planned out. First stop was Balanced Rock, a gentle loop on even dirt to this: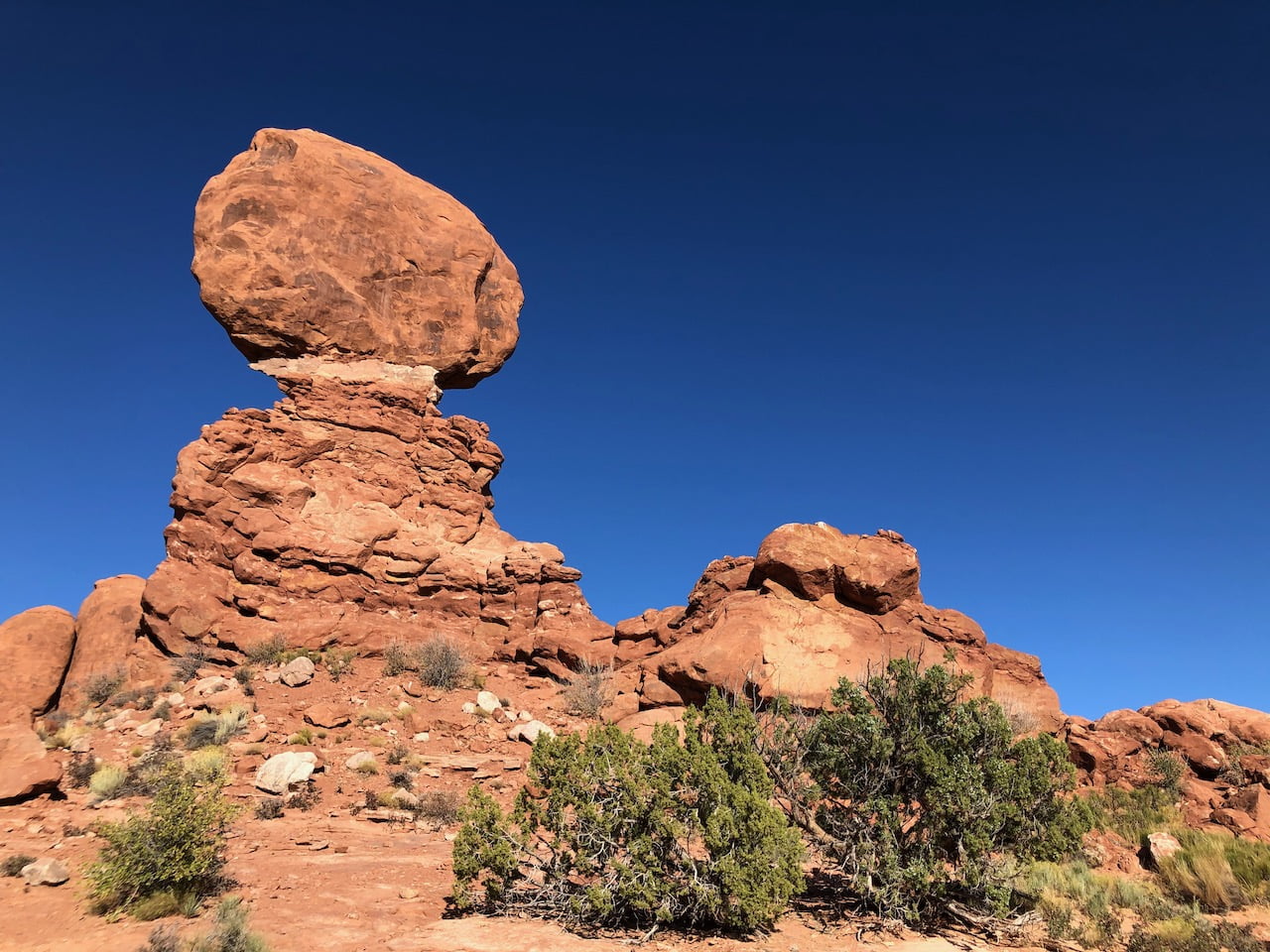 I was glad to be walking around, and headed to the furthest trail head to the north, Devil's Garden. The map listed fountains where I could fill my water bottle, but neglected to mention that they were seasonal, and shut off last month. I thus attempted a moderate, 5km desert hike with only half a liter of water, but receding sun. What could possibly go wrong?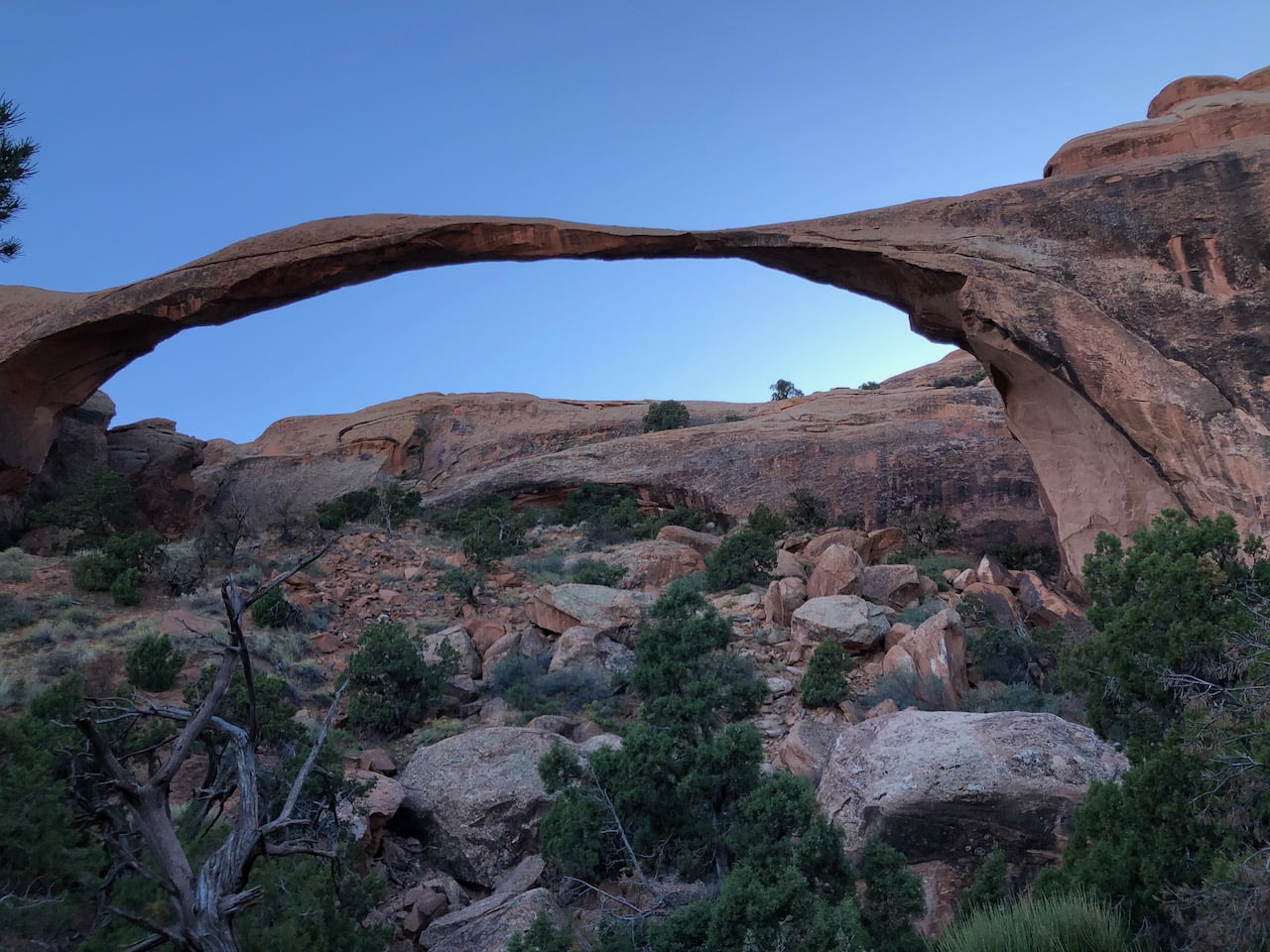 The first half was pleasant enough up until Landscape Arch, a late-stage example of the erosion process these go through. (Parts of the arch started crumbling in the 90s, motivating NPS to shut down the trail underneath it.) This view is from the trail to the east.

Shortly after this, one has a choice of continuing to Double-O arch via a super-hard or insane trail. I'm not sure which one I ended up on, but it was sandy, followed by a very steep ascent along the top of a narrow, slightly slick rock formation wedged between two steep, unclimbable other ones. Adding to the adventure, people coming down didn't have enough traction, and would shimmy down on their buttocks, making for no easy way to pass going up. Never mind, because I was easily exceeding my max heart rate (220 – my age), feeling like my chest was going to explode, then taking breaks.
I decided I'd had enough, and was going to work my way back to the car once I cooled down. The view was stunning: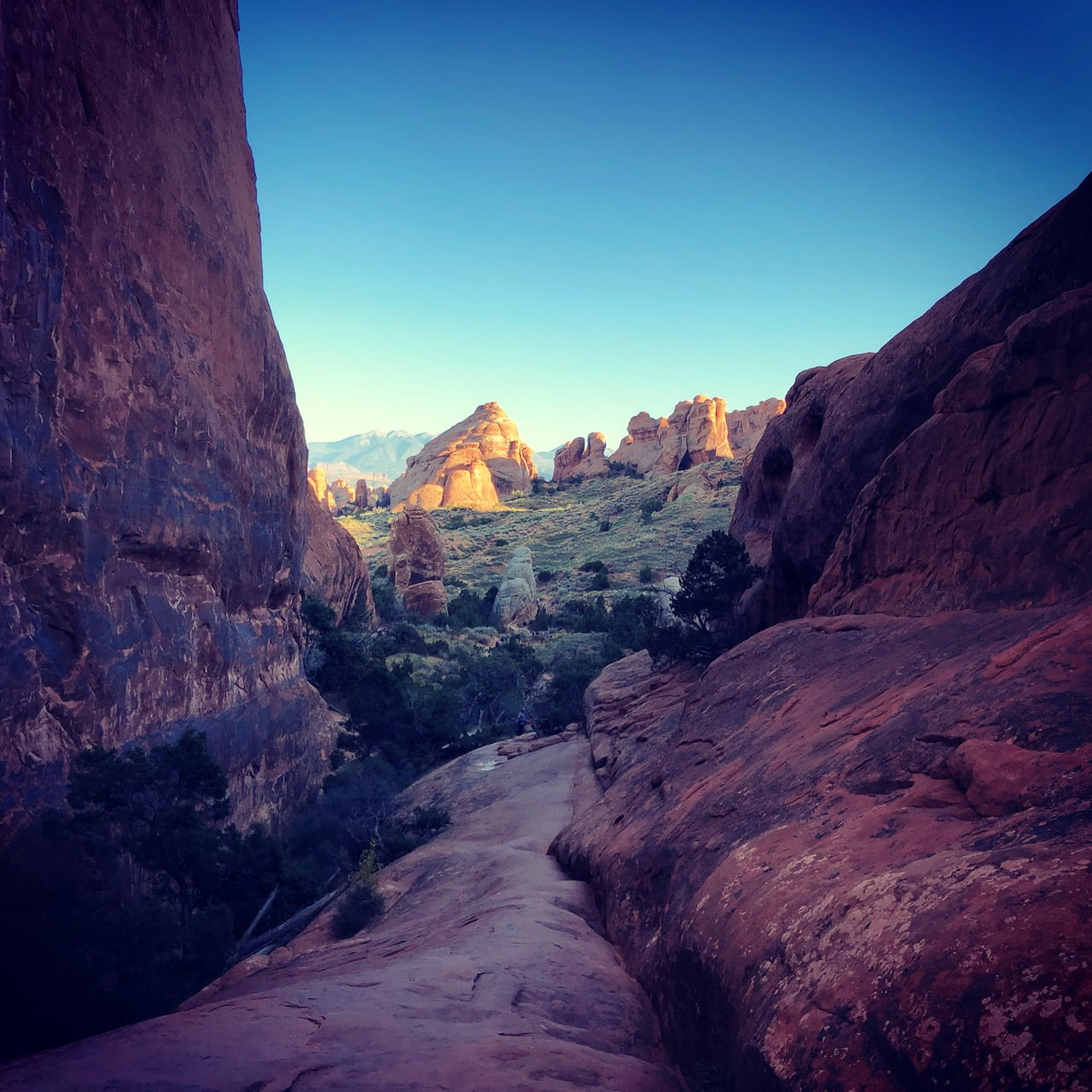 There was another woman my age (and predicament) hanging around, waiting for her family to come back down. We got to talking, and they'd just come from Mesa Verde, where I was planning to head later in the week, but had a multi-day wait for the ranger tour. tl;dr: If I wanted to do that, it would be worth driving down just to stand in line for a permit. If one was unavailable, I had other options.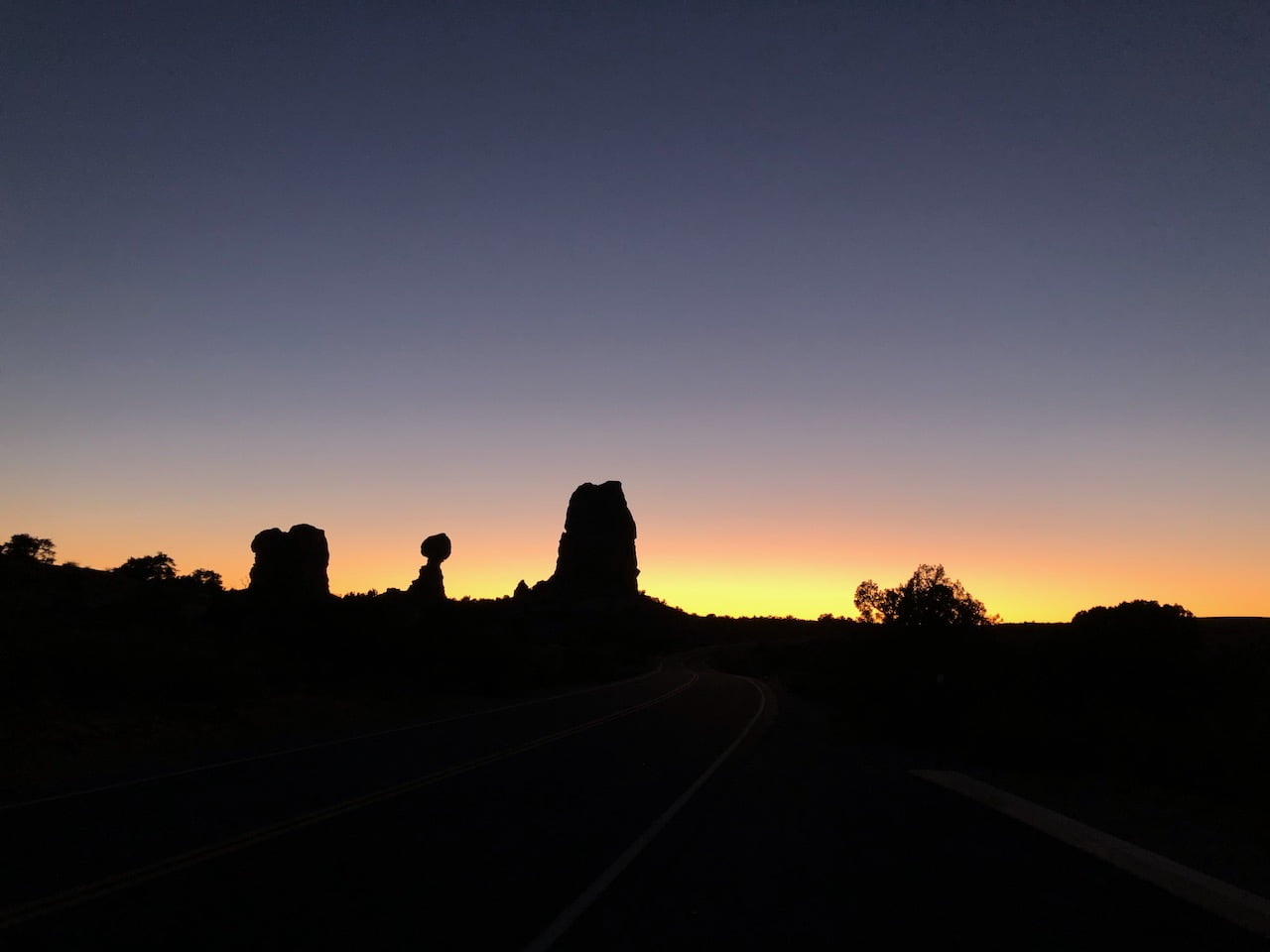 As it was close to sunset, I hung around to take in some views while traffic dissipated before heading to the hotel.