I made Chicago-style pizzas using the King Arthur Baking recipe. It's a keeper. I was meticulous in weighing everything for the crust.
Dough:
482g all-purpose flour
35g cornmeal
11g Kosher salt
8g instant yeast
25g vegetable oil (I used the "light" olive oil Costco sells)
25g olive oil (I used the "premium California" olive oil Costco sells; it appears more viscous.)
57g melted butter
255g lukewarm water (~35C)
Mix the above ingredients together in a KitchenAid on the second lowest setting. You may need to scrape the sides of the bowl, but it should eventually form a nice ball. Knead for a total of about 5 minutes. Let rise in a warm place for an hour.
In two deep pans — I used 9″ heavy cake rounds — drizzle 25g olive oil into the pans and roll around until the bottom and sides are coated. (During cooking, the pie will pull away from the edge of the pan.) Divide the dough into two. Stretch one ball into a circle, and put in pan, stretching as uniformly as you can to cover the bottom and sides. Repeat with the other pan. Let it rest for 15 minutes. While it's resting, preheat your oven to 215C (425F).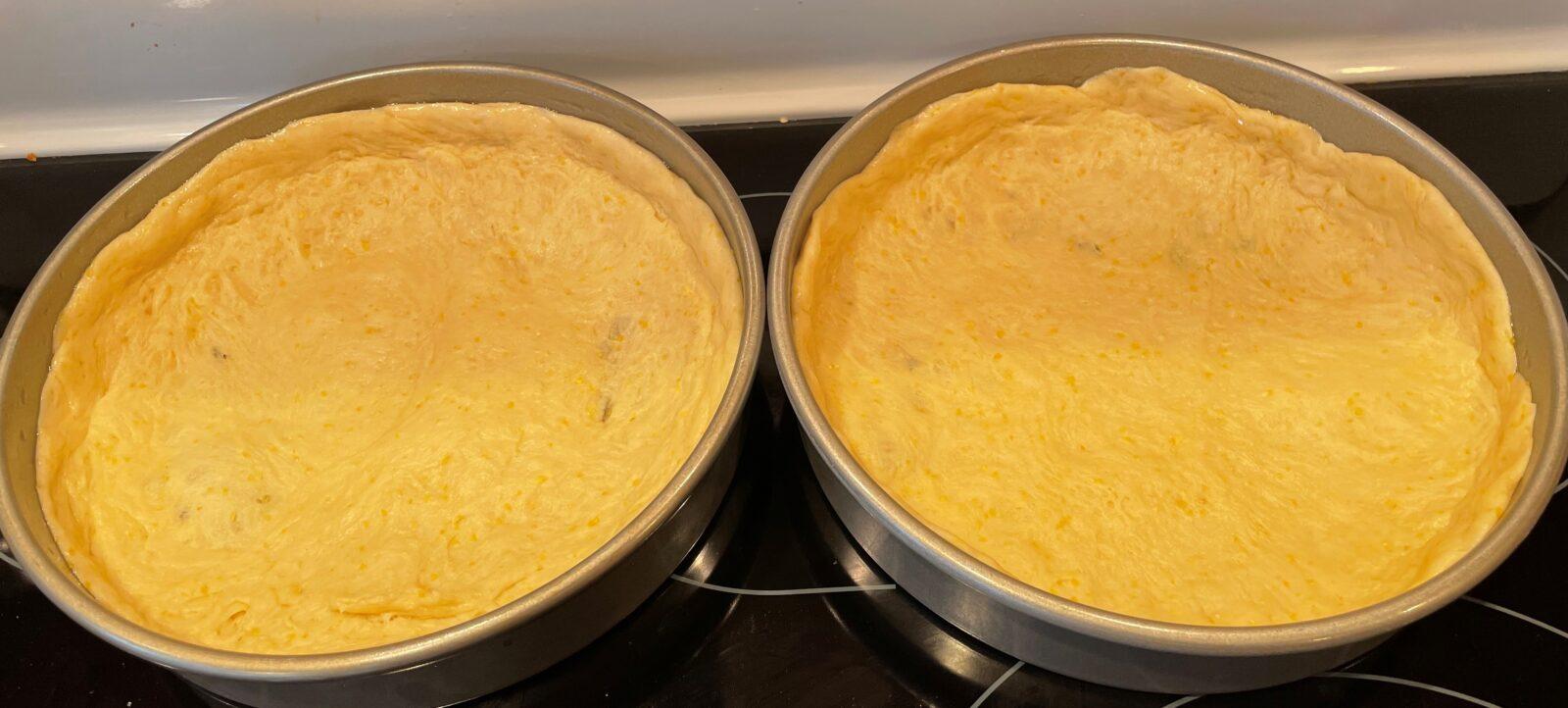 Sauce:
A #2 can (790g or 28-ounce) can of crushed plum San Marzano tomatoes. This variety of tomato has fewer seeds and less bitter taste. I got mine at Costco.
6 cloves garlic, minced
4g sugar
3g of herbs – I split this between dried oregano and dried basil
That's it. Keep the sauce simple.
Cheese:
Slice (uniformly) 500g of mozzarella. I went cheap, grocery store-brand on this. You're going to lay them on the base of the pie, where they will be tasted but not seen, so you don't have to be fancy.
Toppings:
I made one pizza with pepperoni and mushrooms (five large crimini, sliced did the trick). The other was sliced yellow Bell pepper. I sauteed the veggies while the crust was cooking.
When the crusts are done prebaking, remove from the oven and cover the base with mozzarella slices. Next, add toppings, then cover with sauce. Bake for 25 minutes.
When you remove the pizzas, give them about 10 minutes to settle, then lever them out of the pan with a spatula and cut into serving sizes.