I've been doing nearly all of the household cooking since 2018. While I find the process of cooking relaxing, meal planning causes stress, especially when I'm getting bored with my go-to meals. These go-tos include:
Chicago-style pizza – while Lou Malnati's is my favorite, it's pretty expensive to have delivered to Sammamish. Thus, I use the very good the King Arthur Flour recipe. Because everything is weighed, I can consistently produce two good pies — usually pepperoni and mushroom, but sometimes cheese with bell pepper. A single pie is enough for three people for dinner, but if it's just the two of us, I'll freeze the second pie. After having prepared this a number of times, I've found adding cumulative weight is easier to work with: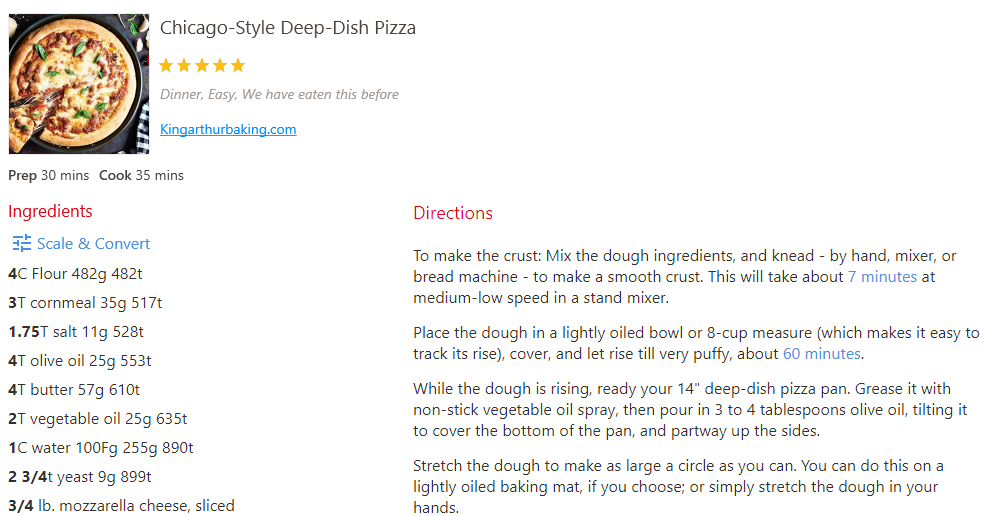 Beer Bread and vegetarian chili. Tieghan's five-ingredient beer bread is very straightforward and ooh so buttery. It complements the vegetarian chili, which is also pretty simple:
Vegetarian chili with zucchini
1 T oil
1 large onion, chopped
2 cloves garlic, minced
2 T chili powder
2 t ground cumin
2 medium zucchini, cut into 1/2-inch chunks
1/4 C thinly sliced sun-dried tomatoes
2 cans pinto, black or kidney beans, rinsed
2 C vegetable broth
2 C corn kernels (from 4 ears, frozen, or 1 can)
1 14.5-oz can diced tomatoes
1/3 cup chopped fresh cilantro
Freshly ground pepper
1. Heat oil in a Dutch oven over medium-high heat. Add onion and cook, stirring, until golden, 2 to 3 minutes. Reduce heat to medium-low.
2. Add spices and stir for about 1 minute, until fragrant.
3. Add zucchini and sun-dried tomatoes; cook for 2 minutes more.
4. Add beans, broth, corn and tomatoes. Bring to a boil, then reduce heat to low and simmer, partially covered, until the zucchini is tender, 15 to 20 minutes.
5. Stir in cilantro and season with pepper. Serve.
This makes a lot. If there are fewer than four of us eating, I will halve everything.
I've been wanting to do more with lentils and found several great recipes at Feasting at Home. For the first recipe, I tried the Vegan Lentil Meatballs with Indian Coconut Curry Sauce. Because I lacked some fore-planning, I had to make some substitutions (e.g., my fresh cilantro expired), but it still looks pretty good: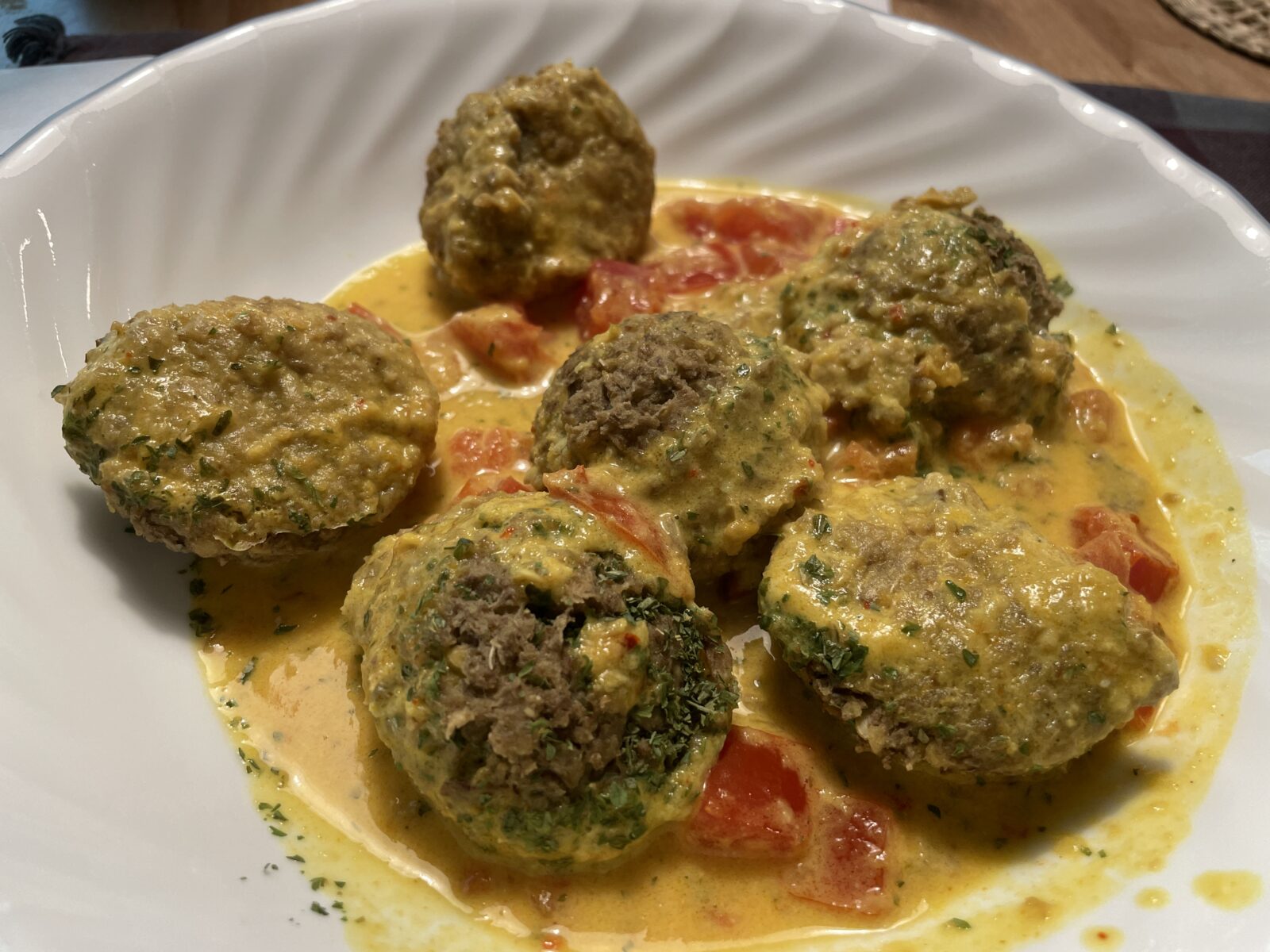 I now have a bag of black, beluga lentils from Palouse Brand. They're tinier than the brown and pink ones I stock. (Yeah, younger-self, that's right: adult-self has more than one type of lentil.)
Sylvia's Spicy Mexican Oaxacan Bowl is a keeper and earned high raves. Because I don't tend to stock pecans, I substituted sliced almonds, and that worked great. Red cabbage was unavailable at the grocery store, so instead of the quick cabbage slaw, I went with a general green salad with tomato, lime, cilantro and oil. Absolutely no leftovers this time.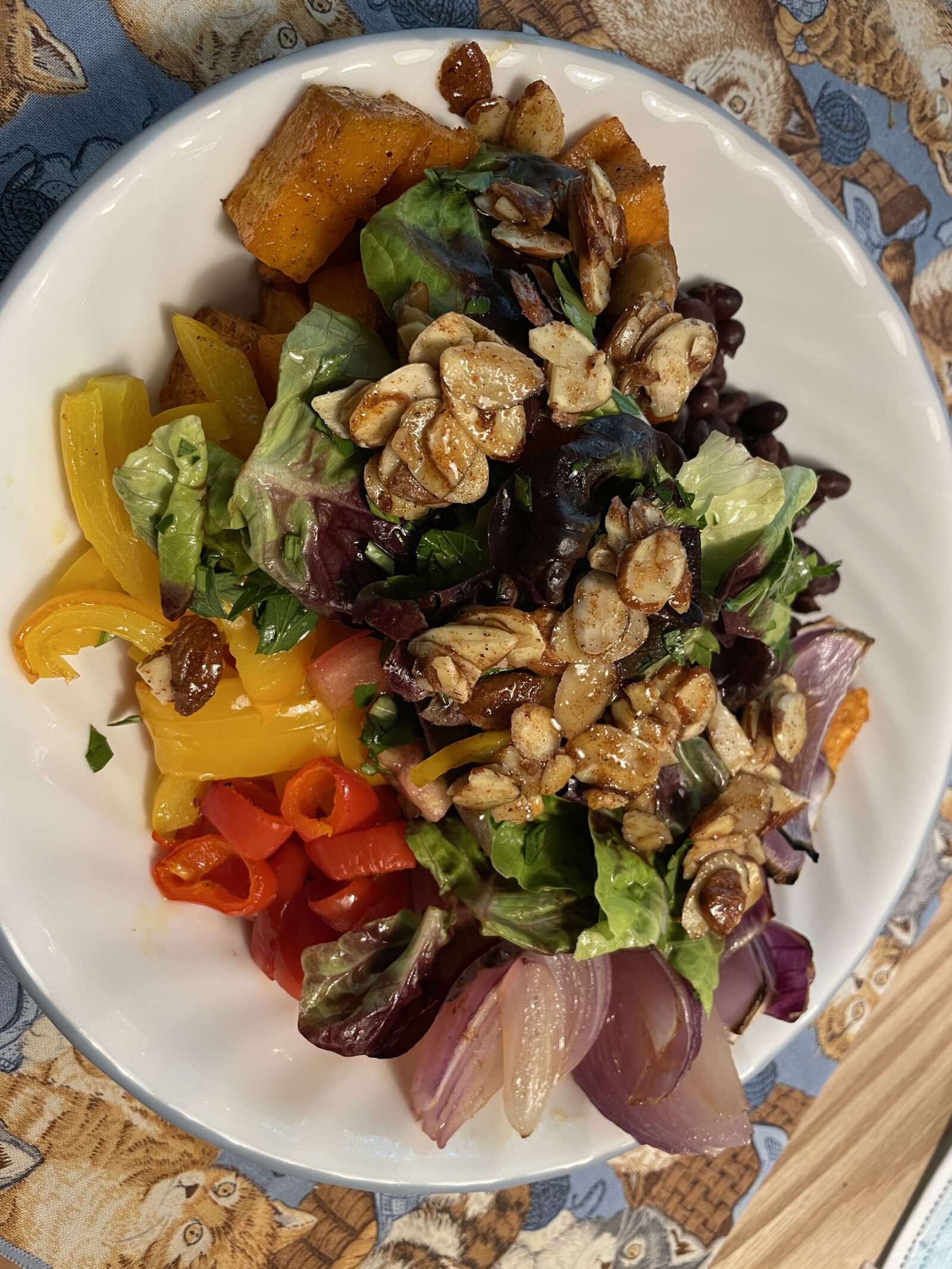 The third recipe was Sylvia's Lentil Wrap with Tahini sauce. Another keeper. Again, with no red cabbage available, I opted for lettuce, but used everything else. I'm looking forward to trying these again with the black lentils and, hopefully, the cabbage for more vibrant color.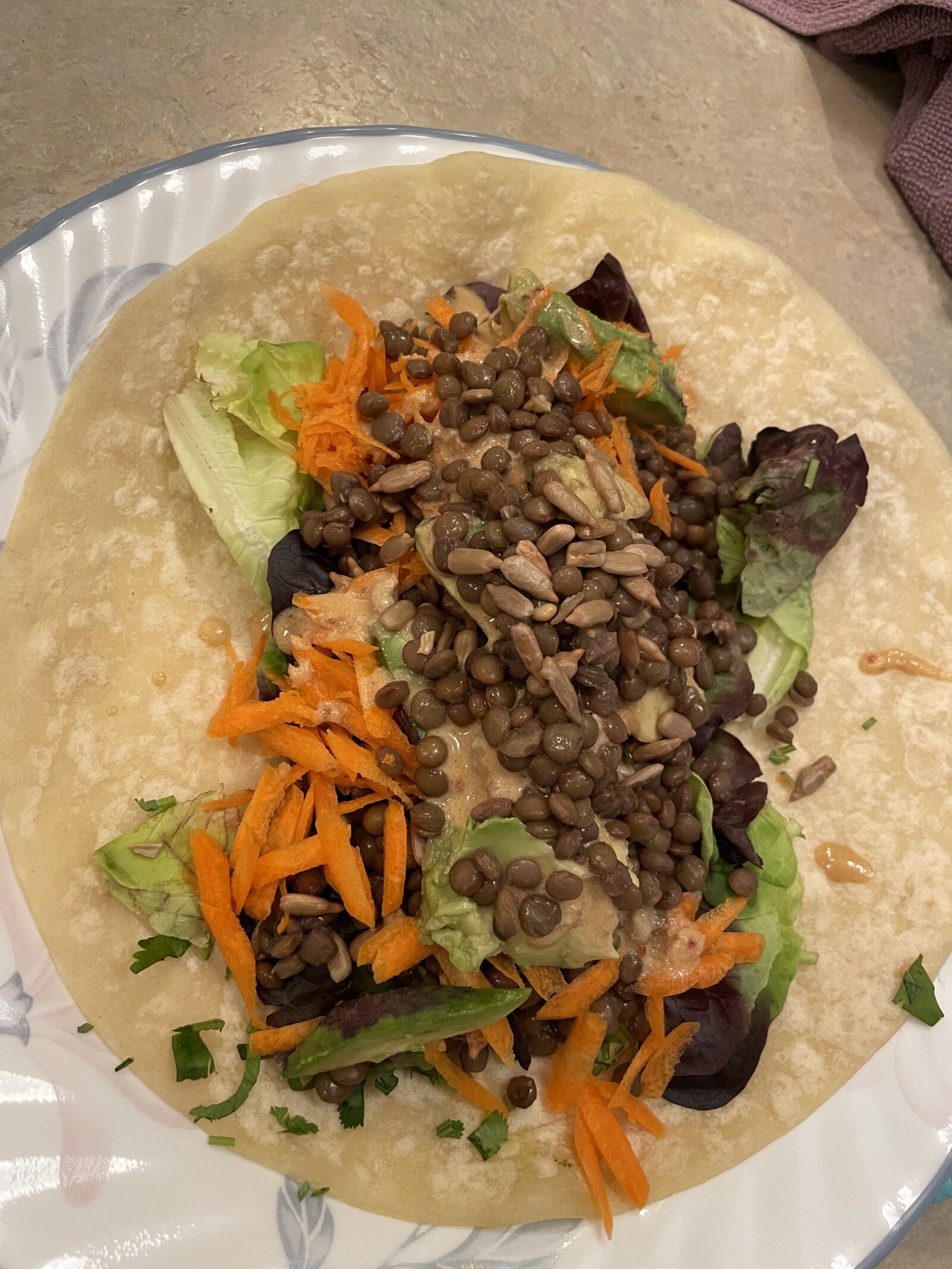 Another winner was Sylvie's Cauliflower Steaks with Romesco Sauce and Lentils. This is another one where black, caviar lentils would result in a more vibrant contrast, but the end result is very tasty. I seasoned the lentils with 1 bay leaf, 1t dried thyme, and 1t dried oregano. The only suggestion is to change the sequencing so the veggies are in the oven before the lentils are started.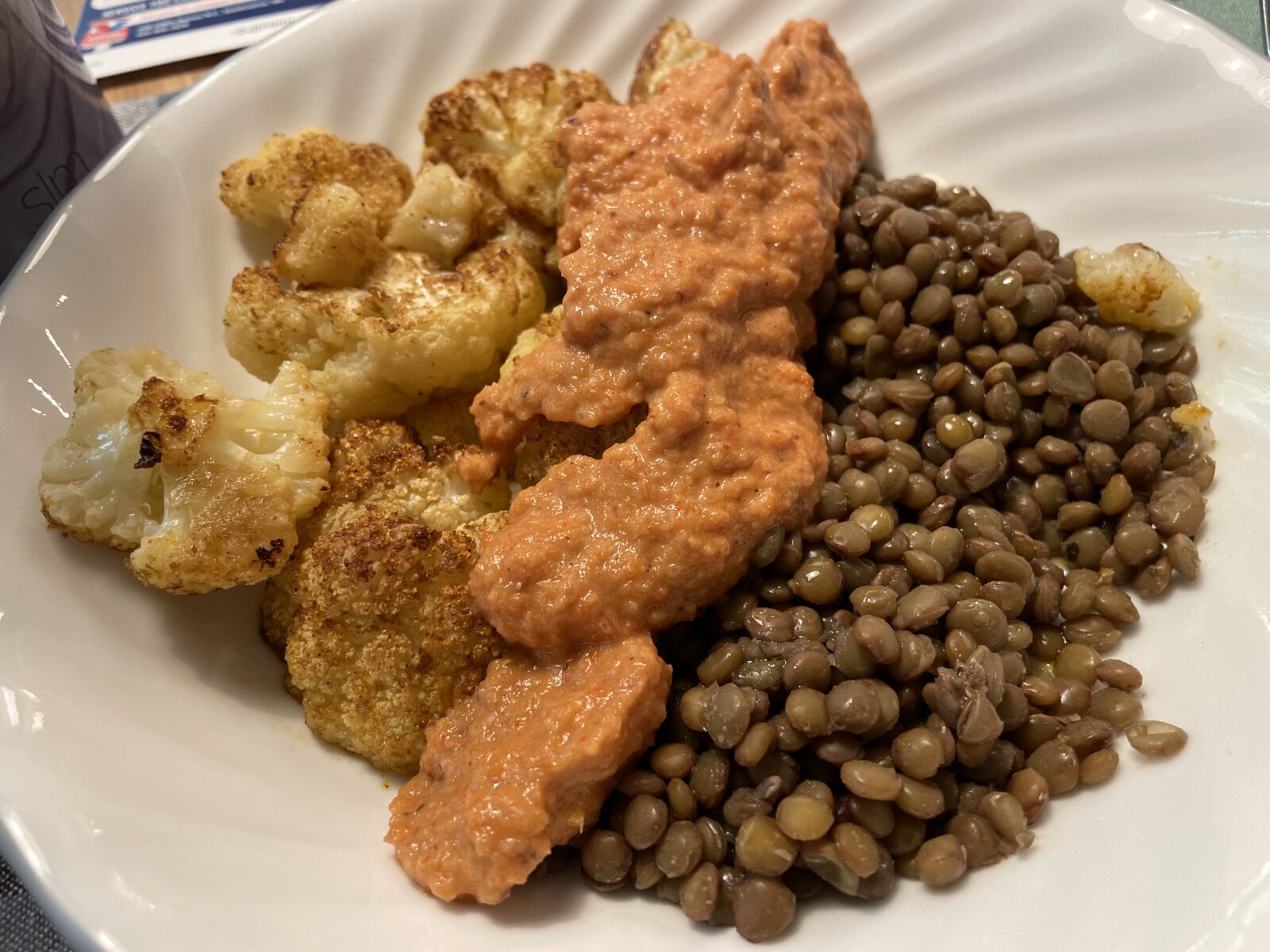 A few weeks ago I was having lunch with my daughter and ordered the beer cheese and beer pretzels. The cheese sauce was amazing, but the pretzels were very average. So for something completely different, I made beer pretzels and cheese sauce for dinner, with a healthy salad on the side. The pretzel recipe is based on Joshua Weissman's, but with some beer instead of water. I won't lie: the lye bath makes a much better texture than boiling in baking soda.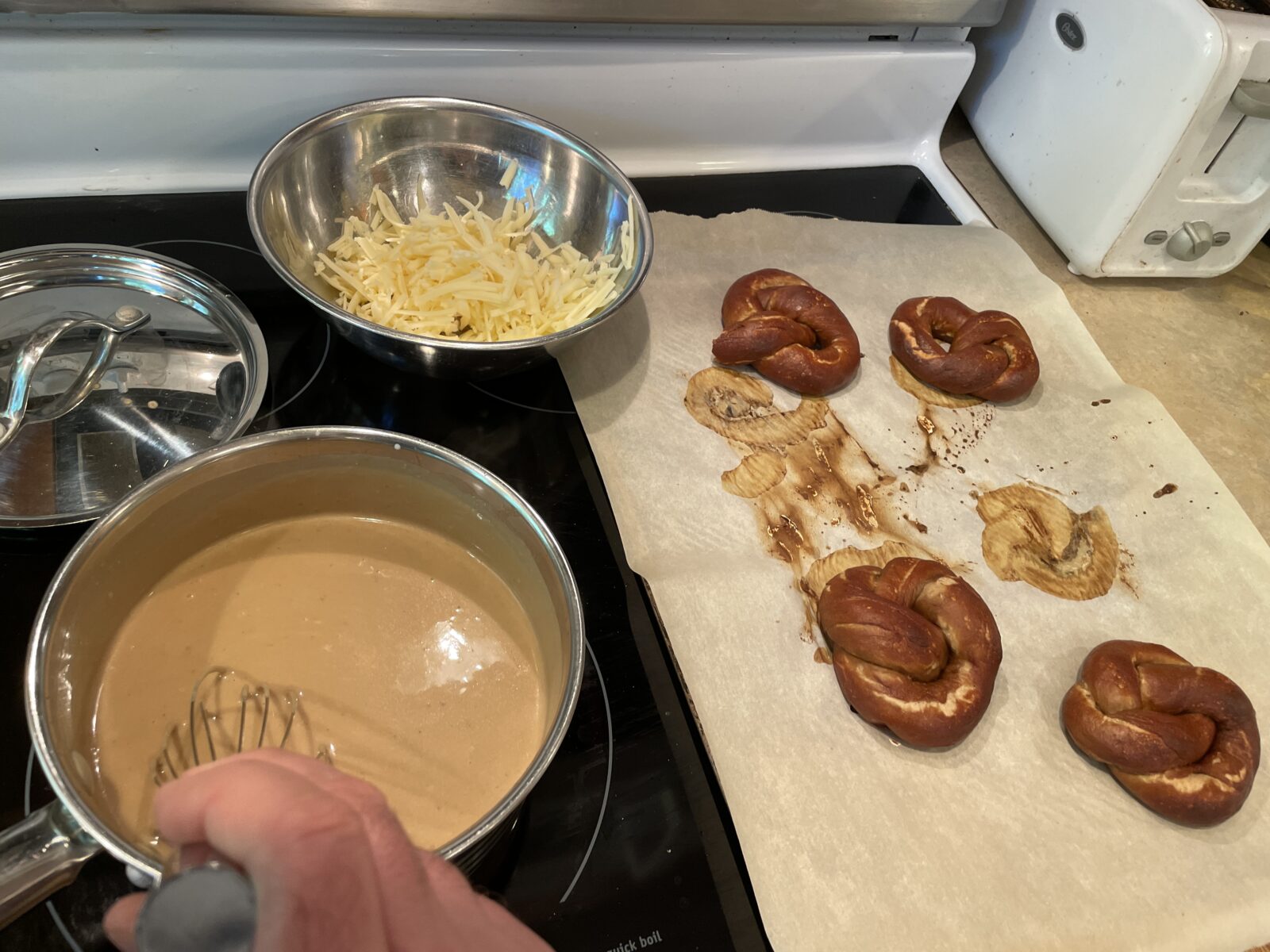 I tried Jenn Segal's Beer Cheese Dip, which uses a roux for a base while the other ingredients are stirred in. There was a lot for my meager eight pretzels, so I'd scale this down to half, possibly to a third. The use of two white cheeses (gruyere and cheddar) mixed into a rough with dark beer led to a brown sauce that was not the most aesthetically pleasing to me.