I was forwarded Owen Youngman's article in The Atlantic by a friend who wanted me to reflect further on my over-zealous consumption of  Massively Open Online Courses (or MOOCs).  It seems about right: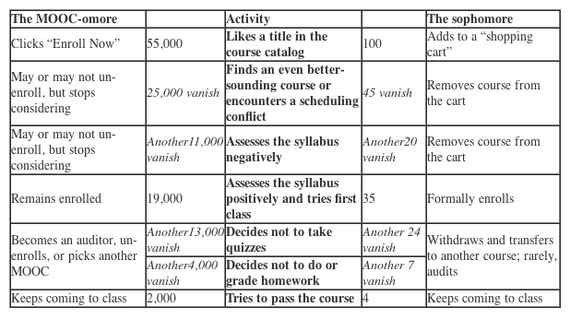 When I took my first in 2011, the concept was very new.  I'd planned to take one, but opted for all three courses, intending to drop two as time became short.  I have thus been trained to sign up for anything I'm remotely interested in: it's free, there's no scarcity of seats (e.g., I'm not depriving anyone else of the opportunity), there's no penalty for withdrawing, no penalty for incompletion, no tarnishing of the Permanent Record, and so on.  Disadvantage: none.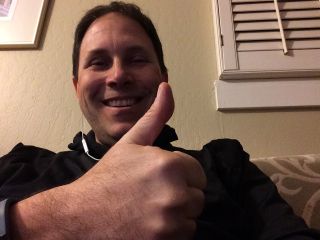 Since 2011, I've signed up for ~80 courses, completed ~19.   Common reasons I didn't complete a course:
The course schedule slips.  For every Katie Ferraro and Paul Offit, who have produced the material in advance of the course announcement (and were awesome), there are ten others have not, and the discover they've grossly underestimated the amount of work and internal administrative inertia needed to be overcome to pull off a course.  The most extreme slip I've seen so far was a Scientific Gastronomy ended up being offered over a year after it was announced.   The problem is…

A "leaky pipe?"

My schedule slips.  It's insanely hard for me to plan for a course more than a month out, let alone several.  This is the primary reason I haven't pursued a traditional continuing education program this decade.

… and the other: they won't let me bring Wilbur!

My last attempt went like this:

Month 0: Apply for a program.  I have time, money and motivation – let's rock… but the program starts in four months.
Month 1: I'm admitted, but the program just capped out — something that doesn't happen in MOOCs.  I'm guaranteed a slot for the program offered in Month 16.
Month 14: Medical stuff with surgery scheduled in Month 15. Rather than miss the first three weeks of the program, I receive a deferral to the new track they're offering in Month 24.
Month 23: Due to technical difficulties, the program is rescheduled for Month 27.
Month 26: I start a new job.  Time and motivation have left the building.

And so on. The point being: The academic calendar is the equivalent of prime time television: another thing I don't plan my life around.


High-frequency due dates/peer grading.  Some instructors adhere to the strict academic mindset where an assignment is doled out only after the corresponding lecture.   I understand their intent, but… I have had such poor success keeping up with the schedule fragmentation in classes where homework is revealed on Monday, due the following Sunday, that I am pretty quick to pull the Unenroll trigger.  I <3 instructors offering a little more flexibility here.

Stay palm, it's just a tree growing under I-5, Seattle.  Wait, wha?

In concept, peer grading is used to increase the learning experience by exposing you to other student's solutions for a complex assignment.  It also allows a program with high enrollment a means of providing more personalized grading.  Only it usually doesn't.  What happens is there are no comments, or the rubric is applied inconsistently or a large section of the students do a half-assed job of it.  Being on the receiving end from Enraged Prigs (the anagram of Peer Grading!) is demotivating.

Like a needle in your eye

Syllabus Parity Error.  I wish courses would post the syllabus in advance, because it is not easy predicting how well a class will be based solely on the blurb and teaser video, but I suspect they're still working on the material.   I've learned to smell classes focusing more on theory or excessive Greek notation or symptoms of the grading problems above.
So all of this is to say, rather than focusing on the fraction of an unbelievable number, they ought to view it as the multiple (500x) of people completing the standard course.   I wish the folks at UW's continuing education department would up their game because they have some great stuff, just not on a workable schedule.