It's been a couple of years since I took the Cheese-Making class at PCC, but while thumbing through their course list again, I had the urge to try it again.  The last couple of weeks have been experimenting with:
Yogurt – I picked up a used "yogurt maker," which is a just a fancy hotplate with a timer that keeps the yogurt ingredients at  45°C for up to 15 hours.  It looks a lot like this: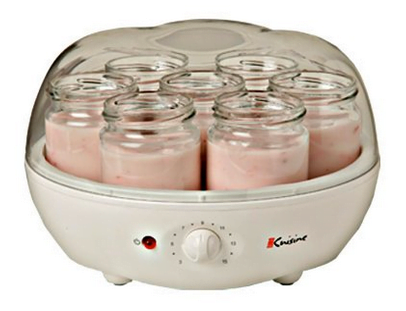 Making yogurt is easy-peasy:
Heat 1.25L of milk to 85°C.
Cool to 45°C.
Stir in 150 ml yogurt as seed culture.
Pour into each of the seven glass jars and let it yogurify overnight. (Key point: leave it alone.)
Eat.
The yogurt comes out slightly thinner than most grocery store brands, but tastes good.  I did look at milk powder to thicken it, but it imparted the odd milk powder taste.  I suppose if it really bothered me, I could sieve it through a cheesecloth.
Ricotta – As before, this was super-easy and super-tasty, but also super-expensive when using the super-awesome Pure Éire milk.  Since I was on a roll, I used it in the Lemon-Ricotta Pancakes recipe that was in the September 2013 Cook's Illustrated:
Lemon-Ricotta Pancakes (source: Cook's Illustrated, 2013-09)

2/3 C (85g) all-purpose flour 1/2 t (2.5g) baking soda 1/2 t (2.5g) salt 1 C (250ml) whole-milk ricotta 2 large eggs, separated 2 egg whites 1/3 C (80ml) milk zest from two small lemons juice from two small lemons 1/2 t (2.5ml) vanilla extract 2T (30ml) melted butter 1/4 C (50g) granulated sugar

Whisk together flour, baking soda and salt.
Make ricotta from scratch (see above)
Mix ricotta, the 2 egg yolks, milk, lemon zest, lemon juice, vanilla extract, melted butter.
Stir into flour mixture.
Whip the 4 egg whites and sugar until stiff peaks form.  (But not this stiff.)
Stir in half of the egg white mixture.
Fold in the remaining.
Cook the pancakes on medium-low heat.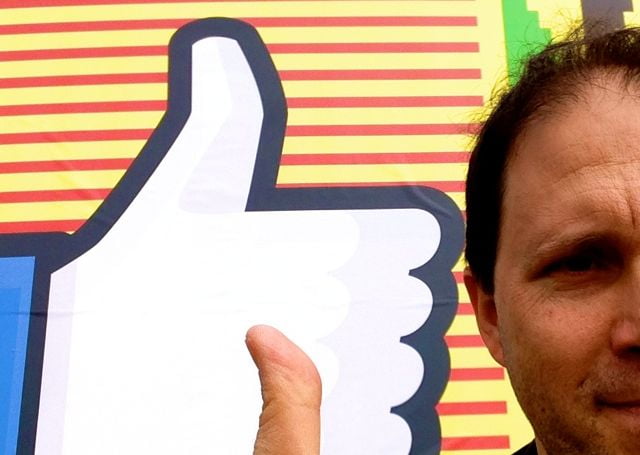 Feta is in progress.  There were numerous idle moments, during which I binge-watched my accumulated episodes of Agents of Shield and Person of Interest.  The basic ingredients were:
2L goat milk
1 package mesophilic yeast
2ml liquid vegetable rennet
cheese salt
The recipe in the "Cheesemaking 101" book was pretty terse, omitting several specifics of the well-documented site here, so I'm curious to see how things turn out.
Given a choice, I would have liked to try this with sheep's milk, but I couldn't find any within the normal shopping radius.  The second choice, goat's milk, was about 5-times the price of cow's milk.  The guide book said one can also use cow's milk, but I'd need to add some lipase for flavor and calcium chloride for texture.  Since I'm making a small batch, I went with the goldilocks compromise: goat milk.
As I started writing this, the curds just came out of the pot: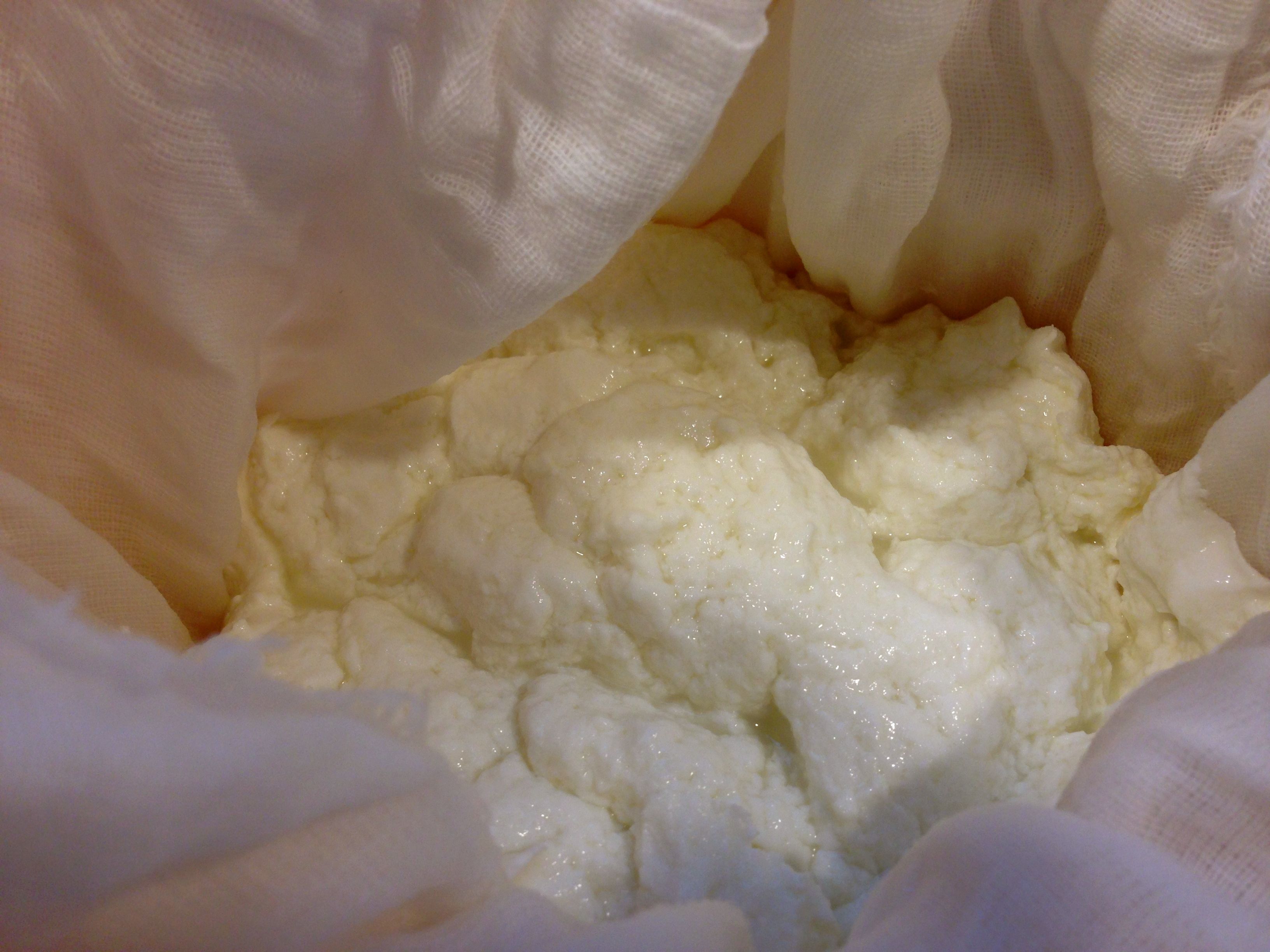 After three hours of draining, The result was a nice, soft cheese blob.  Had I started this project earlier, I would have let them sit out for a few more hours to firm it up, but I need to go to soon.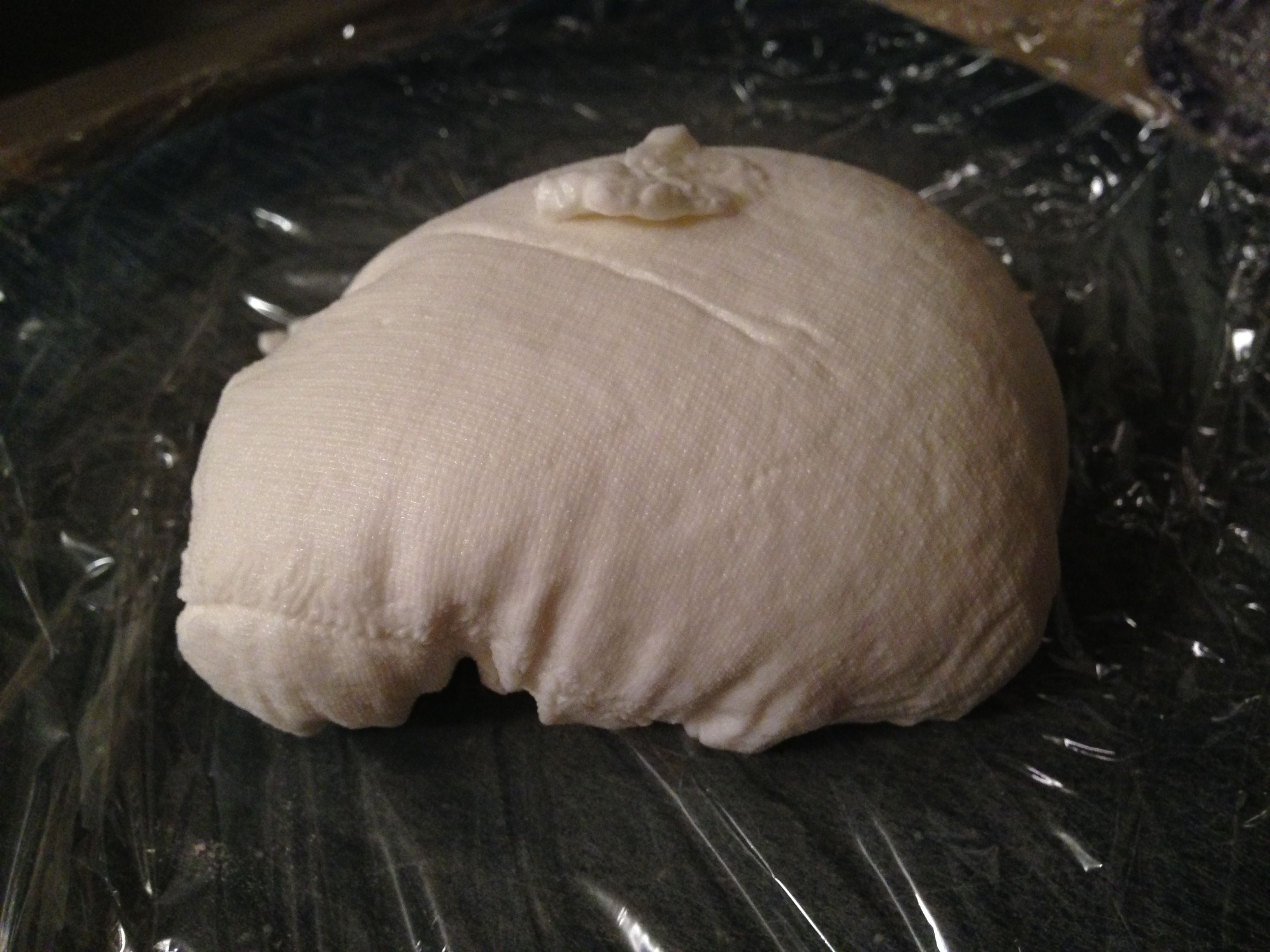 I cut the ball into 2cm cubes, lightly salted the result, and put them in the fridge for ripening the rest of the week.  I did give some serious consideration to brining (8% solution), but there was a suggestion that it might cause the cheese to fall apart.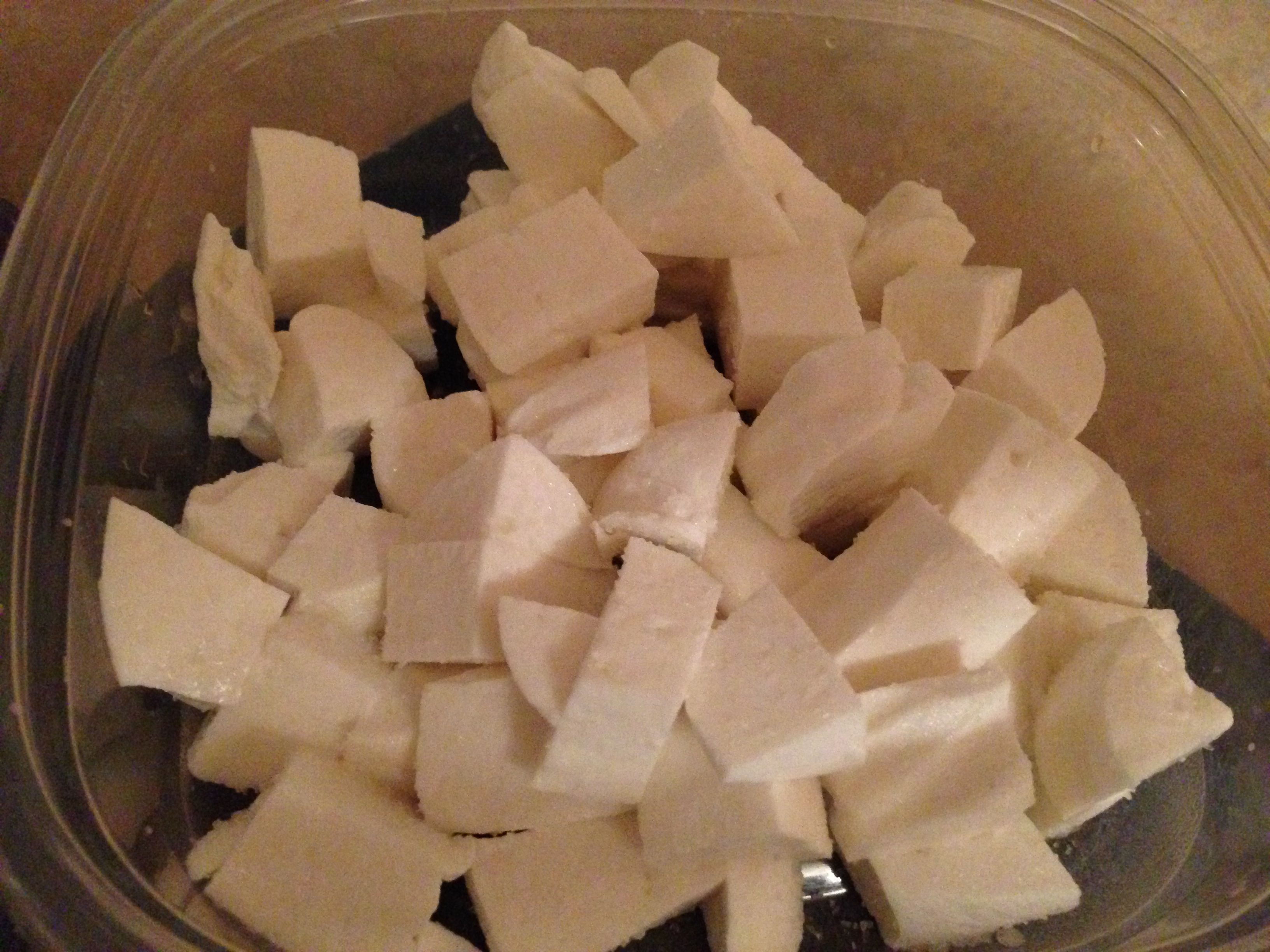 One aspect that I hadn't really thought about was how I was going to maintain a balmy 30°C.  The stove top temperature seemed to take freaking forever to get close to it.  Once there, it suddenly shot up and I had to remove it entirely.  It's really too bad the yogurt machine doesn't have a lower setting.
Peeking forward a bit in the cheese-making book, I noticed cheddar needs to be eaxed and then ripen at around 15°C for a few months.  As best as I can tell, the crawlspace would be the best location, but it's unclear if that would lead to problems.