Paul (W7PEZ) and I worked field day as 2B EWA, that is, we set up with battery-powered equipment, everything self-contained. The national forest site near Cle Elum was fantastic – great view from a ledge, higher elevation (near 4000′) so it was cooler, very quiet, and trees to mount antennas.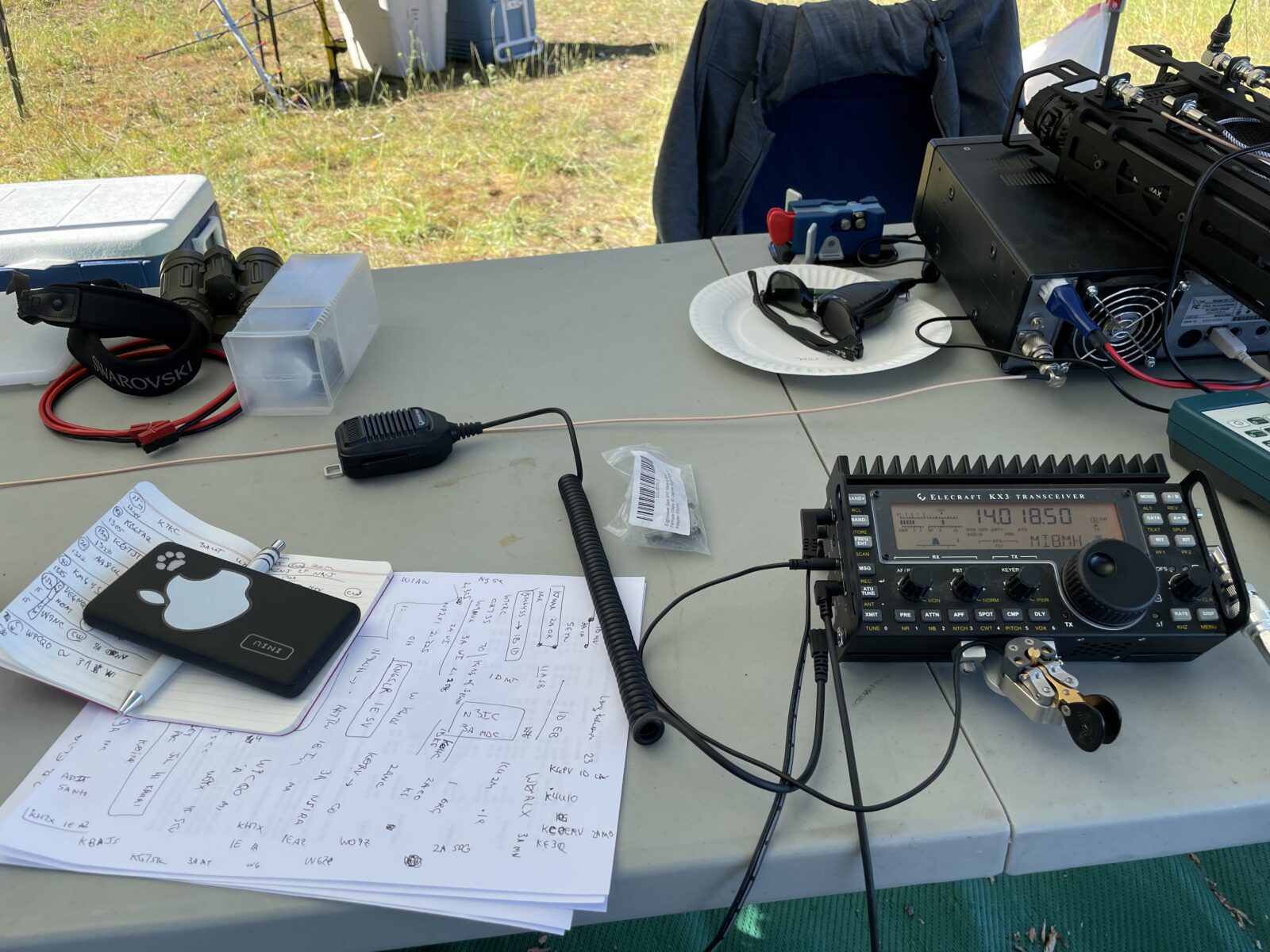 Paul brought his ICOM 7300 (HF) and a Yaesu 857 (HF + VHF + UHF), but stuck with the ICOM. I used my Elecraft KX3. Neither of us was mentally ready to have our brand new K4s in the field just yet.
For antennas, we had a few options available: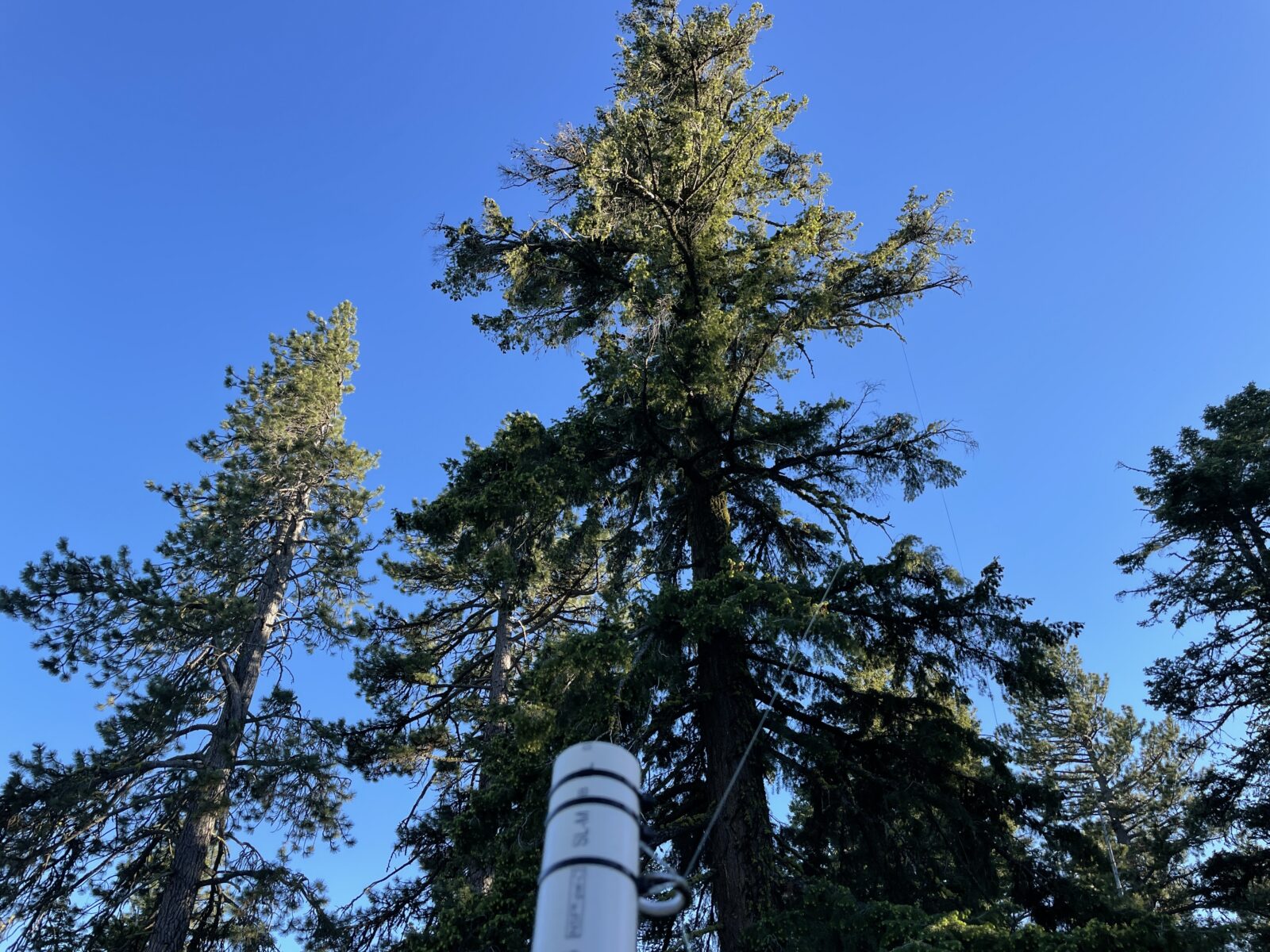 Packtenna end-fed antenna. This was hoisted in a tree and seemed to produce great results.
240′ horizontal loop – Bob, another ham who was unable to attend for health-related reasons, designed this. It took both of us to shoot lines up into trees, but by the end we had the center about 30-40′ off the ground. I estimated we used about 600′ of Dacron (3x the height needed * 4 main lines + one for the ladder line)
Buddipole Deluxe. I have had this for a while but always favored other types of antennas (e.g., kite antenna for FD 2019). I tried setting it up Saturday afternoon, but while fetching my hammer to drive a stake into hard ground, a wind gust hit, knocking it over and breaking both whips. Hence the answer to the great philosophical question: "If a BuddiPole falls in a forest and no one else is around, does it make noise?"
Arrow Antenna for UHF/VHF satellites. Given the unencumbered view of the sky, I was optimistic I'd have some luck making a contact or two. Gave it a couple of tries, but no luck.
Long wire – this was repurposed from my original antenna as a last resort. It's simple.
For power, I had a box with two LiPO4 batteries (15Ah, 6Ah), plus some phone packs. It was plenty for that short of a duration. Paul, who is consistently better prepared at everything, had two larger-capacity batteries and a Honda generator. I wouldn't mind trying solar next year to supplement things.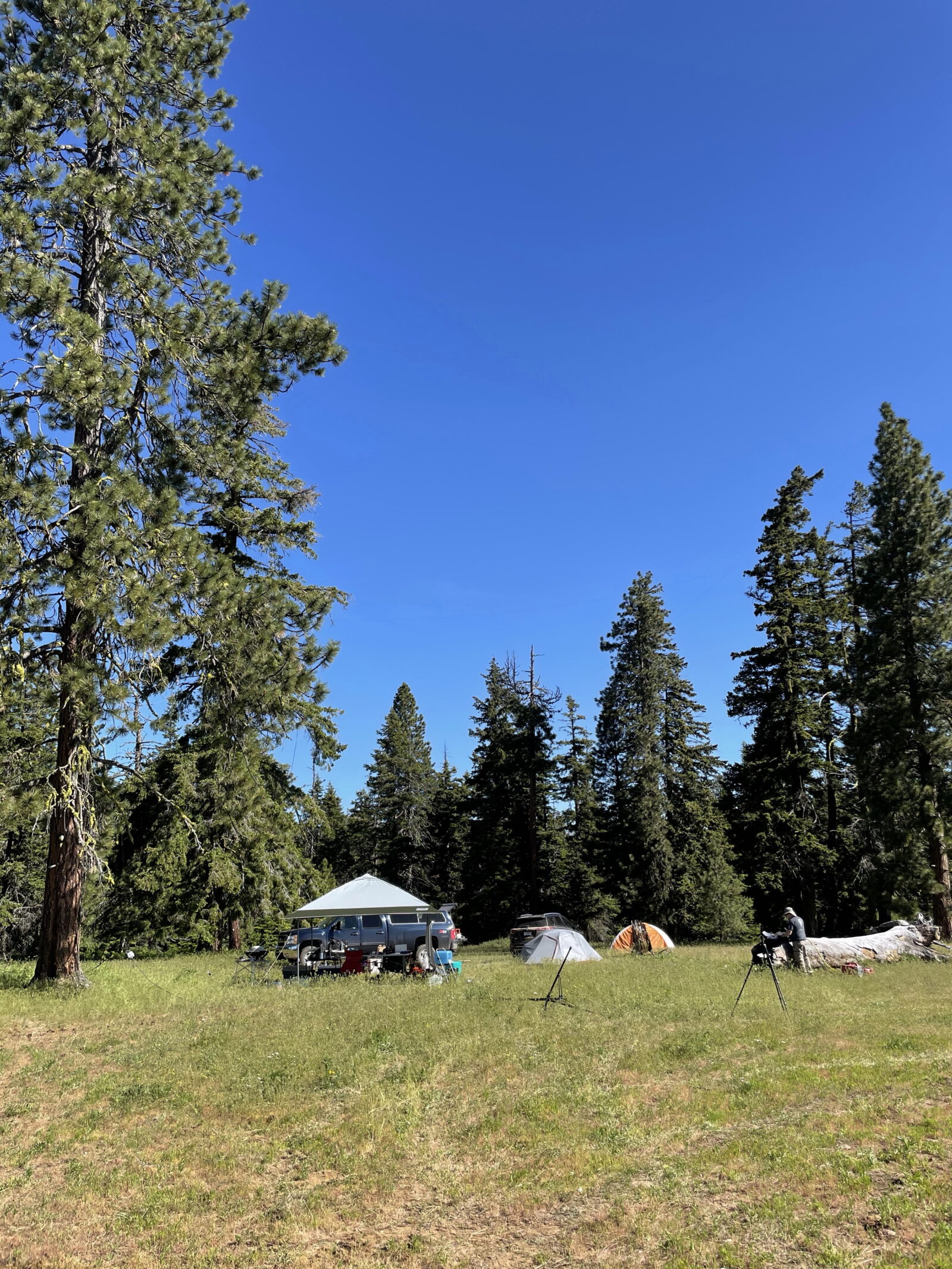 Shelter was a pop-up canopy with a folding table and two lawn chairs. The lawn chairs were really too short for comfortable CW at the table. My Begali Adventure Mono attaches to the radio, letting me send with it in my lap. Since Paul had the higher power radio, he stuck to the Packtenna, which limited him to mostly 20m.
When he transmitted, I saw interference on 40, 20 and 10m, so I stuck with 15m as much as I could. Had the Buddipole not gotten destroyed, I might have tried using that to give us more spacing so we would work opposite ends of 20m, even if I had to set up the second canopy. When he took breaks, I'd pop over to 20 and make a few more QSOs. I don't know why hams weren't taking advantage of the other bands. My initial focus was on phone contacts in hopes of getting more states confirmed. Unfortunately, the confirmation rate for Field Day is abysmal.
For the time, Paul had 116 CW contacts and 2 phone. I had 46 CW and 19 phone. It was a fun time and we learned a lot.
Notes from the trip: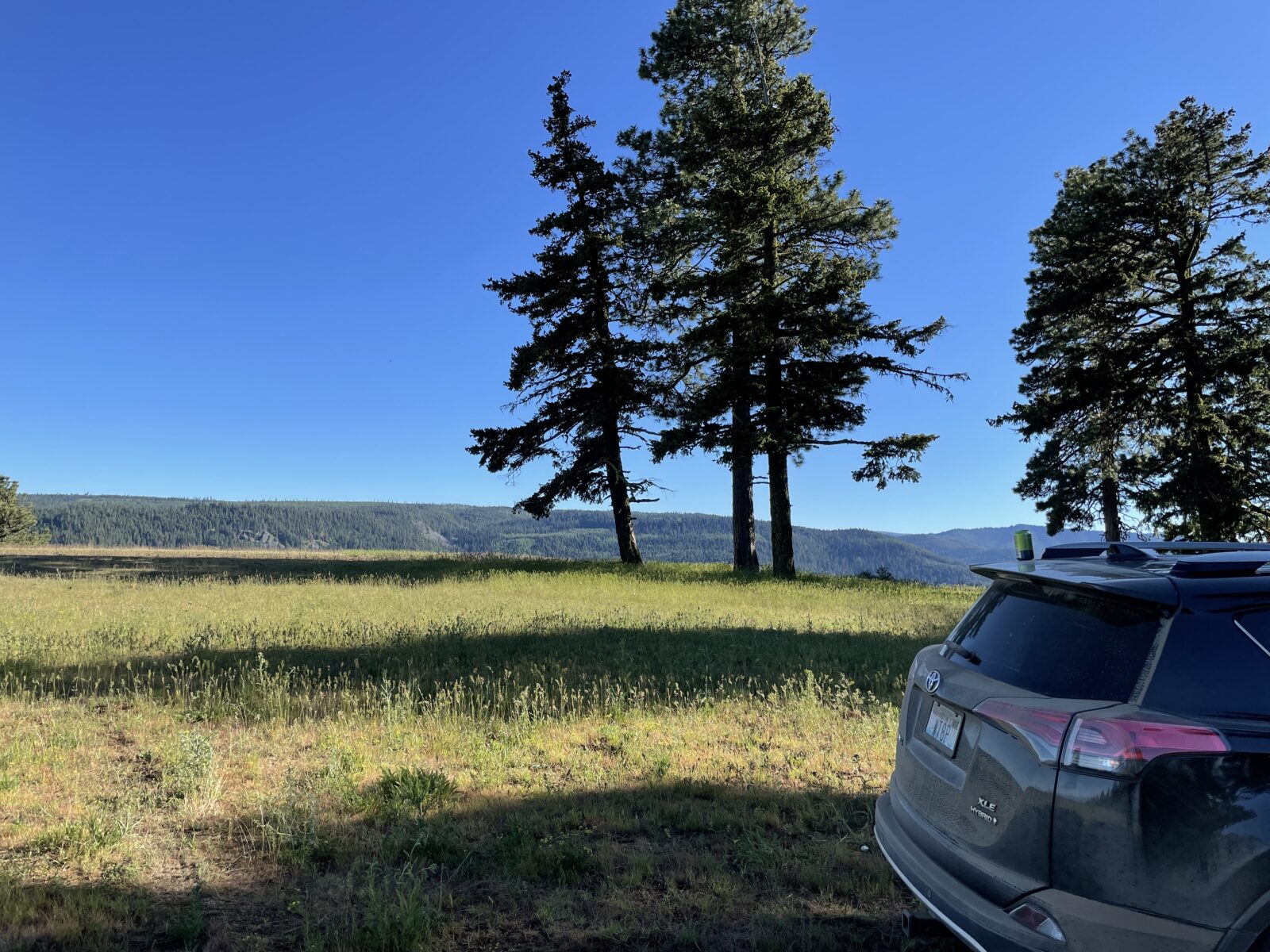 Google (and Toyota) maps are unreliable for directions on national forest roads. I was lulled into not paying more attention to my handwritten directions and missed a crucial turn that Google was okay with. When I realized it was wrong, I was already on a far worse (single lane, very rocky, dropoff adjacent) road, doubting it would get me to where I needed to be, but unable to turn around.
Check ports. Although I had all of the software installed on my laptop, I neglected to put in the second USB-A card. As a result, I couldn't operate any FT8 (one port controls the radio, the other for the audio card).
The Honda generator is pretty sweet. When he ran it, it was not very audible at all (behind the log in the picture.)
The Buddipole was very unstable while unguyed. It would benefit from anchors at the base while the guy ropes are being worked out. What makes that part tricky is the length changes as the antenna is raised (because: hypotenuse of triangle). Alternatively, one person can hold it while all the guy lines are laid out. I ordered (and already received) replacement whips.
Paul was much better prepared for a trip than I was, and I'm thankful for that. I had plenty (11 gallons) of water, rehydratable meals, an ice chest full of ice, and steaks (from Owen's Steaks in Cle Elum). He actually packed food. And his tool collection was ready for contingencies.
Useful to bring: electric chainsaw (to cut fallen trees into firewood, also vital in case you get caught with a downed tree), propane torch (to start fires, solder the loop antenna), Dacron cord winder.
Bring a general fix-electronics toolbox: wire cutters, wire strippers, crimp connections and the tool, solder, needle nose pliers, hatchet. Despite lacking these things, I still felt like I'd packed too much stuff.
Bring a bigger shovel. I packed a titanium hiker-style shovel that I used to dig a poop hole, but since I was driving there, a full-size with some pre-dug holes would have been nice.
Bug spray and tick remover. I was kind of freaked out seeing a tick on my stomach when I got home, but apparently removed it well-enough to not cause problems. Had I discovered it in camp, I would have preferred a way to deal with it right then.
More scratch paper. For logging, I used a paper notebook to record QSOs, but before getting to them, I'd often jot down information. This was especially useful if a station was really busy and I thought I'd come back to them. Re-inputting these later and adjusting for UTC was a pain. I mistyped W10P instead of W1oP, for example. I initially miscalculated the offset as 8 instead of 7 hours. Fortunately, ADIF Master could correct the electronic logs.
Having a lot of ice was nice. Prior to arriving, I bought five bags of ice. With my red tumbler (pictured below), I always had a cold beverage.
The location was great. The side shade (shown below) kept the morning rays off us, but once it hit noon, we were in the shade.
Lawn chairs are okay to sit in, but you tend to lean back, which makes it harder to operate. For next year, we're going to use a table with adjustable height.
When logging, set up the LoTW profile correctly. Mine defaulted with my home profile, which has the wrong grid and county.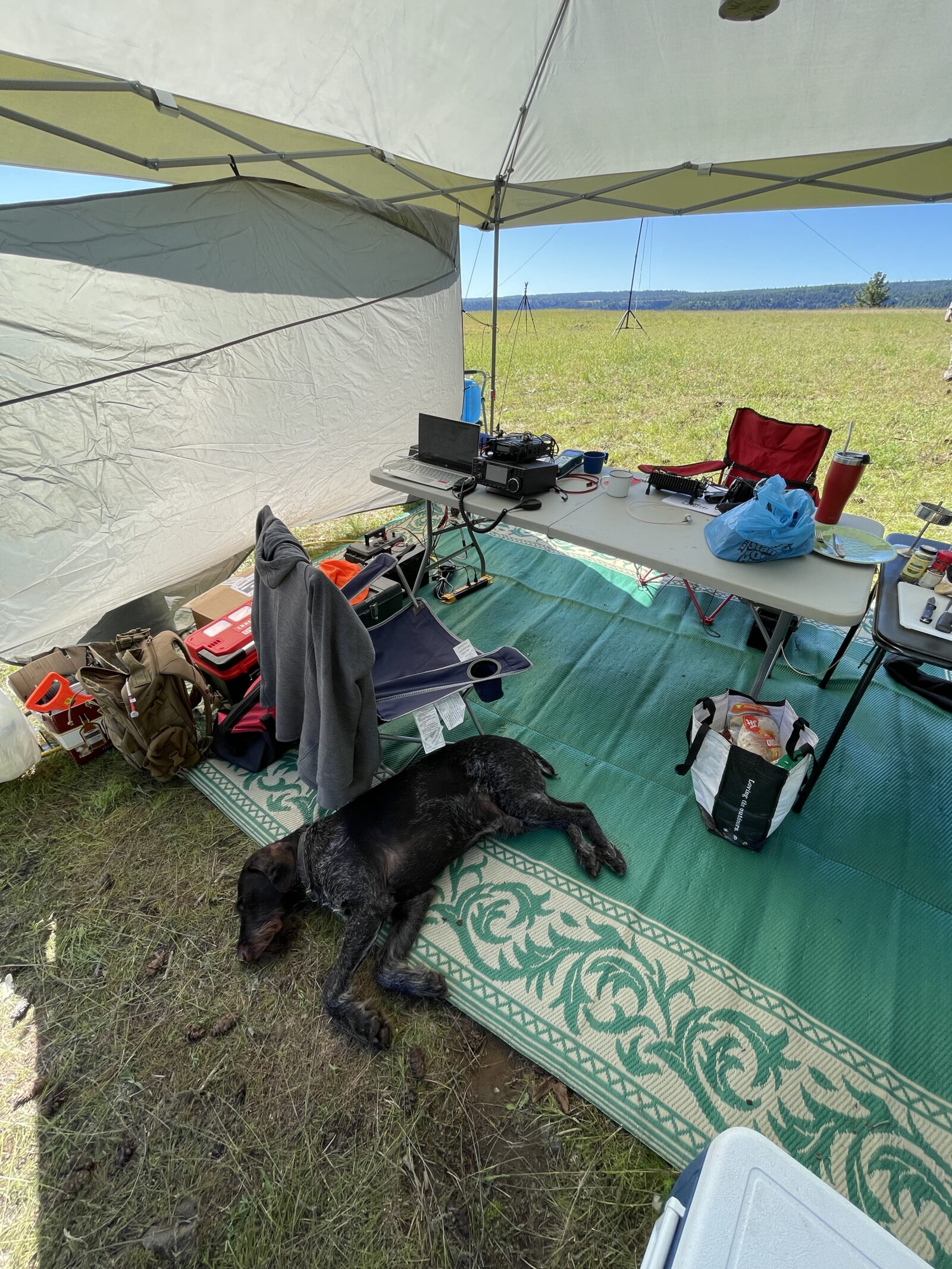 Trivia: I have operated from:
Sammamish, WA, King County, CN87 (home)
Cle Elum, WA, Kittitas County, CN97 (Field Day 2022)
Ocean Shores, WA, Grays County, CN77 (Field Day 2018, 2019)
Rochester, NY, Monroe County, FN13 (college visits, 2017)
Munising, MI, Alger County, EN66 (vacation, 2018)
Cleveland, TX, Liberty County, EM20 (visiting family)