I love making gyoza, but because I am not adept enough at it to hand-make them at the rate my family consumes them, I wanted to try the Dumpling Cube my mother-in-law gave me for Christmas.  The result was my best batch of gyoza using the Classic Pork Gyoza from Japanese Soul Cooking as a starting point.  Of course, I would make a few changes:
Ingredients
3 C finely chopped green cabbage (about 8 ounces)

1/2 C seitan (optional, it was leftover from last week)
small bunch of chives

2 cloves garlic, finely chopped

6 ounces woodear mushrooms, stems removed
2 carrots, peel the skins

1 T freshly grated ginger 

1 pound ground pork

1 T soy sauce

1/2 C toasted sesame oil

1/2 t ground black pepper

1/2 t salt

2 t sugar

2 T corn starch, plus extra for dusting

100 square wonton wrapper, 3-4 inches in diameter

1 T corn starch mixed with 3 T cold water

4 bouillon cubes dissolved in a quart of water
Steps
Chop stuff.  Given how much work is downstream, I relied heavily on the food processor.


Chopper

: Cabbage, chives, garlic, seitan


Shredder

: woodear mushrooms, carrots


Hand-grated

: ginger
Mix with soy, 2T of the sesame oil, pepper, salt, sugar and ground pork.  Work it until evenly mixed.
In a separate bowl, mix the corn starch into water. This is going to be used to help fuse the wrappers.
Heat a sauce pan with 2T sesame oil to medium-high.
Load the Dumpling Cube with four wrappers:

In this photo, I started with round wrappers.  Don't.  Just use the square ones.

Dollop a half ounce of filling into each wrapper.
To cook: in a large saucepan, add 2T of sesame oil. Add ~20 gyoza and cook about a minute on each side to brown. Pour in about 3/4 C of the boullion mixture and cover. Cook until the steam dies down.
Serve promptly.

For dessert, I made black rice pudding.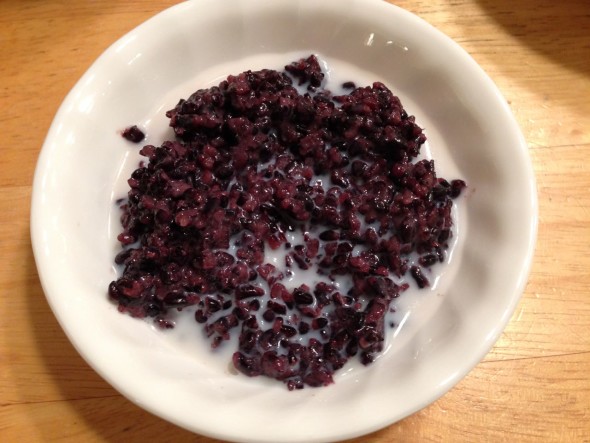 Ingredients:
1/2C Hei Mey (I got mine here)
Coconut milk (or coconut oil + milk)
2T sugar
Simply cook the black rice in the Zojurishi rice cooker.  Stir in the remaining ingredients and serve.