(Continued from part 1.)
Day 5 was a rest day in Jasper.  Unlike Day 2, when I really wanted a rest day, I was feeling well enough that I would have preferred continuing.  On the other hand, I seriously enjoyed the slow, sit-down meals where I wasn't swatting mosquitos off my legs.  I wandered around town, avoiding the anchovy-loving pizza bears.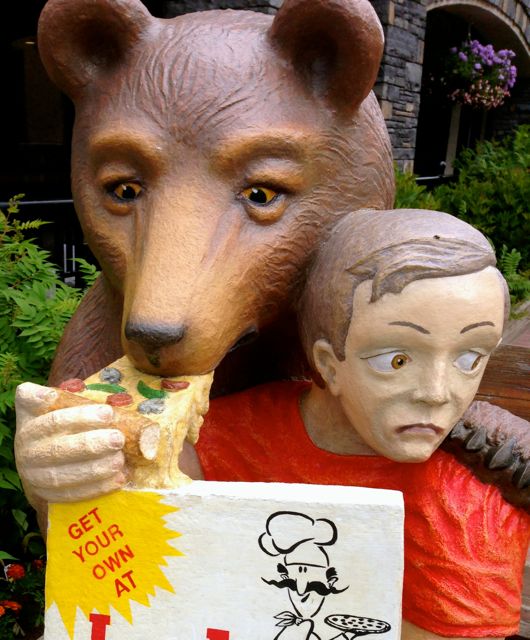 Jasper is a stop for the Via Rail route between Kamloops and Edmonton, alternating between insanely busy with the flow of passengers stretching their legs and "small town."
Day 6: Jasper, AB to Wilcox Creek Campground: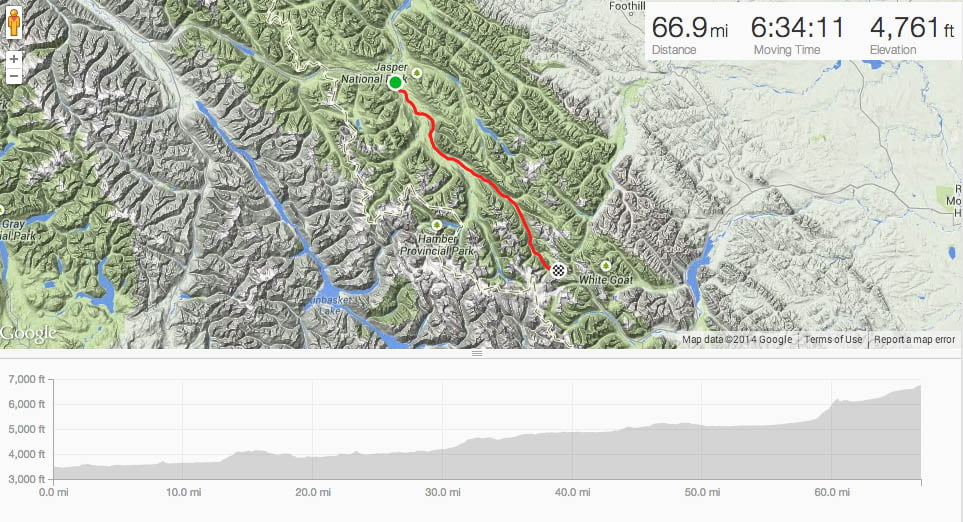 Another rider wanted to see what this geocaching thing was about and, despite gentle suggestions that I ride pretty slow and stop a lot, was undeterred.  The plan for the day went slightly awry when, immersed in conversation, we had missed the turn onto the more scenic, less trafficked spur of Highway 93.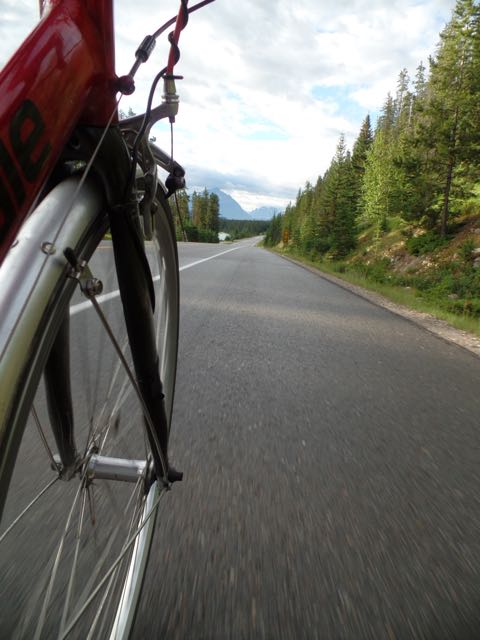 We realized the error when we hadn't been passed by the speedy riders within the first hour.  The maps supplied by Cycle Canada would have a lot of missing important detail.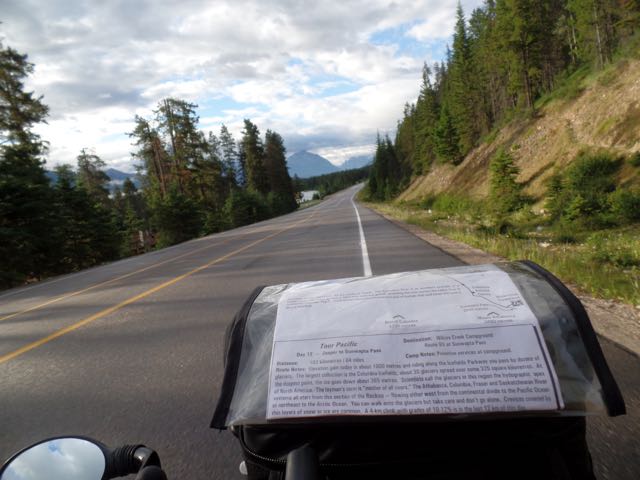 The first stop of the day was an earthcache at Mistaya Falls.  Nearby was a magnetic container attached on the bottom of one of the interpretive signs.  It was so fun watching the look on my friend's face when she reached under and felt the container.  It remains geeky, of course.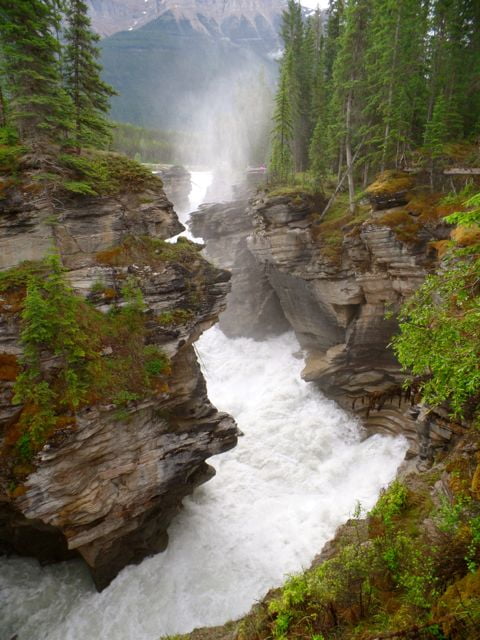 Later down the road, we stopped off at another earthcache that required a moderate hike to its vantage point.  We parked the bikes behind a tree, took our valuables and hiked down the rocky trail to more spectacular views to gather the required information.   Within minutes of snapping this photo: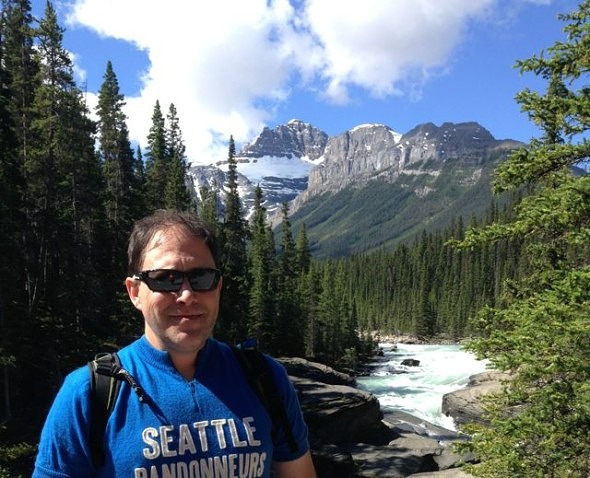 two other park visitors came over, exclaiming "Oh, you're the cyclists."   Umm…
While our bikes were parked, the local gangland crows had pried open our handlebar bags to loot the contents of anything edible.  They were after foodstuffs, such as the fresh-baked cookie I was saving for the top of the climb up the Columbia Ice Fields later.   Inedibles with no market value on the crow-equivalent of eBay were dropped onto the ground.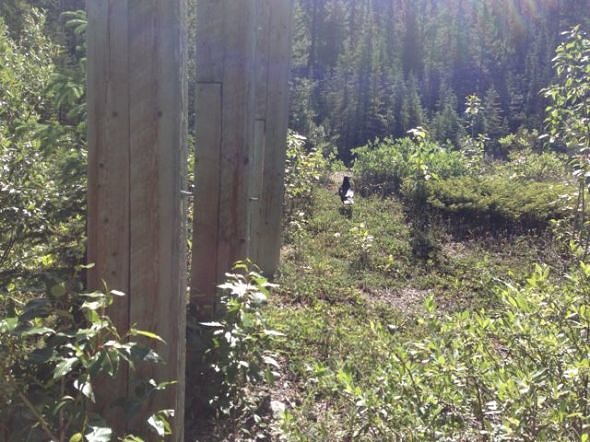 The map had warned us of 12-14% grades.  It was certainly a steep, long grind, made less enjoyable by buses of tourists being taken to the overhang.  The worst part, though, was on the flats, where the wind was turning me into a weather vane.  But I got some photos.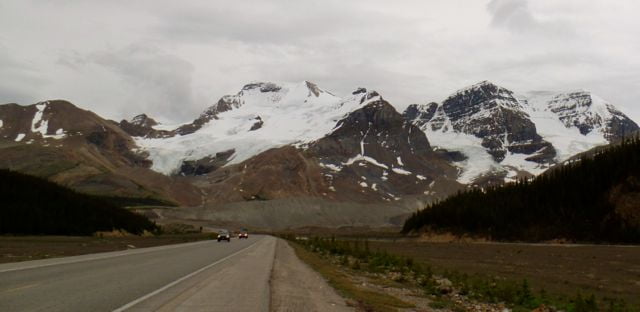 Once past this, there was diversion up a narrow, winding road to Wilcox Creek, our campground.  The view was fantastic: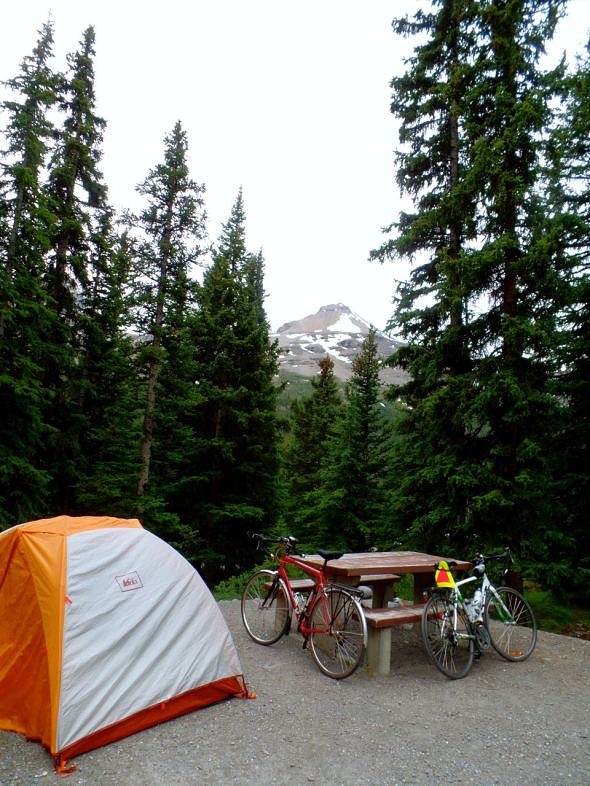 … but there was no opportunity to clean up after a long ride.  I'm pretty sure I went to bed around 8pm.
Day 7: Wilcox Creek to Lake Louise: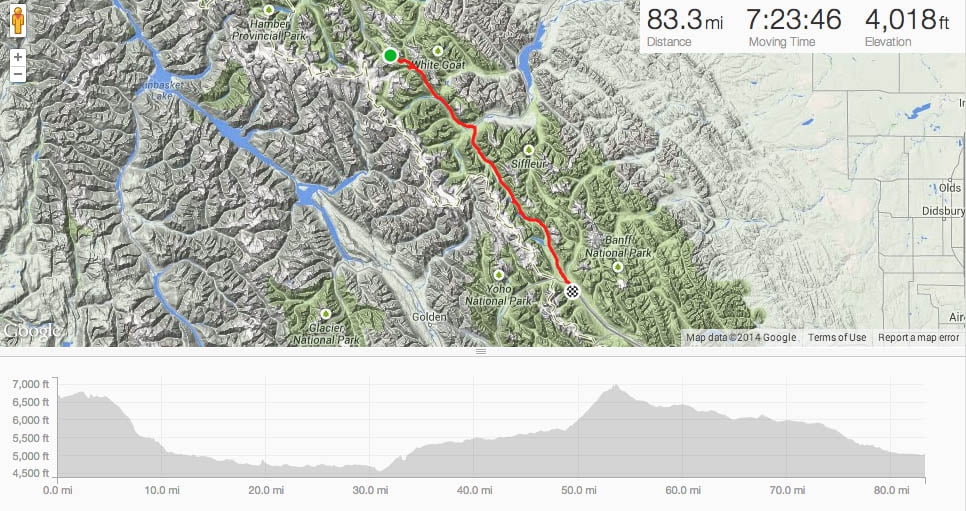 I woke up to 34 degrees and was moving very slowly. Once we hit Sunwapta Pass (actually a descent from camp), there would be a steep drop for the next 30 miles.  Despite packing nearly everything else I'd need, I left the full-fingered gloves in the back of my car.  The only remedy I could concoct was using a pair of latex disposable gloves (kept for tire changes).  Once at the bottom, the sun was finally above the mountains.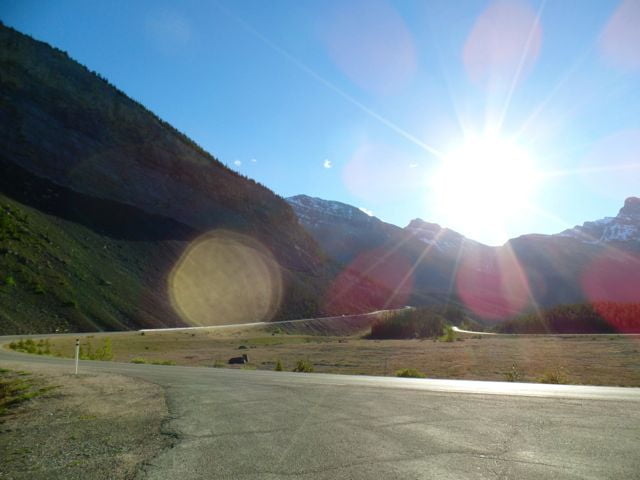 I rode alone for most of the day, stopping at the occasional geological oddity of the "Weeping Wall."  (GC2FME0).
"Cirrus Mountain wraps around the Huntington Glacier that lies to the southeast of the highest peak. As the glacier melts, much of the water is prevented from escaping by the topmost rock of the mountain. With nowhere else to go, the water seeps down through the more permeable shale and limestone. It travels through various channels within the rock itself and eventually emerges from the side of the rock face.  In the summer and fall, one can see a steady trickle of water from dozens of cracks in the wall. In the springtime, the flow increases significantly as the increased glacier run-off drives more water through the wall; for this wall, the peak water flow appears around June. And in the winter, the streams freeze into a sheer ice wall, creating one of the world's leading ice-climbing surfaces."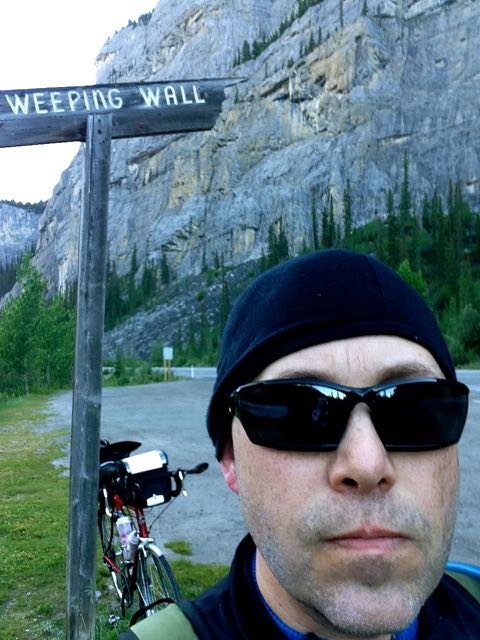 This was a very enjoyable day of riding as it warmed to 15C and was sunny.  Inspired by completing the second highest ascent of the trip, I continued further up towards another earth cache overlooking the turquoise Peyto Lake.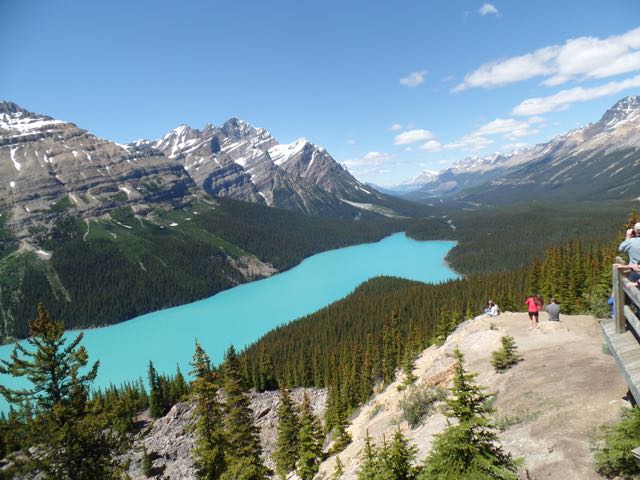 Yep, this was a nice day.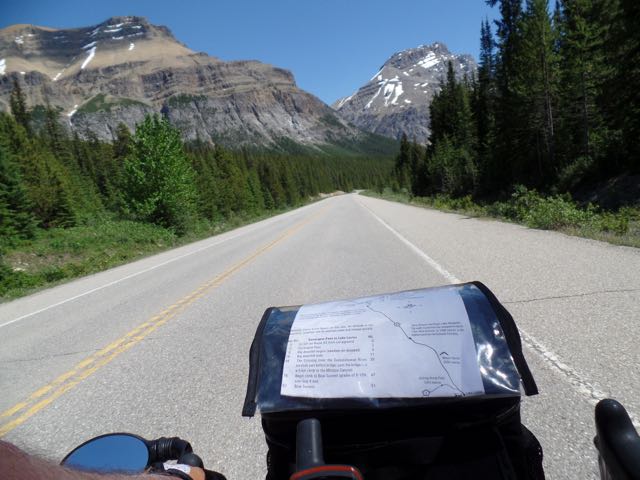 Once in Lake Louise, I struggled to find the missed turn to camp.  A clue was a verbal description of something known as a Texas Grate: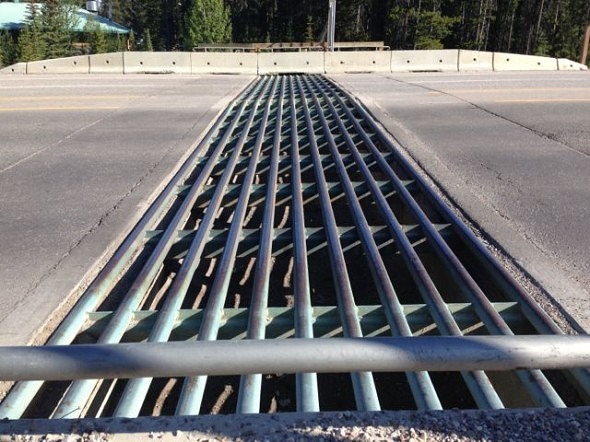 … which are used to dissuade wildlife (bears, elk and moose) and cyclists.  For cyclists, there are fenced off sections with double-doors.  I wish I got a photo of those because it's surreal being imprisoned in the wild.
Camp was mentioned as being "bear proofed" as it's surrounded by more Texas grates and electrified fences.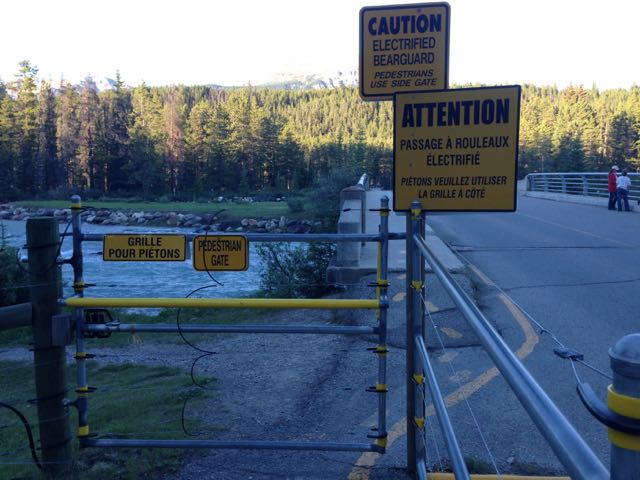 Day 8: Lake Louise to Banff: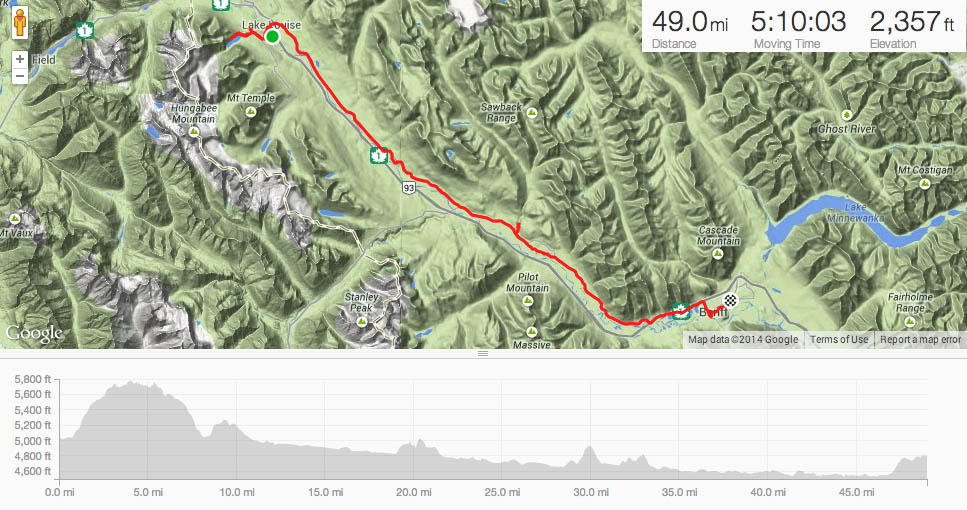 After two strenuous days, we were offered a comparatively short day between Lake Louise and Banff.   So I took side trips.  After heading out of camp, I rode up to Lake Louise proper to do some geocaching and get some post card shots.  Yep.

My geocaching friend Cliff (aka crs98) had a third earthcache where one estimates the volume of talus deposited during the walk from the parking lot to the lake.  I tried to do the hike (replete in bike cleats) relatively quickly as tourists buses were beginning to stream in.
On the walk back to the bike, I was musing about hearing that Lake Louise is the uglier sister to Moraine Lake.  I toyed with visiting the second one until I saw the 11% grade on top of what I'd already done.   I headed downhill, and continued along the route, picking up an occasional geocache.  One of the more (cough) interesting experiences was a cache deep in the woods.  I leaned my bike up against a tree and walked down to ground zero.  As I was looking for the container, I heard (but did not see) the distinct rumbling of something I didn't want to encounter in the woods wearing only bike cleats.
I was pretty quick to leave.  A mere quarter mile down the road was the baby version of what I'd heard.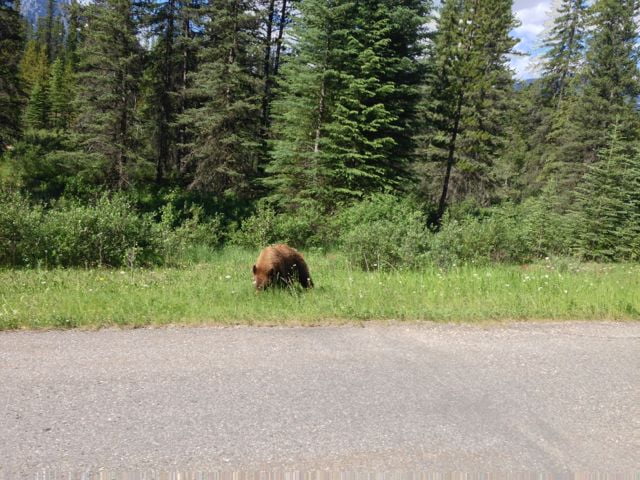 Not having to worry about a long day presented me with the opportunity to push harder and keep up with a group or riders who'd been faster than me.  This, in turn, was a chance to talk honestly with some other folks about what was good and bad about the ride.  These folks overwhelmingly thought that while the scenery was top-notch, the level of service provided for the fee was lacking.  (This is something I will ponder later.)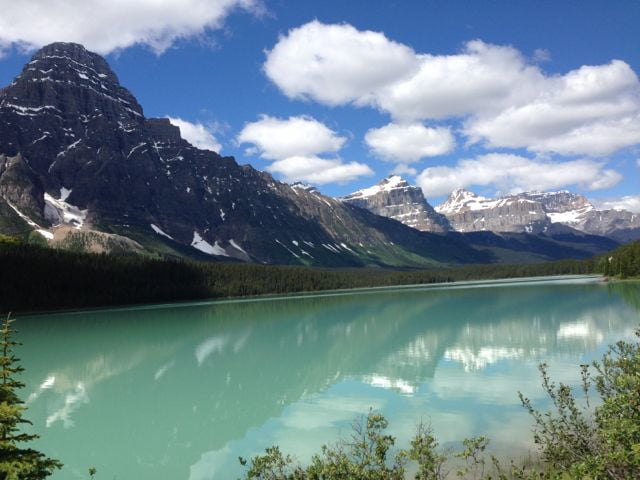 Day 9: Banff to Calgary: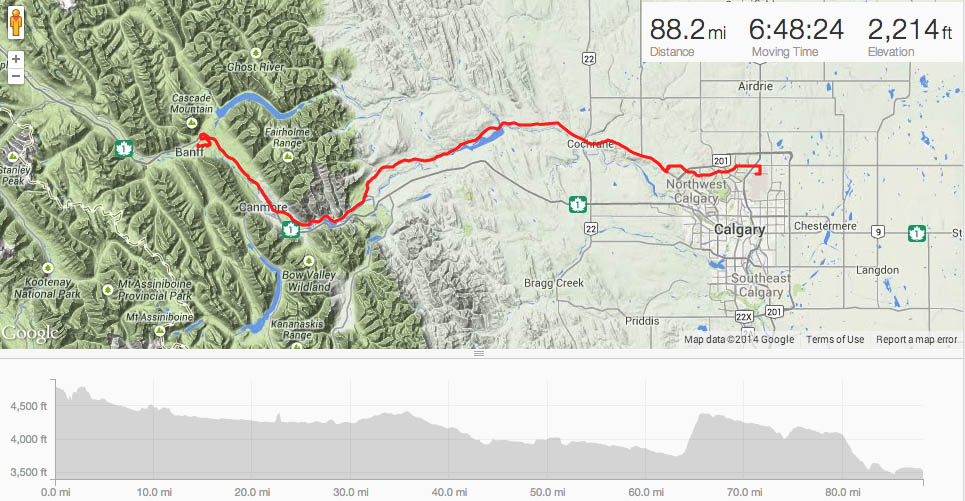 The trip sheet provided by the Cycle Canada folks for the last segment was a byzantine combination of turns, prose and small fonts intended to get to the University of Calgary, where we'd spend the last night before parting ways. Because the map was apparently created pre-floods, Paul (the owner) was going to apply race arrows along the way for corrections.  (These are thin sheets used on events.  They decompose naturally, avoiding the need to pick them up later.)  Fortunately, I was heading to the Calgary airport to pick up my car.  Garmin's autoroute had a cycling option that kept me off really nasty roads.
Starting off the day, I packed my geological sandwich: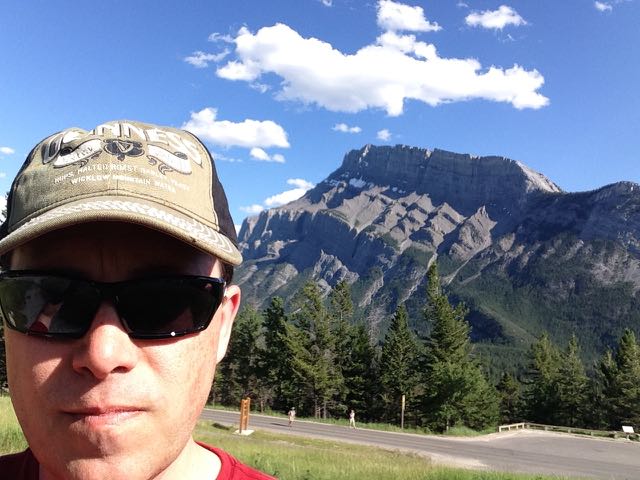 visited the hoodoos: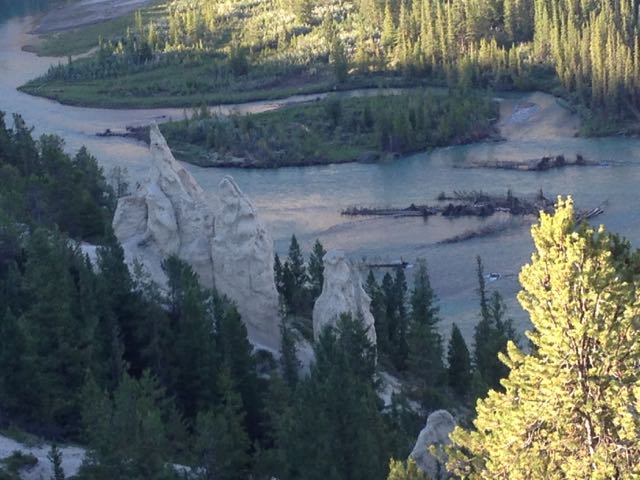 Reflected at the Castle Mountain Internment Camp memorial how I wish the US wasn't so filled with blowhard assholes that we would apologize for and learn from the bad things we've done.  Those interned built these roads I rode on today.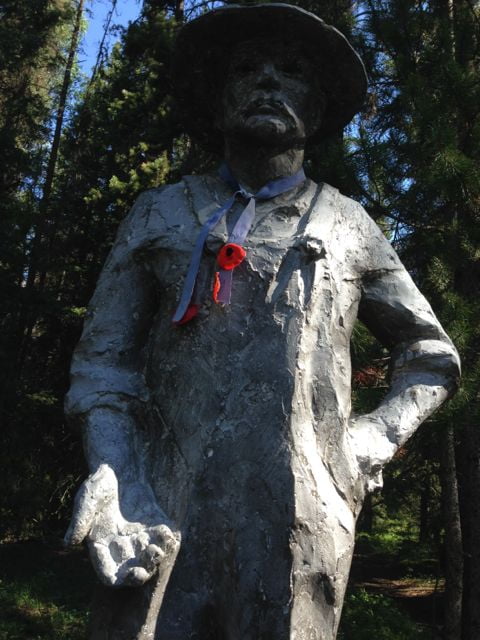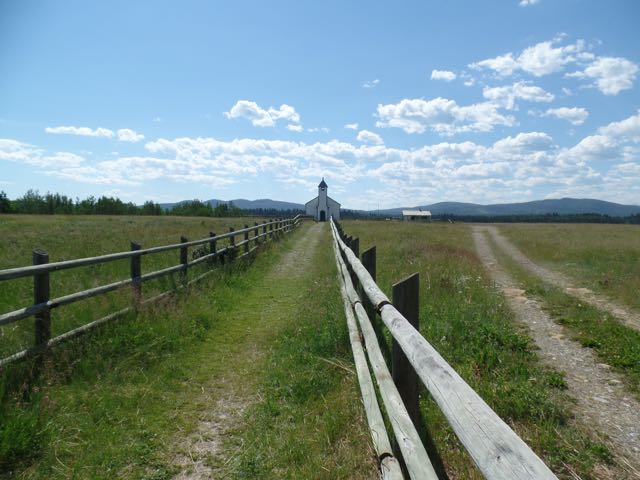 Then, finally, after biking through what seemed like Houston (hot, humid, flat), I crossed into Calgary proper.  Wohoo – my longest ride ever, with mountains, rivers, glaciers, talus, and more.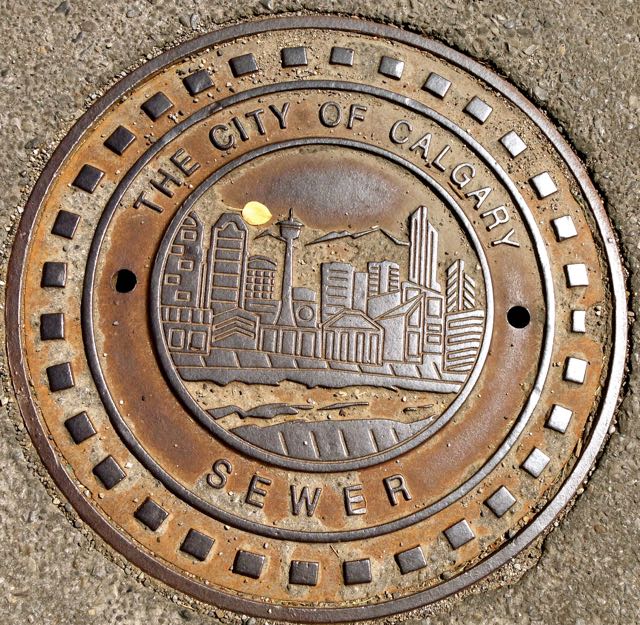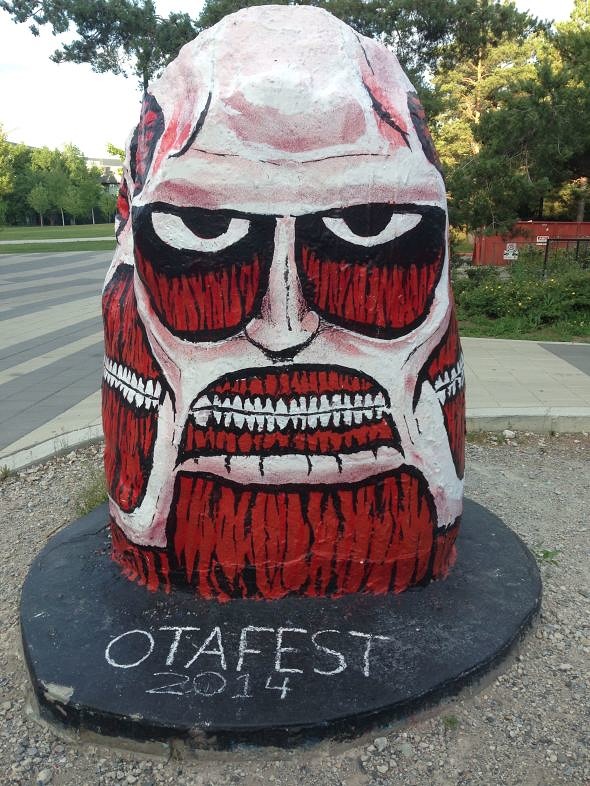 I split up the long drive back by spending the night in Waterton Lakes National Park.  I wanted to visit it for a while, but couldn't make it out last year when I was going through Glacier.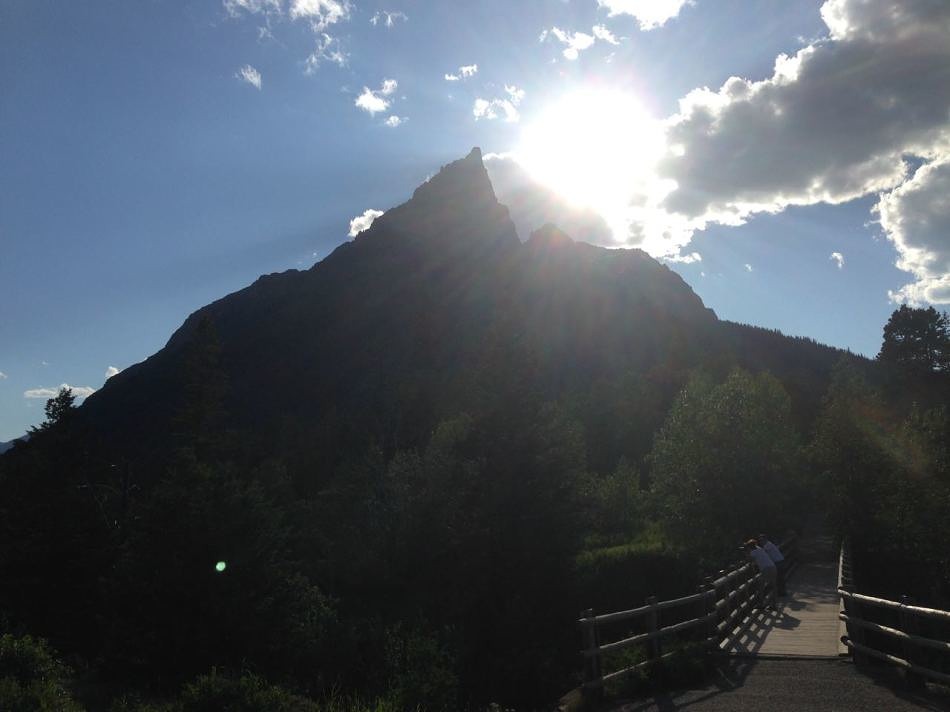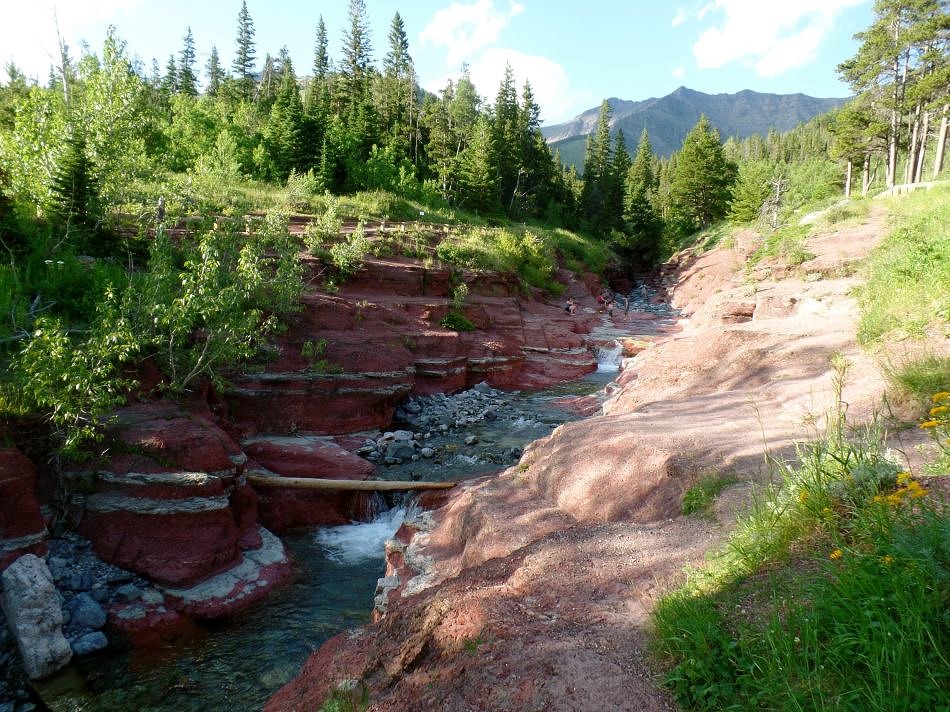 Epilogue:
This was the smallest group event (18 people, 8 of whom started from Vancouver) and longest (10 days, 582 miles) I've done and definitely "no frills."   Their welcome packet was pretty thorough in describing the level of fitness, suggested training regimen, type of bike you'd want to bring, and what was not included:
Getting to the start and from the final points.  The option I eventually came up with was: drive to Kamloops, drop off camping gear; drive to Calgary, drop off the car at the airport; fly back to Kamloops; bike to Calgary Airport; drive home.  While the road trip was awesome and bolstered my caching count, I probably should have paid to fly in and out.
Lunch and water stops.  We were welcome to take extra breakfast stuff (PB&J, bananas, gorp) to tide us over or we found a store where we could buy something.  I estimated that I spent about CDN$40 each day for sundries – beef jerky, fruit, water and, in Valemont, an iced espresso.
Sag wagon.  Despite this, there was a couple who had not trained for the ride and, not surprisingly, were barely making it into camp before sunset, sometimes worrying Paul (the owner) enough that he'd try to pick them up, at the inconvenience of everyone else.
One really nice aspect of this trip was having an opportunity to talk with everyone.  Everybody is from somewhere else and has an interesting story.  The number of retirees doing this tour as a warm up for something longer gives me hope that my kids' post-college years will let me do some more of this, maybe even convincing my wife to join.
Having also ridden Cycle Oregon, Ride Idaho, RAPSODY, Cycle Pendleton and Ride Around Washington, I thought it'd be useful to spell out the pluses and minuses.  With all of these events, the minimum is a planned camping spot, truck to schlep your stuff to the next stop, breakfast (cereal, fruit, maybe oatmeal) and a hot dinner.  Anything less than that I'd consider to be a "self-contained" tour.
For an event with 200 people (e.g., Cycle Pendleton, RAPSODY), you get a lunch stop during the day, at least one mid-day stop with toilets, and a couple of sag vehicles.  They'll usually have shower trucks (a nice luxury) or access to a high school with warm-ish water.
At around 300 people (RAW, Ride Idaho), the camp can support vendors offering massage (typically $75/h), bike parts, and local entertainment.  There is usually voluntary participation of ham radio operators for coordination. A crew will typically go out in the morning to place directional signs for the next day.  On layover days, there are enough people to organize formal outings.  For example, Ride Idaho had excursions to the Route of the Hiawatha.  An interesting thing Ride Idaho did was give out vouchers usable in any restaurant in the layover town (Sandpoint, ID and Wallace, MT).  This was a nice way to lure us into exploring the town.
Larger rides like Cycle Oregon (~2500) are a moving city, trucking water, sewage, food where it needs to go (which is important for visiting a town with a population of 200).  Food/potty/water stops every 12-15 miles, full lunch (with entertainment), sag wagons, and a police presence (typically a few motorcycle officers who ride up and down the route).  There is often a tie-in with local groups to offer a paid, "tent sherpa" service where they set up everything for you.