As we all have felt, it's quite normal to feel self-induced pressure at not maintaining perfection and, God forbid, be tempted to drop out and do it another time. A better way of looking at it is "if you stick around, will you be further along in your CW journey (and knowledge of Scottish inventions)?"
Obviously, the answer is yes (though I'm biased :). And, as a bonus, you get to hang out with a great group of fellow hams, have fun and improve your skills. (Consider how much you've progressed in a short time!) I've found the sweet spot is to shoot for about 80% of the homework, on average. Sometimes you'll be rocking it, sometimes it'll feel not, but overall, you're making good progress and friends.
The CW Academy syllabus is aggressive. Recall from earlier discussion that the beginner class goes from 0 to 4, this goes 4 – 10, intermediate 10 – 20 (which is a big leap) and advanced pushes that to 25+. We'll end the class at around 13, and have made a lot of progress on instant character recognition.
In-class sending:
Tell the class your favorite, celebratory dish and the occasion (year, month, etc.) that you celebrate. K1USN's SST runs Sunday at 17:00, if you're up for listening.
Session 6 finally adds some variety with state abbreviations. Session 7 bumps up the speed to 7, but gives us some three letter words. (We'll soon have four-letter words!)
Questions:
1) Reverse Beacon Network – there are hams who leave their radios on and connected to computers running software tools like CW Skimmer to listen for call signs and report them to a variety of centralized servers that aggregate the results and spread them around. An example is rbn.telegraphy.de (which has a wealth of good filters), ReverseBeacon.Net or a web sites like dxsummit.fi (especially with filtering set up).
There are a variety of useful applications for this information:
Determining a band is active.
Finding hams from specific countries, states, counties during a contest. For example, there are a variety of State QSO parties where people (at least, pre-COVID) would run mobile stations so one could log contacts in sparse counties (looking at you, Garfield County, Washington) or get multipliers for working different ones in a state. (Contests will often have separate categories for those using "assistance" such as this.)
If you're participating in an event like the 13 Colonies, you can use it to find the elusive bonus station rather than continuously going up and down different bands and passing an opportunity on 30m.
DX monitoring.
Determining how well you're getting out. For example, in FT8, there's a popular site called PSKreporter that will give you hints on propagation. Or, it can be used to determine who's hearing me. For example, when I did a few CQs, I was heard by KU7T's station in North Bend that just happens to also be listening to CW. In the bubble, it shows I'm 13 miles away, coming in very strong (I would hope so), and was last heard 7 minutes prior to my grabbing this screen shot.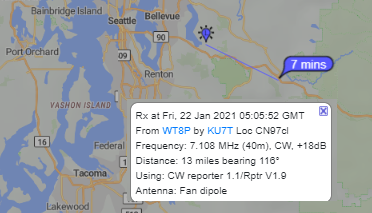 This is also invaluable for those doing SOTA activations.
On sites like HamAlert, you can set up alerts (email, SMS) for specific stations, modes, bands, etc. For example, I have one set up for when I show up on CW to determine how well I'm getting out. A sample email alert looks like this: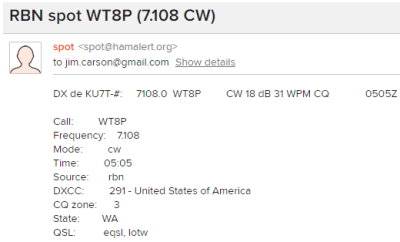 After class sessions are over, it might be helpful if I can arrange a demonstration of N1MM+, which will be pretty useful in contesting. (I've only used it a bit, but found its spotting helpful in absence of a panadapter.)
2) Scheduling QSOs – Here are some of the on-air opportunities I'm aware of:
3) Dash vs BT vs BK – I will have to ask about this one. The dash made an appearance in the Beginner course, and I never had a definitive answer. Generally, "BT" (which is the same as the "=" sign) is like an "um", "BK" is either a pause or back to you without the formal identification.
A MAN FROM NANTUCKET BT
PUT HIS CASH IN A BUCKET BT
THIS IS NOT HAIKU
In QSOs we're doing now, we'll make more use of doing the call signs in exchanges to give the other person break (and get quality time in sending), e.g.:

WT8P de W7PEZ SUP? K
W7PEZ de WT8P MAKING HAGGIS K

where the "K" is over.
However, since you know who you're talking with, you only really need to identify as often as the FCC requires, thus might hear this:
SUP? BK
MAKING HAGGIS BK