One reason I love living here in the northwest is the abundance of bike lanes, bike trails, and people who are generally okay with cyclists. It's a huge improvement over what we had in the city of Houston, though I do miss the Houston Bicycle Club's categorization system.
One-way distance is just under 19 miles, of which 10 are on dedicated bicycle trails, including one that crosses a lake. Does it get cooler than that?

The trip to work begins with a short, steep descent out of my subdivision. I'm always unprepared for both the rush of cold air and the abrupt halt at the stop light at the bottom.
I follow some moderately busy (and no shoulder) roads out before I get to go down the big hill, a 12% grade behind a strip mall. Another couple of miles of bike lane amongst traffic, then I turn into happy land. For the next mile, I ride between bustling Interstate 90 (fenced off, of course) on the left, and wetlands on the right.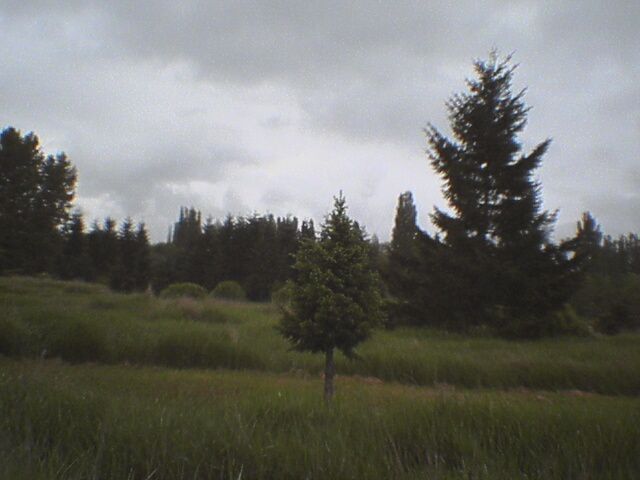 After meandering through a traffic circle, I go through an elementary school to my first bike trail. I knew this trail existed on the map, but never could find it until Claire Petersky gave me some hints. This has been a really good thing because it saves me from the rather scary alternative of steep hill, no shoulder and busy traffic. (I do get that on the way home, however ;-(
I've been making an effort to help others find the trail. Going westbound, you essentially go around an elementary school to the back, where the dumpsters are, and pick up the trail. Eastbound, you pick it up through a fairly well-concealed side entrance on a dead-end.
The trail ends in the city of Bellevue, on top of Eastgate road (which parallels I-90). After another two miles, including a spectacular downhill where I easily do 38mph down the middle of the road (for safety reasons) to … a traffic light, I duck under I-90, cross an offramp and join the bike trail for the rest of the trip.
The bike trail winds between and under Interstates 90 and 405, crosses Mercer Slough, then does a cloverleaf back onto the Interstate 90 bike trail through Mercer Island, across Lake Washington, through the bike tunnel over I-90, and up a hill to the terminus near work.
The return trip is fine until I get to Bellevue, then I have a rather steep climb on my choice of busy roads. At some point, I have to maneuver gingerly around cloverleafs. This is not for the meek, however drivers have generally been okay. (This is in contrast to the ones around Redmond who get bent out of shape at a cyclist passing them on the right while the road's generally constipated with Microsofties going home.)
The coup d'grace is getting back up the monster hill where I live. Not only do I have gravity working against me, but this is an incredibly busy road with no shoulder and a pretty grim sidewalk. There has been some recent road rerouting, which has left some extremely hazardous conditions: no shoulder, no sidewalk, roads torn up, traffic cones, steel plates, and confused drivers. This is the most direct way home, but because of the hazards, I'm now circumventing this.
Links:
Round-trip: 37.8 miles, 2,260′ elevation gain (1,040 there, 1,220 back).